Lehmann Maupin and White Cube to present Tracey Emin's first solo exhibition in Greater China
[Press Release]
Tracey Emin
I Cried Because I Love You
Lehmann Maupin and White Cube will present I Cried Because I Love You, an exhibition by Tracey Emin, CBE. The joint exhibition takes place across both gallery spaces in Hong Kong and marks Emin's first solo presentation in Greater China.
Emin first came to prominence as an artist in the 1990s and is internationally celebrated for her poetic work across a wide range of media. For this exhibition she has produced a new body of work including painting, embroidery, neon, and bronze sculpture.
A modern day 'Expressionist', Emin explores ideas of narrative disclosure, often drawing on subjects that are intimately bound up with her own biography. Drawing from personal experience, she frequently uses her own body as source material, recollecting memories or emotions that are vividly honest and candid but also familiar and universal. I Cried Because I Love You poignantly evokes a self-reflexive moment in the artist's life, reflecting on the pain of loneliness, sexual desire, and the bitterness of separation.
Emin has described her practice as about "rites of passage, of time and age, and the simple realisation that we are always alone" (2014). Repeatedly turning to self-portraiture and classical subject matter such as figures or nudes, her work is the result of an intense process of self-discovery. While appearing direct and immediate the paintings, in particular, emerge from layers of application, obliteration, and reworking. Likewise, both Emin's embroideries and sculptures employ timely hand-crafted processes: the delicate act of sewing and the lost-wax casting technique, a classical sculptural process which retains the expressionistic touch and tactile trace of the artist in the final sculpture.
Born in London in 1963, Emin studied at the Royal College of Art, London. One of the most significant contemporary artists, she achieved international recognition with such key works as Everyone I Have Ever Slept With 1963-95 (1995, destroyed 2004) and My Bed (1998) for which she was shortlisted for the Turner Prize and is currently on display at Tate Britain alongside works by Francis Bacon. In 2007, Emin represented Great Britain at the Venice Biennale and in the same year, was made a Royal Academician. In 2013, Queen Elizabeth II appointed Emin a Commander of the Most Excellent Order of the British Empire for her contributions to the visual arts. Throughout her career she has exhibited extensively including a two-person exhibition with Egon Schiele at the Leopold Museum, Vienna (2015); and solo exhibitions at the Museum of Contemporary Art, Miami (2013); Museo de Arte Latinoamericano de Buenos Aires (2012); Hayward Gallery, London (2011); Scottish National Gallery of Modern Art, CAC Malaga and Kunstmuseum Bern (2008); and Stedelijk Museum, Amsterdam (2002).
A fully-illustrated catalogue, featuring an interview with the artist and a selection of her own writings will be published to coincide with the exhibition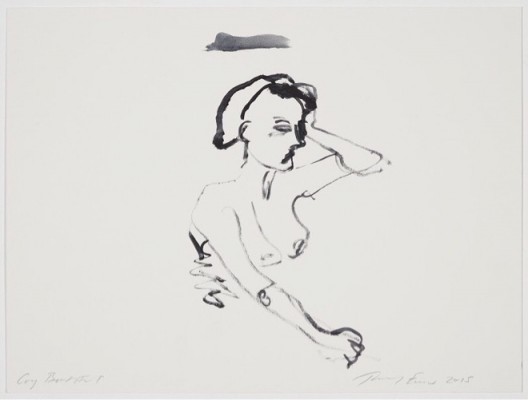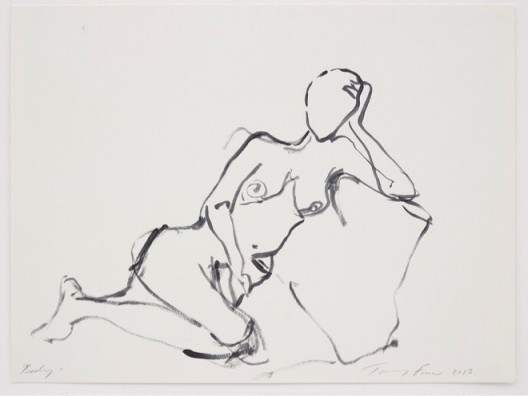 About Tracey Emin
Tracey Emin's art is one of disclosure, using her life events as inspiration for works ranging from painting, drawing, video, and installation, to photography, needlework, and sculpture. Emin reveals her hopes, humiliations, failures, and successes in candid and, at times, excoriating work that is frequently both tragic and humorous.
Emin's work has an immediacy and often sexually provocative attitude that firmly locates her oeuvre within the tradition of feminist discourse. By re-appropriating conventional handicraft techniques—or 'women's work'—for radical intentions, Emin's work resonates with the feminist tenets of the 'personal as political'. In Everyone I've Ever Slept With, Emin used the process of appliqué to inscribe the names of lovers, friends, and family within a small tent, into which the viewer had to crawl inside, becoming both voyeur and confidante. Her interest in the work of Edvard Munch and Egon Schiele particularly inform Emin's paintings, monoprints, and drawings, which explore complex personal states and ideas of self-representation through manifestly expressionist styles and themes.
Emin was born in London in 1963, and studied at Maidstone College of Art and the Royal College of Art, London. She has exhibited extensively internationally, including solo exhibitions How It Feels, Malba, Buenos Aires (2012); She Lay Down Deep Beneath the Sea, Turner Contemporary, Margate (2012); Love is What You Want, Hayward Gallery, London (2011); Do Not Abandon Me, Hauser & Wirth, London (with Louise Bourgeois) (2011); and Walking with Tears, Royal Academy of Art, London (2010). In 2008 Emin held her first major retrospective, Tracey Emin 20 Years, at the Scottish National Gallery of Modern Art, which subsequently toured to Centro de Arte Contemporaneo, Malaga (2008) and Kunstmuseum Bern (2009). Previous major shows include This is Another Place, Modern Art Oxford, Oxford (2002); Ten Years. Tracey Emin, Stedelijk Museum, Amsterdam (2002); I Need Art Like I Need God, South London Gallery, London (1997); and Gesellschaft für Aktuelle Kunst, Bremen (1998). She has also participated in a number of major international group exhibitions in Holland, Germany, Switzerland, Spain, Japan, Australia, The United States, and Chile. In 2007 Emin represented Britain at the 52nd Venice Biennale, was made a Royal Academician and was awarded an Honorary Doctorate from the Royal College of Art, London, a Doctor of Letters from the University of Kent, and Doctor of Philosophy from London Metropolitan University. She lives and works in London.
www.emininternational.com
www.traceyeminstudio.com