Lin Jingjing: Tomorrow Was Wonderful
de Sarthe Beijing is pleased to announce the second exhibition at their newly opened Beijing gallery: 'Tomorrow Was Wonderful', a solo exhibition from Beijing artist Lin Jingjing. Lin Jingjing is well known for her mixed media works on canvas, installations, and performance pieces, which commonly feature thread and embroidery. The exhibition will open on Saturday June 13th at 4pm.
In this exhibition showing her 'China Dream' series, the artist plays on one of the biggest buzzwords of current Chinese society. The 'China Dream' is a recurring slogan in China's current society, used to describe roles and aspirations of individuals and also those of the nation. Through her works, Lin examines how this 'dream' can have different interpretations for each person and invites her audience to consider these interpretations, and to compare and contrast them to the wider national context.
The exhibition features installations alongside Lin Jingjing's surreally-colored canvases, allowing the viewer to lose their sense of reality and become immersed in hers, journeying through her imagination as she guides them through her interpretation of contemporary society.
The title, Tomorrow Was Wonderful, suggests an idea of looking back from the future with a sense of omniscience or hindsight at these personal and national aspirations with a sense of judgment. In this time dominated by the idea of the Chinese Dream, the future is beautiful, a time of progress and achievement. However, Lin suggests that perhaps when we get there, we will look back on our visions and aspirations for tomorrow and see warm memories fraught with an optimistic naivety rather than a reflection of reality. This prompts us to consider this possibility not only in relation to the Chinese Dream, but also in relation to both our own lives and to history – past, present and future.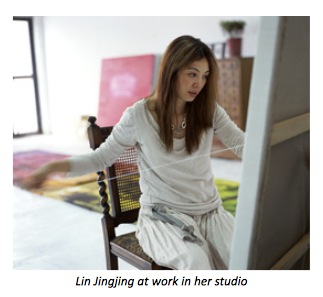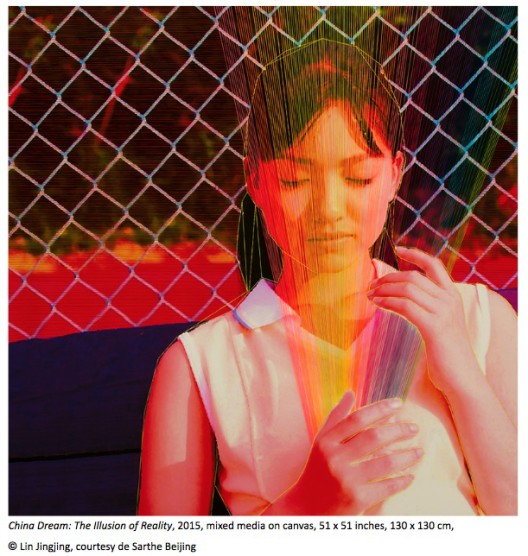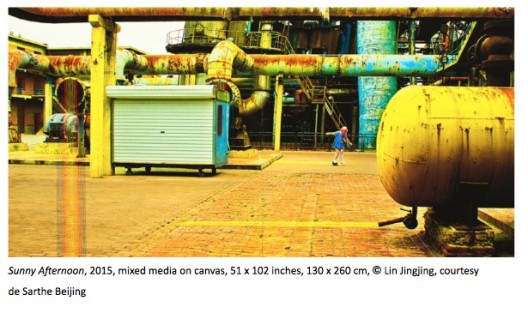 Lin Jingjing – Artist Information
Important Collections
National Art Museum of China, Beijing, China
Ivam Museum, Valencia, Spain
National Museum of Fine Art, Santiago, Chile
The Mountain Group Museum, Taiwan
Liu Hai Su Art Museum, Shanghai, China
He Xiang Ning Art Museum, Shenzhen, China
Tai Da Museum, Tianjing, China
Museum of the Nation, Lima, Peru
White Box Art Museum, Beijing, China
Background
Graduated from the Fine Arts Department of Fujian University, China
Completed advanced studies at the Central Academy of Fine Arts, Beijing, China
Solo Exhibitions
2014 "Promise Again for the First Time," de Sarthe Gallery, Hong Kong
2012 "Possible of Impossible," Neues Kunstforum, Cologue, Germany
2012 "My Promise for Your Happiness," Alexander Ochs Gallery, Beijing, China
2011 "The Method of Paradox," Chile National Art Museum Plaza Vespucio, Santiago, Chile
2011 "Rose Rose," Chile National Art Museum Plaza Trebol, Concepcion, Chile
2011 "Public Privacy," White Box Art Center, Beijing, China
2009 "I Want to be with You Forever," Songzhuang Art Museum, Beijing, China
2008 "Flying Alone," Magee Art Gallery, Madrid, Spain
1997 "Dreamlike," Liu Hai Su Art Museum, Shanghai, China
Group Exhibitions
2015 "You, I among Us," de Sarthe Beijing, Beijing
2014 "(CC)TV," Galerie Herold, Künstlerhaus GüterabfertigungAm Güterbahnhof, Beim Handelsmuseum 9
2014 "Current Reality/ Hidden Barriers," de Sarthe Gallery, Hong Kong
2014 Art Basel, de Sarthe Gallery, Hong Kong
2014 Artstage, Singapore
2013 Art Taipei, de Sarthe Gallery, Taipei, Taiwan
2013 Sydney Contemporary, Sydney, Australia
2013 Chinese Contemporary Art, Saint Mart's University Art Museum, Nova Scotia, Canada
2013 Group Show, de Sarthe Gallery, Hong Kong
2012 First Biennale Italy-China, Villa Reale Di Monza, Italy
2012 "Short Cut," Aleander Ochs Gallery, Berlin, Germany
2012 "Phoenix Symphony: Female Contemporary Arts," Tree Art Museum, Songzhuang, Beijing, China
2011 "Half the sky: Women in the New of China," Leonard Pearlstein Gallery, Philadelphia, USA
2011 "Memory & Identity," MK2 Art Center, Beijing, China
2010 "Mind In Turmoil, Hand Better Busy," Long De Xuan Art Center, Beijing, China
2010 "The Possibility of Uncertainty," Songzhuang Art Museum, Beijing, China
2010 "Cruzando El Horizonte – Chinese contemporary art," Chile National Art museum, Santiago, Chile
2009 Gemeinsam in Bewegung-Deutschland und China Contemporary Art, Wuhan Museum, China
2008 "55 Days in Valencia, Chinese Art meeting," Ivam Museum, Valencia, Spain
2008 "Time-Lag: The New Force of Chinese Contemporary Art," Magee Art Gallery, Madrid, Spain
2007 "Journey to the West," Kunstraum, Vienna, Austria
2006 "Potential Dialogue – The party of Sino-Austria Young Artists," RCM ART Museum, China
2005 Archaeology of The Future – The Second Triennial Of Chinese Art, Nanjing Museum, China
2004 "EAST OF EAST," Ljubljana Castle, Ljubljana, Slovenja
2004 "One to One: Visions – recent Photographs from China," Chambers Gallery, New York, USA
2003 "The Different Same – Contemporary Art Exchange Exhibition," Du Land Modern Art Museum, Shanghai, China
2003 "The First China Art Tri – annual Exhibition," Guangzhou Art Museum, China
2002 "Cultural Forum – New Millennium Chinese Art Works," Tikanoja Art Museum, Vaasa, Finland