LIU WENTAO
Pearl Lam Galleries, Hong Kong
Hong Kong—Pearl Lam Galleries is delighted to present the first solo exhibition by Chinese artist Liu Wentao (b. 1973) in Hong Kong, featuring a selection of pencil on canvas works created in recent years. The canvases are composed of meticulous straight lines drawn by rulers and pencils in different degrees of hardness, exploring the space conceived by the distortion from two-dimensionality to three-dimensionality.
As the fundamental tool for drawing, pencil has been utilized by the artist across his oeuvre for over a decade. He is fascinated with the metallic reflection of light by the graphite, which is the key component of pencil. The subtle reflections enhance the perceived space, especially when the works are viewed from various angles.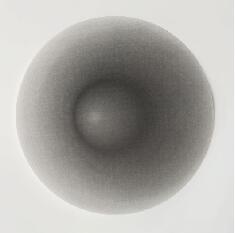 The notion of time and space are central to Liu's artistic output. There is no doubt that the artist found inspiration from Minimalism, which also has deep associations with Eastern Zen philosophy. He considers his daily practice of drawing as a meditative process of inner self-emptying. Each pencil line is a tracing of time, and repetition is an action of self-cultivation. Zen philosophy and its focus on being present in everyday life is embraced by the artist in creating his works.
Liu is also intrigued with the uncertainty of space. In traditional Eastern landscape painting, the perspective is often more mysterious and unknown, unlike traditional Western painting, which is based on models of perspective drawing. The artist explains, "To me, the uncertain space is more intriguing, just like the experience of looking into water: One does not really know the depth. I'm obsessed with this uncertainty of depth, distance, and space. My work is not about creating physical things; it is more about the investigation of depth within a state of mind. It is more about the mental and contemplative practice in aspiring to an inner empty space of heightened awareness."