LIU YI
'Thrown into the Wind'
ShanghART M50, Shanghai
[Press Release]
Wind always circles around, brings and takes away.
It always takes away the once unforgettable things or the words we vowed to keep,
A hundred miles per hour.
But it never brings back the balloons it's blown away.
If we have to be the blower of balloons,
Then, I'll have to thank the wind for its gift of disappearance.
So, what do we owe the wind?
–Liu Yi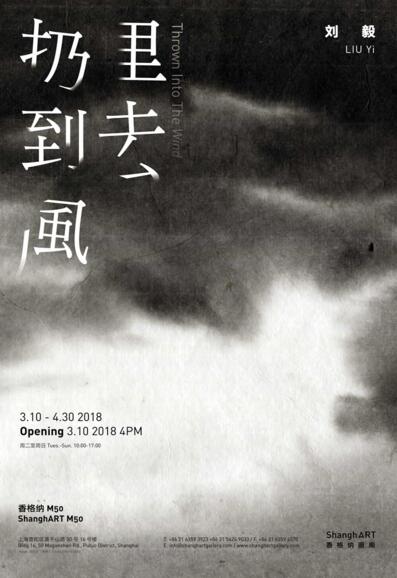 Liu Yi was born in 1990 in Ningbo, China. She graduated from the China Academy of Fine Arts School of Intermedia Art with Bachelor's degree and the China Academy of Fine Arts with Master's degree in 2012 and 2016, respectively. Currently she lives in Hangzhou. "Early Chinese art films and experimental animation" is her primary research direction. Her video works include "Origin of Species", "Chaos Theory", "A Travel Inward", "Into The Void", "A Crow Has Been Calling for a Whole Day" etc. She deploys various mediums through animation, multi-media as well as space installation to reflect her daily living experience and discovers more possibilities in a space resonating with the subject of her works. Audiences are allowed to unearth a differentiated parallel world through her eclectic works. In 2017, "A Crow Has Been Calling for a Whole Day" was selected and showcased in Holland Animation Film Festival (HAFF), and received the award of "Special Recommendation" of Hua International Short Film Festival afterwards. Recently, Liu Yi is invited to participate the SeMa Nanji Residency Project which is hosted by Seoul Museum of Art in Seoul.
Her latest exhibitions include Fisherman's Song-Cloud, Times Art Museum, Beijing (2017); Imagination Factory, Discover Another Possibility of Life, Hanshan Art Museum, Suzhou (2017); Ballade – Animamix Contemporary Art, Macao Museum of Art, Macao (2017); A Travel Inward – Liu Yi Solo Project, MoCa Pavilion special Project Shanghai (2017); SOW, ShanghART M50 Group Exhibition (2017); The 3rd Shenzhen Independent Animation Biennale (2016); The 8th International Ink Art Biennale Of Shenzhen (2013); 10th China Independent Film Festival, Xiamen (2013); Limited Knowledge, Run Run Shaw Creative Media Centre, CMC Gallery (2013); 9th China Independent Film Festival, Nanjing (2012) etc.