LU XINJIAN
'Boogie Woogie'
de Sarthe Gallery, Hong Kong
[Press Release]
de Sarthe is pleased to announce a solo exhibition by Lu Xinjian, entitled Boogie Woogie. The exhibition is the artist's first solo presentation in Hong Kong. New and previously unseen works from his three series of paintings City DNA, City Stream and Reflections, will be showcased. The exhibition opens on 19 May and will continue through 7 July 2018.
The title of the exhibition draws its name from Piet Mondrian's famous penultimate artwork "Broadway Boogie Woogie" (1942-43). Within the work Mondrian captured the vibrant energy of New York City through his iconic use of simple colors, lines and shapes. It was this panting that inspired Lu Xinjian to create his iconic City DNA series and ultimately City Stream and Reflections.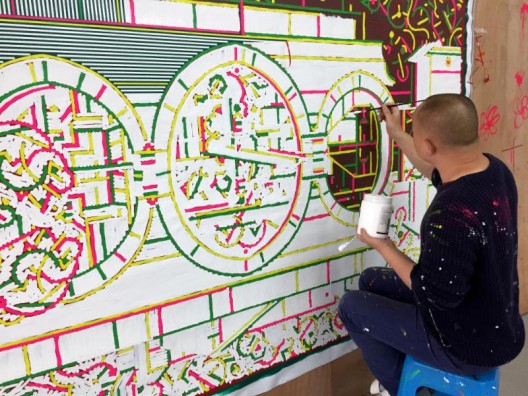 Lu Xinjian's canvases elaborate on Mondrian's "Broadway Boogie Woogie" and decode the complexity of numerous metropolises by also utilizing simple lines and color blocks. His characteristic visual elements compose the layouts and blueprints of cities around the world, manifesting an alternative interpretation with which we can understand the spaces and constructions that we build and live amongst. Ultimately, his body of work unearths powerful portrayals of globalization and homogenization within our societies.
One of the three series of work featured in the exhibition, City DNA is made by first using Google Earth to obtain satellite images of selected cities. Subsequently, the images are flattened into abstract lines and shapes. Through this process, Lu Xinjian uses abstraction to transform imagery into symbols, re-combining them to comprise smaller and denser emotional memories of cities. The final artwork, meticulously painted by hand, appears to be an orderly maze-like configuration that-once recognized-immediately transforms and offers new perspectives on once familiarized cityscapes.
In the City Stream series, the artist shifts perspective to that of a human standing perpendicular to the surface of buildings and bridges, where they visibly pulsate. Ambient light distinctively outlines the structures of cities, suggesting human civilization's ceaseless expansion and prosperity. Mega cities like Shanghai, Paris, and Dubai undoubtedly embody national spirits. Yet the paintings suggests that cityscapes have become more unified, with their dynamic appearances stemming from universal and radical changes in human civilization. When exhibited together as a body of work, the collectively ask what is the fate of our private spirits, which formerly were so strongly shaped by the lights and shadows of traditional and unique urban sites?
In Lu Xinjian's Reflection series the artist does not only narrow his horizon but also lowers his perspective, staring directly at individual buildings within cities. Recognizable skyscrapers like the Bank of China building in Hong Kong, water towns like those found in Jiangnan, and beacons of culture like the Sydney Opera House are portrayed along with their reflection in water. This mediates the two extreme points produced by the buildings and results in a harmonious center. In this series, the artist provides a new perspective for the audience, positioning them in an illusory realm to see reality as if it were a mirage.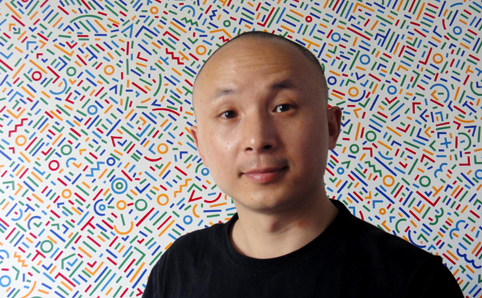 Lu Xinjian was born in 1977 in Yixing, Jiangsu province of China. Upon graduating in 2000 from the Computer Graphic Design department of the Nanjing Arts Institute, Lu pursued an Interactive Media Postgraduate degree at the Design Academy Eindhoven. In 2006, he received his M.F.A. from the Interactive Media and Environment department at the Frank Mohr Institute in the Netherlands.
Deeply influenced by Piet Mondrian's neoplasticism (also known as De Stijl), Lu Xinjian draws from the abstract form of lines to depict modern metropolises by reducing their complexities to meticulous geometric shapes and sharp blocks of color. For example, the formulation of his City DNA series begins by using Google maps to obtain satellite images of select cities. Subsequently, through the use of lines and emblematic symbols overlooking a cityscape Lu Xinjian flattens trees, road signs and various other elements to construct a unique emblematic aesthetic for each city. This allows viewers to examine once familiarized metropolises from a different perspective. In recent years, as Lu Xinjian continues to explore and to experiment with new creative trajectories and themes, he has produced the City Stream and Reflections series, which can be seen as extensions of City DNA. The City Steam series contemplates the density of cities from a position fixed to the ground, while Reflections portrays the tranquil essence of cities through their reflection in water.
Lu has participated in many domestic and international exhibitions. His recent solo exhibitions include City DNA – Xinjian Lu, European Institute of Contemporary Art and Science, Zutphen, The Netherlands (2018); Boogie Woogie, de Sarthe, Hong Kong (2018); Infinite Lines, de Sarthe, Beijing, China (2017) and Constellation, ART LABOR Gallery, Shanghai, China (2015). His group exhibitions include PRESENCE: A Window into Chinese Contemporary Art, St. George's Hall, Liverpool, UK (2018); Eja-Xinjian, Grietenijhuis, Beetserzwaag, Netherlands (2016); NULNU, Nieuw Dakota Gallery, Amsterdam, Netherlands (2015) and ARTificial Garden, Shanghai World Financial Center, Shanghai, China (2014). Lu Xinjian's works are collected by several public art institutions: White Rabbit Gallery, Sydney, Australia; DSL Collection, Paris, France; Anxin Trust, Shanghai, China.
Lu Xinjian currently lives and works in Shanghai, China.