Lu Xinjian Solo "Constellation" ART LABOR Gallery
[Press Release]
ART LABOR Gallery is pleased to present Lu Xinjian's new solo exhibition "Constellation". We hope everyone will join us this Saturday Novemebr 7th for the opening event to celebrate this talented artist as he launches his newest series. These paintings feature twelve unique zodiacs, Leo, Gemini, etc, and one larger painting encompassing all twelve constellations together. These paintings are created using a variation on his singular design style, with a special additional surprise when the lights are turned off.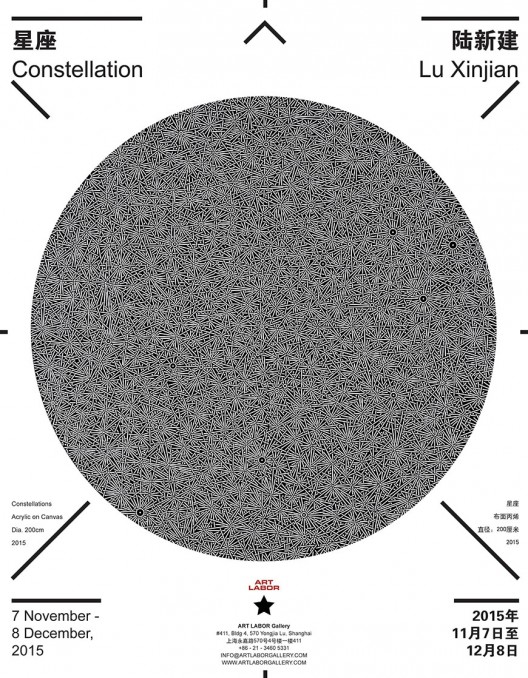 This is Lu Xinjian's fifth solo exhibition at ART LABOR Gallery. Already becoming very well known for his urban themed works such as "CITY DNA" and "CITY STREAM", he is showing these brand new works at ART LABOR, coming back from a very successful group show in Amsterdam alongside Herman de Vries (representing Holland at the Venice Biennale 2015) and HenkPeeters, both highly respected founders of the Zero Movement, and also a successful sale well over high estimate at Christie's Fall Auction in Shanghai last week. One could certainly say that Xinjian's stars are aligning in all the right ways.
For the "Constellations" series, Lu has turned his eyes upward one hundred and eighty degrees and taken his point of interest up into outer space. From mapping cities to mapping the night sky, Lu has been experimenting and exploring new directions and themes since 2008, while maintaining and refining his unique visual language through these years. Unlike other paintings he has produced before, this new series of art works can also be viewed in a dark environment for an entirely different visual experience, being, as they are, partially painted with phosphorescent paint.
For this solo exhibition, the artist has produced a set of 60 limited edition hand made silkscreen prints on Canson BFK paper that will be debuted at the opening. These prints also have a special quality when the lights go off!
Lu Xinjian was born in Jiangsu Province in 1977. In 2000, he graduated from the Graphic Design department of the Nanjing Arts Institute. From 2004 to 2006, he studied in the Netherlands at the IM Postgraduate Department of Design Academy Eindhoven and he holds an MFA in Interactive Media and Environment from the Frank Mohr Institute.
Some of LuXinjian's recent exhibitions include NULNU Nieuw Dakota Gallery, Amsterdam (2015); THING-IN-ITSELF: The invisible Feeling of Deprival, Art Museum of Nanjing University of the Arts (2015); CITY STREAM, ART LABOR Gallery, Shanghai (2014); City DNA IV,Hua Gallery, London (2014);Lu Xinjian: BeautifulEncounters – Cities and Poems, 117 Contemporary Art Center, Ningbo, China (2014); Invisible Poem II, F2 Gallery, Beijing (2012); Invisible Poem, ART LABOR Gallery, Shanghai (2012); CITY DNA III, Fabien Fryns Fine Art, Los Angeles (2011); CITY DNA II, F2 Gallery, Beijing (2011); CITY DNA, ART LABOR Gallery, Shanghai (2010); Basic Forms presented by Stella Art Foundation, 2nd Moscow International Biennale for Young Art, Russia (2010);Resemblance & Difference, Daegu Art Center, Korea (2009). Lu now lives and works in Shanghai.