Ma Sibo
de Sarthe Hong Kong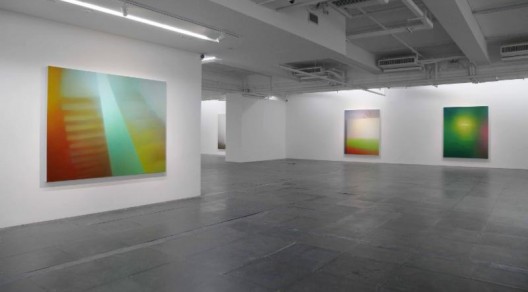 de Sarthe is pleased to present the Beijing-based painter Ma Sibo's second solo exhibition with the gallery and first solo presentation in Hong Kong, opening on Saturday, 24 November. Featuring new paintings, the exhibition sheds lights on the artist's understanding of the space between reality, imagination, memory, and time.
Playing with color and light, Ma Sibo creates translucent illusions by merging fact and fiction. His striking use of light not only affects the environment and perception of the viewer but also recalls storied memories and evocative emotions. He utilizes bold colors and faint light to portray objects as hazy and semi-formless, creating a silent and solitary ambience.
In his latest paintings, a lingering tension can be found in his portrayal of familiar public places like bus stops, stairs and carousels which appear to be floating and surrounded by light. Seemingly dreary scenes drive us into a world of in-betweens.
Ma Sibo was born in 1979 in Tianjin. He received his B.F.A. at the Oil Painting Department at the Tianjin Academy of Fine Arts in 2001. He further obtained a National Diploma in Plastic Arts (D.N.A.P.) at the École supérieur d'art et de design in Toulon in 2004. Two years later he received an Advanced National Diploma in Plastic Expression at the École supérieur des beaux-arts in Nîmes.
Ma's solo exhibitions include Habitat, de Sarthe Gallery, Beijing, China (2016); There Will be Light, Galerie Paris-Beijing, Paris, France (2015); Apparition, Galerie Loft, Paris, France (2012); Les solititudes, Galerie Loft, Paris, France (2010). His work has also been included in group shows around the world, including Exhibition of Han Feng's Private Art Collection, Han Feng Art Space, Shanghai China (2017); Standing by Themselves: China Now, de Sarthe Gallery, Hong Kong (2016); Artists at Play, de Sarthe Gallery, Beijing, China (2015); You, I, Among Us, de Sarthe Gallery, Beijing, China (2015); Don't Look Back, Galerie Paris-Beijing, Brussels, Belgium (2014); La vie est ailleurs, Tang Contemporary Art, Bangkok, Thailand (2011); Fromage et desert, École supérieure des beaux-arts de Nimes, Nimes, France (2006).