Maggi Hambling "Edge"
Marlborough
London
Marlborough Fine Art is pleased to announce Edge, an exhibition of new paintings and sculpture by Maggi Hambling, widely regarded as one of Britain's most significant and controversial artists. The exhibition follows Maggi Hambling – Touch: works on paper, a retrospective at the British Museum. Hambling has exhibited with Marlborough for 20 years and this is her eighth solo exhibition with the gallery.
Hambling's work offers a counterweight to the careful irony and self-conscious allusion of much contemporary art, demanding a direct and unmediated encounter with the viewer. These new works succeed in convincing us that we are present at, and indeed become part of, their making. We are "on the edge", confronted by the fragility of existence, both ours and that of the planet.
The artist has never been afraid of addressing big themes and delivers the simultaneous presence of life and death in her work. In this new series, polar icecaps melt, immigrants drift, Aleppo and its inhabitants fall, ghosts hover and Hamlet questions. Human vulnerability is continually – and viscerally – expressed. We are asked not so much what do we think, but rather, what do we feel.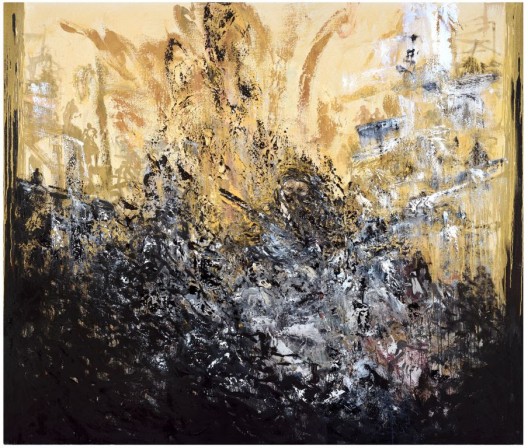 Maggi Hambling, Aleppo III, 2016, oil on canvas, 72 x 84 inches, copyright Maggi Hambling, courtesy Marlborough Fine Art.
About the artist
Hambling (b. 1945, Suffolk) studied with Lett Haines and Cedric Morris followed by Ipswich School of Art, Camberwell School of Art and Slade School of Fine Art. She was the first Artist in Residence at the National Gallery in 1980 and won the Jerwood Painting Prize (with Patrick Caulfield) in 1995. The artist's work has been featured widely in solo exhibitions including: King's College London, Somerset House, London (2015); National Gallery, London (1981 & 2014); The State Hermitage Museum, Saint Petersburg (2013); The Lowry, Salford, Manchester (2009); National Portrait Gallery, London (1983 & 2009); Walker Art Gallery, Liverpool (2009); Yorkshire Sculpture Park, Wakefield (1997); and Serpentine Gallery, London (1987). Her work is represented in collections worldwide including: Australian National Gallery, Canberra; British Museum, London; Gulbenkian Foundation, Lisbon; National Gallery, London; National Portrait Gallery, London; Tate, London; Victoria and Albert Museum, London; and Yale Center for British Art, New Haven.
Working from the 1960s to the present day, Hambling is renowned for a prolific corpus which spans painting, sculpture, print making and installation. She remains best known for her portraits, paintings of the sea, and public sculpture – both celebrated and controversial – which include A Conversation with Oscar Wilde (1998, facing Charing Cross Station, London) and Scallop (2003, Aldeburgh Beach, Suffolk). Hambling's direct and committed engagement with her subject produces profoundly moving work.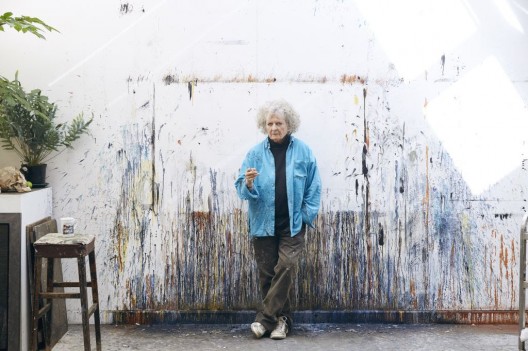 Maggi Hambling in her studio, photography by Luke Andrew Walker, copyright Maggi Hambling, courtesy Marlborough Fine Art, London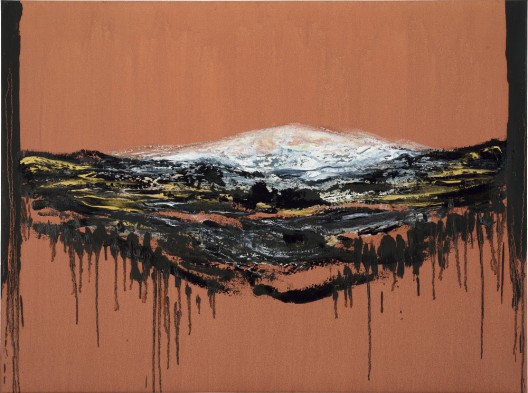 Maggi Hambling, Edge IV, 2015-16, oil on canvas, 36 x 48 inches, Copyright Maggi Hambling, Courtesy Marlborough Fine Art, Londo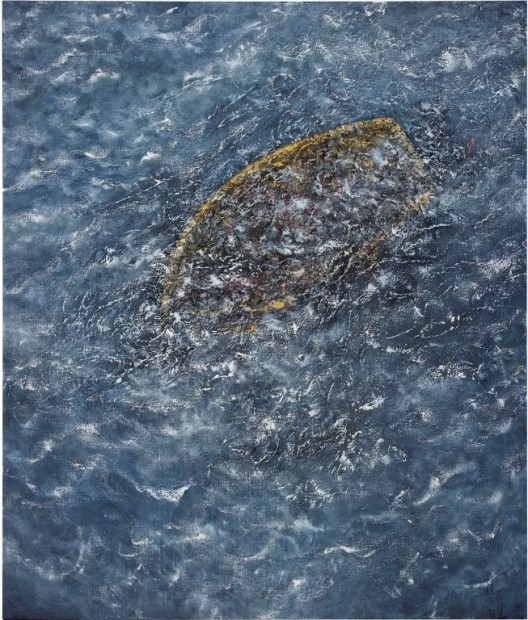 Maggi Hambling, 2016, oil on canvas 2016, 84 x 72 inches,
Copyright Maggi Hambling, courtesy Marlborough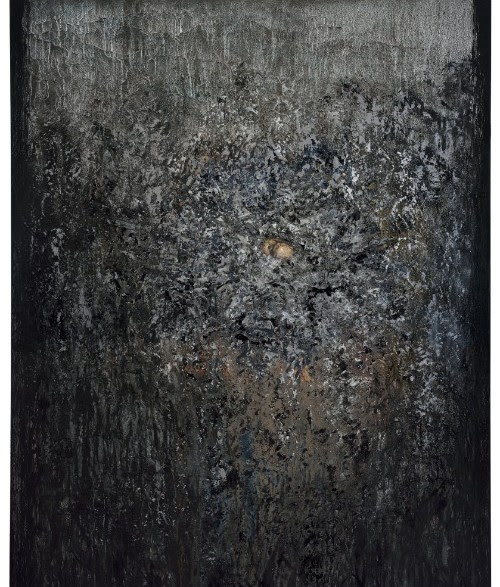 Maggi Hambling, Aleppo IV, oil on canvas, 2016-2017, 67 x 54 inches, Copyright Maggi Hambling, courtesy Marlborough Fine Art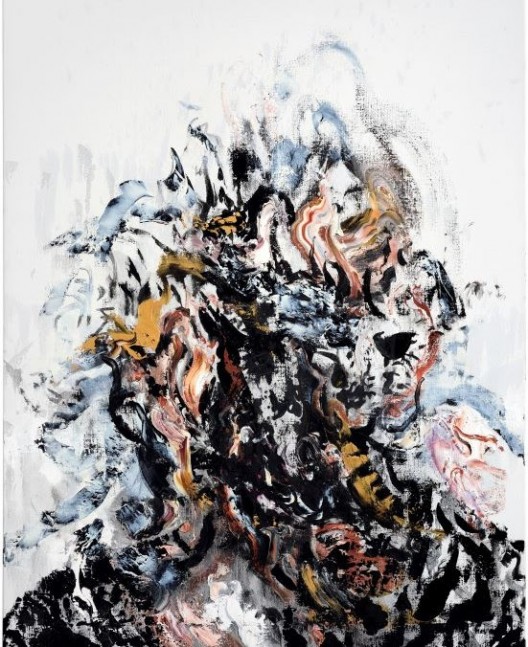 Maggi Hambling, Hamlet, 2015, oil on canvas, 67 x 48 inches, Copyright Maggi Hambling, Courtesy Marlborough Fine Art, London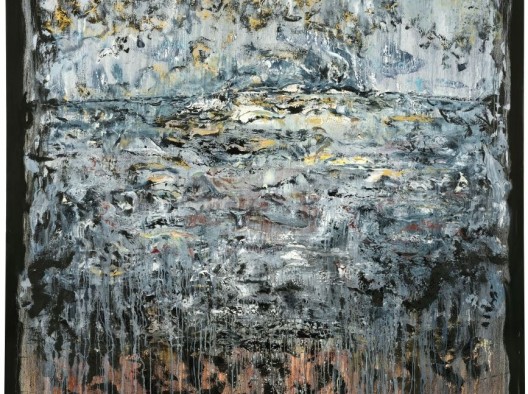 Maggi Hambling, Edge I, 2014, oil on canvas, 78 x 89 inches, Copyright Maggi Hambling, Courtesy Marlborough Fine Art, London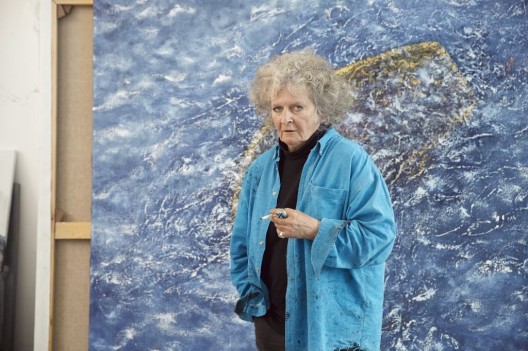 Maggi Hambling in her studio, photography by Luke Andrew Walker, copyright Maggi Hambling, courtesy Marlborough Fine Art, London