Martin Creed: Understanding – Qiao Space and Hauser & Wirth
[Press Release]
Qiao Space and Hauser & Wirth are pleased to announce an exhibition of works by British artist Martin Creed, taking place at Qiao Space in Shanghai's Xuhui District and opening in conjunction with West Bund Art & Design Fair 2016. Creed is one of the leading British artists of his generation and 'Understanding' marks his first solo show in China. The exhibition provides an introduction to the artist, featuring a cross section of his signature neons, sculptures, videos, small-scale canvas paintings and site- specific wall paintings.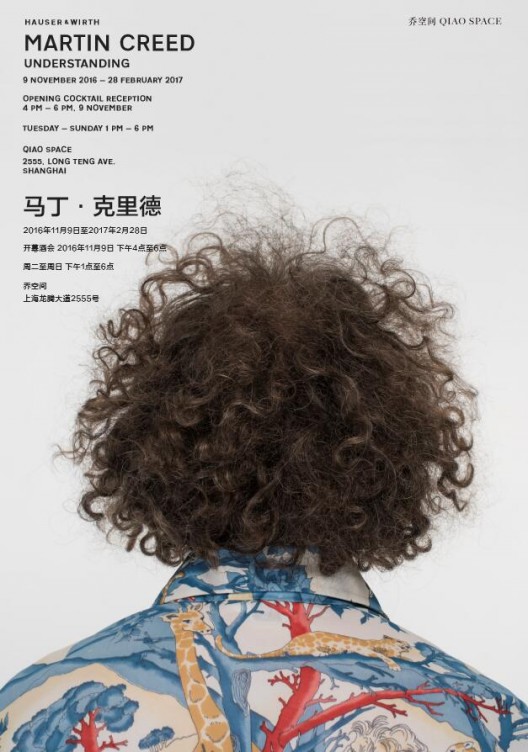 'Understanding' at Qiao Space highlights Creed's playful spirit and innovative approach to a broad range of materials and his ongoing fascination with the commonplace. Inspired by the objects and activities of everyday life, including chairs and discarded cardboard boxes, Creed's works are simple and idiosyncratic; his oeuvre characterised by the meeting of minimalist restraint and a conceptual rigueur rooted in humour.
Creed's all-encompassing approach blurs the distinction between art and life, the introspective and the extrovert. He understands 'art' not as a defined concept but as something immediate, creative and live. His approach enables him to use any form of expression or media, as the key element for him is the process of creation – in his words, 'trying to live life better'. In spite of the artist's varied approach to medium, inherent in all his work is the bold use of colour, gesture, motif and sound, with each series guided by an underlying principle, such as order, sequence and repetition. He is increasingly interested in the performative nature of painting, exploring the range of movements the human body can utilise as a means to becoming a tool for making paintings.
Creed's work as a musician and composer is inseparable from his work as a visual artist. He regularly pursues projects in both music and art simultaneously, utilising the freedom he finds in music as a vehicle to demonstrate the process of trying to create and develop ideas in his sculpture and paintings. 'Understanding' at Qiao Space features two video works that are an extension of this exploration into the body's processes of movement, repetition and creation – 'Border Control' (2015) and 'Let Them In' (2015). Each film plays in a specially constructed video booth.
About the Artist
Martin Creed was born in Wakefield, England in 1968 and grew up in Glasgow. He lives and works in London and Alicudi, Italy. He has exhibited extensively worldwide, and in 2001 he won the Turner Prize for 'Work No.227 The lights going on and off'. Martin Creed's 'Work No. 2630 UNDERSTANDING', a new 25-foot-tall rotating red neon sculpture is currently on view at the Brooklyn Bridge Park, Pier 6 until 23 October 2016 in New York City, commissioned by Public Art Fund.
Recent major solo exhibition and projects include: Park Avenue Armory, New York NY (2016); Kunsthalle Vogelmann, Kunstverein Heilbronn, Heilbronn, Germany (2015); Hayward Gallery, London, England (2014); The Andy Warhol Museum, Pittsburgh PA (2013); Aldrich Contemporary Art Museum, Ridgefield CT (2013); 'Work No. 202', National Gallery of Canada, Ottawa, Canada (2012); Museum of Contemporary Art, Chicago IL (2012); 'Work No. 1059', The Scotsman Steps, Edinburgh, Scotland (2011); Nasher Sculpture Center, Dallas TX (2011); 'Things', The Common Guild, Glasgow, Scotland (2010); 'Work No. 409', Royal Festival Hall Elevator, London, England (2010); 'Work No. 245', Centre Pompidou- Metz, Metz, France (2009); Hiroshima City Museum of Contemporary Art, Hiroshima, Japan (2009); and the Duveens Commission, Tate Britain, London (2008).
In September 2016, Galerie im Taxispalais presented the first Austrian solo exhibition by Martin Creed, the show remains open until 20 November 2016. For this year's Kyoto Experiment 2016, Martin will perform, 'Work No. 1020', on 29 and 30 October 2016.