MAUVAISES HERBES : SARAH CROWNER, CAITLIN KEOGH, PAULINA OLOWSKA - Simon Lee Gallery
[Press Release]
"If you glance through your botanical books, you will see often added to certain names – 'a troublesome weed'. It is not its being venomous, or ugly, but its being impertinent – thrusting itself where it has no business, and hinders other people's business – that makes a weed of it."
John Ruskin,Proserpina.
Studies of Wayside Flowers, 1875 - 1886, p.109 Simon Lee Gallery Hong Kong is pleased to present an exhibition of new work by three artists whose links of friendship and common interest contrast sharply with their widely divergen t approaches to painting, strategies of image making and the relation of narrative content in their work to the field of abstraction and figuration.
For Sarah Crowner, the process of making paintings and stitched canvases is one of figuring and unfiguring . Painted forms, more saturated in colour than those seen in previous bodies of work, refer to and represent botanical specimens, especially sea grasses, kelp, pods and weeds. These shapes are then cut, sliced, dissected, collaged andre- stitched in a process of manipulation which echoes the pervasive vine - like transfiguration of the weeds themselves.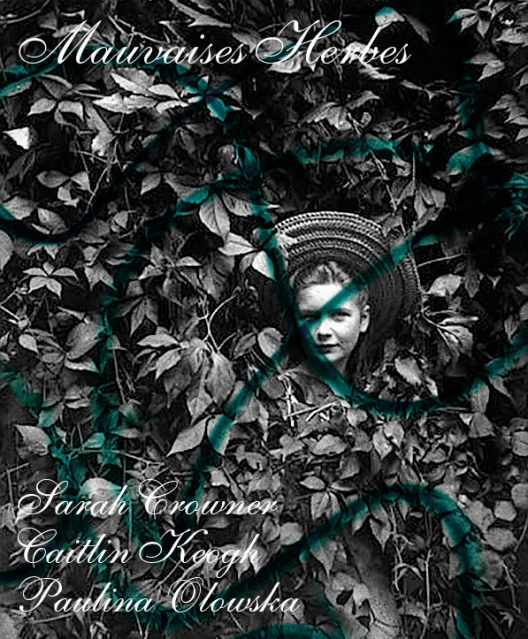 Existing in an undefined zone between painting, collage, and the applied arts, her canvases subtly call into question the stability of these categories.
The crystalline graphic crispness of Caitlin Keogh's new paintings belie the persistent, invasive and rampant habits of their motifs. Knots and vines, drawing on equal measure upon the designs of William Morris, the aesthetics of Art Nouveau, paisley fabric design and entomological illustration, are presented at once as formal devices and as psycho - sexual symbols. Vines become veins, and knots intestines. These works propose a kind of decorative hysteria, depictions of a woman's body not in its fleshly reality but rather recalling Magritte's truncated and skin - like female torsos, occupy overgrown psychedelic or psychological space, at once saccharine and sinister.
Paulina Olowska's most recent series of paintings take as their subject the Lithuanian scientist and educator Dr.Birutė Galdikas. Celebrated internationally for her conservational research, for over four decades Galdikas has studied and worked closely with the orangutans of Indonesian Borneo in their natural habitat.
Olowska's paintings revisit and re - present familiar images from the conservationist's life; the tenderness of her relationship with the subjects of her study and the fragility of the jungle environment in which she lived alongside them.
The works in this exhibition traverse at different points this landscape of the vegetal, female, feminist and biological. Through radically divergent strategies of representation and figuration they reveal a common interest in the convergence of subject and execution