Melissa Tan – Arc of Uncertainties, 18 – 30 Jan 2016
[Press Release]
Richard Koh Fine Art (RKFA) is pleased to present Melissa Tan's solo exhibition titled Arc of Uncertainties at Artspace @ Helutrans, 39 Keppel Road, No. 02-04, Tanjong Pagar Distripark, 089065 Singapore from 18 – 30 Jan 2016. The opening reception will be held on 18 Jan 2016 from 6 – 9 pm.
Extending from Tan's previous solo exhibition titled And The Darkest Hour is Just Before Dawn (2014), Arc of Uncertainties displays further visual exploration inspired by the formations of lost asteroids and minor planets; remnants following the formation of the solar system caused by Jupiter's gravitational pull in which asteroids are prevented from merging with each other, thus breaking into minor pieces.
The process adapted by the artist for these new works consists of delicately cutting pieces of painted watercolour paper that have been applied with traces of iron oxide and layering the cut sheets in between laser-cut powder-coated stainless steel structures that formally echo the shapes of the watercolour pieces. This process mimics the activity or compression in the creation of metal-rich asteroids. The reflective metal surface, when juxtaposed with paper, introduces a complexity that waves the different media together, thereby enhancing the illusion of layering and density.
In Tan's previous works, The Secret Life of Rocks (2012) and The World is Full of Distance (2013), her explorations were based on her studies of crystal formations, in which the delicate drawings were aimed to document the process of growing crystal clusters as well as the formation of tectonic plates. She used paper as her primary material to stimulate the compression of rock layers and burning the edges as a mark-making technique to illustrate the intense heat conjured by the forceful pressures. Her interest since then has shifted from the terrestrial rocks on earth to floating rocks in outer space.
This recent body of work focuses on lost asteroids, in which the paper-reliefs are formed after lost minor planets that were recorded throughout history. These asteroids have a predicted orbit that is either too large or indistinct to be traced, rendering it impossible to predict their exact location in the future. This series contemplates the intriguing note that even objects as large as planets could get misplaced and eventually forgotten; and that a fresh discovery of a new intergalactic object could actually be just a rediscovery of a previously forgotten one.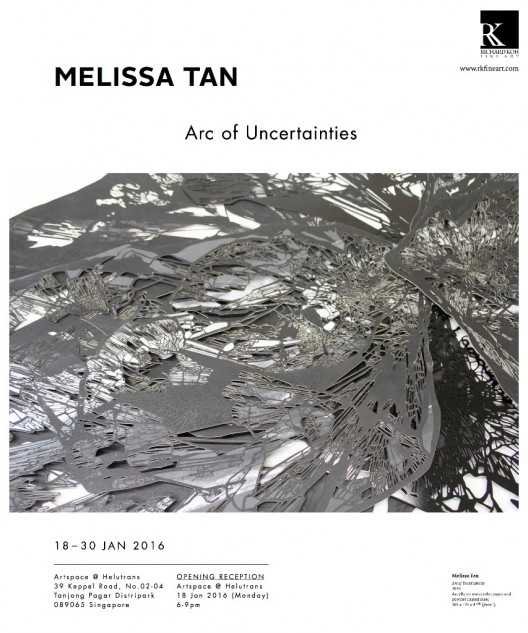 Melissa Tan (b. 1989, Singapore) is a visual artist based in Singapore and received her BA (Fine Arts) from Lasalle College of the Arts. Her works are based on nature, themes of transience and beauty of the ephemeral. Her recent projects revolve around landscapes and the process of formation. Interested in geography and textures of rocks, her explorations translate the visual language through different mediums. Employing methods such as paper cutting and silk-screen techniques, she is interested in materiality and how the medium supports the work. Though trained as a painter, she also works with video, sound and objects.
She recently had her first solo show titled And the Darkest Hour is Just Before Dawn at Richard Koh Fine Art in 2014 and has since participated in group exhibitions at The Singapore Show: Future Proof, Singapore Art Museum at 8Q, Singapore, CNEAI, Chatou, Ile des impressionists in Paris, France and Strarta Art Fair, Saatchi Gallery in London, UK. She also participated in the National Arts Council and Dena Foundation Artist Residency program in Paris, France in 2013.