MoCA Pavillon – Xu Wen Kai (aaajiao)/ Miao Ying: Void
From July 1st to July 23, The Museum of Contemporary Art, Shanghai's Pavilion project will host "Void," a special project by artists Xu Wen Kai and Miao Ying. It is also the first part of MoCA Pavilion's 2016 "+follow" series. This series of artist collaborations invites artists who have formerly exhibited at MoCA back to follow their artistic development. Also, we want to take this opportunity to see the world through a fresh pair of eyes, and to better understand the perspective of the younger generation.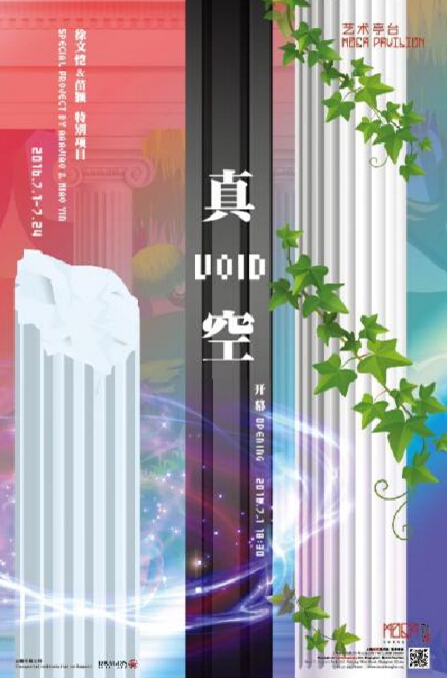 Artists Miao Ying and Xu Wen Kai both create art online. Xu Wen Kai focuses on internet virtualization and digitization, using virtual numbers to create abstract art. On the other hand, Miao Ying's work is related to social networks, how the online phenomenon is connected to personhood as well as the isolation created by virtual social networks. Ying's art always reveals a strong sense of humor.
For this exhibition at MoCA and using "Void" as the theme, Miao Ying uses artificial and fake images to create a sense of hollowness in space, an anxiety inducing hollowness that induces a crazy consumption of media. The richness of the piece comes from a flatness and lack of reflection. Xu Wen Kai is responding to a piece titled "from a death springs a new company" and returns to the idea of innovation, using user data. When made public, company collected public data tends to fall flat.
These two artists learn from and complement each other. At MoCA Pavilion, these two media, internet, and graphic artists will have plenty to explore together. Using different artistic forms and methods, their differences will certainly spark exciting creations.
About Artist
Xu Wn Kai (aaajiao)
aaajiao, is the online handle of Xu Wenkai, a Shanghai-based new media artist, avid blogger and free thinker.
Born in 1984, aaajiao grew up in Xi'an, the ancient capital of Qin and Han Dynasty known for the Terracotta Army. Theyear of 1984, coinciding with George Orwell's dystopian masterpiece, seems to explain the perfect alignment betweenthe vivid SciTech-driven imagination and the sometimes-poetic sophistication, frequently seen as the main theme ofaaajiao's work. Many of aaajiao's works tap into the most current trends of thoughts around the Internet sphere, with afocus on the emerging controversies and phenomenon related to data processing, blogsphere/wemedia and filteredinformation. In his most recent projects, the artist has adopted a more extended scope of practices, borrowingelements from architecture, electronic music, performance arts, product design, even medicine, to portray the younggeneration harnessing the power of cyber technology and the ever-present social media.
Being one of the most frequently exhibited Chinese new media artists, aaajiao has been featured in both internationaland domestic scenes. Highlights include: "Global Control And Censorship – ZKM | Zentrum für Kunst undMedientechnologie Karlsruhe, Karlsruhe(2015)", The 2nd "CAFAM Future" Exhibition: Observer-Creator The RealityRepresentation of Chinese Young Art Beijing, CAFA Art Museum (2015); Cosmos – Limited and Limitless, Existenceand Co-existence Shanghai, 21st Century Minsheng Art Museum (2014),Thingworld – International Triennial of NewMedia Art Beijing,The National Art Museum of China (2014),The West Bund Architecture and Contemporary ArtBiennale, Shanghai (2013); "One World" Exposition – Chinese Art in the Age of the New Media,Videotage,Hong Kong(2011), TransLife: Media Art China 2011 – International Triennial of New Media Art Beijing,The National Art Museum ofChina (2011), Transmediale, Berlin (2010), etc. aaajiao is a winner of the Jury Prize from Art Sanya Awards 2014, a nominee of OCAT – Pierre Huber Art Prize, and most recently, a nominee of the "Young Artist of the Year" of 9th "Award of Art China".
Miao Ying
Miao Ying is an artist who currently resides on The Internet, the Chinese Internet (the Great Fire Wall) and her smartphone. Her works have a strong awareness of mainstream technology and consciousness and it's impact on our daily lives. She received her BFA from the China Academy of Fine Art's New Media Arts department in 2007, and her MFA from the School of Art and Design at SUNY Alfred University, with a focus in Electronic Integrated Arts in 2009.
Her online solo exhibition "Miao Ying:Chinternet Plus" is currently showing at the New Museum as part of "First Look: New art online", Miao Ying's works have been exhibited at KW institute for Contemporary Art (Berlin 2016), the Chinese pavilion at the 56th Venice Biennale (Italy 2015), OCAT Shanghai (Shanghai 2015), Times Art Museum (Guangzhou 2015), CAFA Art Museum (Beijing 2015), Ullens Centre for Contemporary Art (Beijing 2014), State Gallery Linz (Linz 2011), Museum of Contemporary Art (Taipei 2008), Shanghai Art Museum (Shanghai 2007) and The Wrong—New Digital Art Biennale (online 2015). In 2016, she has been nominated for Prix YISHU 8 Chine 2016. In 2015, she was nominated for the TAN Asia Prize and the 3rd Huayu Youth Adward.