"Motif and Material" – Tang Contemporary Art – Hong Kong
[Press Release]
"Motif and Material"
Curated by Bao Dong
3.20 – 4.22. 2017
Hong Kong
Opening Reception: Monday, March 20, 2017, from 6 – 8pm
Hong Kong Art Gallery Night Event
In presence of the curator
Opening March 20th, 2017 during the week of Art Basel Hong Kong, Tang Contemporary Art presents a curated group exhibition at their Hong Kong gallery by Bao Dong, featuring the works of six contemporary artists from China – Cai Lei, Shen Liang, Wang Jun, Wang Ningde, Yan Bing and Zang Kunkun.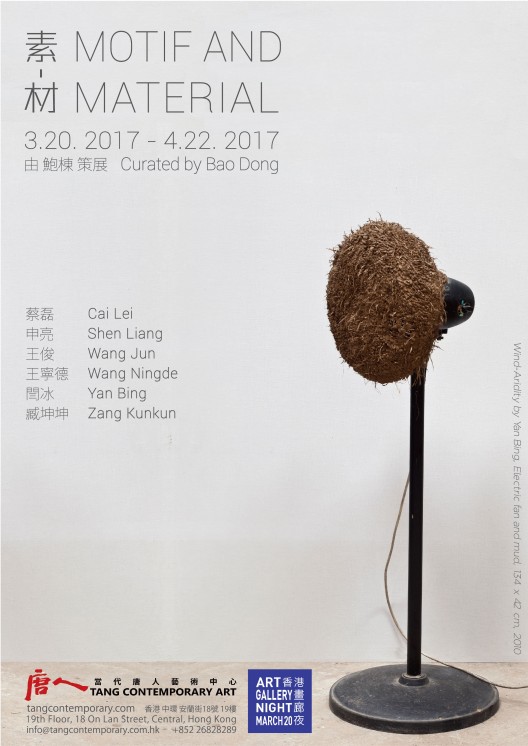 The word "素材" (pronounced "sucai", now commonly translated as "source material") originally meant "motif," the basic elements, subject matter, or theme of a piece of art or design. In contemporary artistic practice, this traditional idea is still relevant, and many artists have developed their artistic languages and working methods based on their own motifs. Thus, discussions of artists' methodologies inevitably touch upon their artistic motifs, especially if we want to analyze the implicit relationship between motifs and methods.
Thus, this exhibition has borrowed on this traditional idea of sucai and divided it into "Motif" (factors, elements) and "Material" (substance, media). This stresses thematic elements and artistic media, in order to discuss the artists' conscious mastery of the thematic or formal links between their materials, media, and artworks. Cai Lei's sculptures are the combination of the material of concrete and the experience of space. Shen Liang's painterly conceptions are revealed in the meticulous depictions of small objects, while Wang Jun manages the dual status of the painted object and the painting as object. Wang Ningde deconstructs and reconstructs the relationships between photography's materiality and technique, and between its social and documentary qualities. Yan Bing's work combines country mud and modern objects in daily life, and Zang Kunkun intervenes in the relationship between the objects inside the paintings and the objects outside the paintings. In the work of these artists, materials and methods do not exist outside of subject matter, having an aesthetic and conceptual value that is constructed together with the theme. Their artistic practices echo their experiences, and more importantly, re-stimulate the activity of their respective artistic categories.