XU LONGSEN
Mountains in the Clouds
Hanart TZ Gallery, Hong Kong
[Press Release]
Hanart TZ Gallery is honoured to present Xu Longsen's latest solo exhibition, Mountains in the Clouds. The opening reception will take place in the presence of the artist on Friday, 25 May 2018, from 6-8pm, at Hanart TZ Gallery.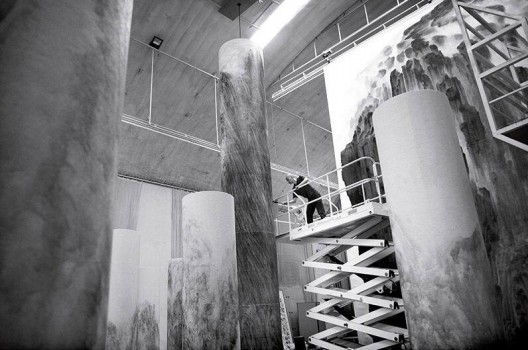 Running concurrently with Xu Longsen's groundbreaking overseas solo exhibition Light of Heaven, presented by the prestigious Art Institute of Chicago (March through June 2018), Mountains in the Clouds at Hanart TZ Gallery will showcase Xu's most important works of his recent oeuvre, including the monumental installation Shanshui Totem. Comprised of massive 'landscape pillars' measuring over three metres high, Xu's artwork acts as its own intervention in the gallery space, conjuring a spiritual landscape through which one can 'leisurely wander'.
Together with Shanshui Totem and a select group of Xu's monumental landscape paintings, Mountains in the Clouds also marks the Hong Kong debut of Xu's new group of semi-abstract works, Flower Series, completed just this year, in which the artist explores further experimental breakthroughs in the style, technique and language of ink painting.