NADIAH BAMADHAJ
'Ravaged'
Chambers Fine Art, New York
[Press Release]
Chambers Fine Art is pleased to present Ravaged, a presentation of new work by artist Nadiah Bamadhaj. The series of 6 works combines her charcoal on paper collage drawings with photographic images by Indonesian photojournalist Dwi Oblo. The drawing component is made up of portraits of individuals that were interviewed by the artist at a shelter for trans and cisgender people in Indonesia called the Yogyakarta's Transgender Extended Family, where she has worked as a volunteer since 2016. Each portrait hovers above photographs capturing particular moments, some dramatic and others serene, in the everyday lives of her subjects.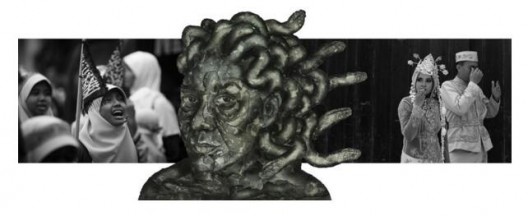 According to the artist, "Conceptually, Ravaged responds directly to a political phenomenon in Indonesia. At the moment, there is an opposition movement trying to destabilize the current ruling government by politicizing LGBTIQ issues in Indonesia. As the majority of the country is Muslim, one particularly effective method has been to use Islam as an "unchallengeable" doctrine to create institutionalized fear and hatred towards LGBTIQ communities. There is also a bill currently being debated in parliament to criminalize LGBTIQ activities and organizations. The result of this political movement is an increase in rape, assault, and economic crisis within LGBTIQ communities. It is estimated that in the run up toward the presidential election in 2019, this situation will get worse before it gets better."
Ravaged is an attempt to highlight what is going on within the LGBTIQ community in Indonesia, focusing on one group, Yogyakarta's Transgender Extended Family. The people that Bamadhaj has met at the shelter live complicated lives full of emotional burden and shame as a result of existing on the margins of an increasingly conservative society. The artist uses a familiar element from her work, the Medusa, which has been a part of her practice since 2008. In Greek mythology Medusa is turned to stone by Athena after being raped by Zeus; alluding this tragic figure, Bamadhaj's Medusas depict individuals who have experienced an injustice forced upon them by a higher power. The LGBTIQ community in Indonesia at the moment is experiencing just that. The Medusa element in this work is an expression of the anxiety of those portrayed in this series. The corresponding digital images allude to the stories of their lives: their hopes, fears and aspirations.