Nadim Abbas: Apocalypse Postponed
[Press Release]
Venue and Cocktails Announced
Absolut will present a new collaboration with Nadim Abbas on a site-specific art bar installation titled Apocalypse Postponed, which will be located in Soundwill Plaza II – Midtown, in Causeway Bay, Hong Kong. The Bar will be open daily 13 – 17 May to coincide with the Art Basel show in Hong Kong. Abbas will develop all aspects of the immersive installation – from the concept and design to the bespoke Absolut cocktails – working with notable collaborators including animator Wong Ping and composer Steve Hui.
Set in a post-apocalyptic environment featuring custom sandbag enclosures and a blood bar, Apocalypse Postponed will draw inspiration from a range of sources, from cult science fiction films including A Clockwork Orange, Dune and Alien, to 20th century defensive plans and fortifications such as the Swiss National Redoubt, the Atlantic Wall and WWII bunker ruins scattered around Hong Kong. The installation will be a continuation of Abbas's enquiry into the hidden violence that permeates quotidian elements of urban living.
Working with an Absolut mixologist, Abbas has developed a series of limited edition cocktails, drawing parallels with technologies that have been developed to provide nutritional supplements in specified conditions such as space travel and wartime rationing. These include the use of effervescent tablets in Ca+, and 2666: A Space Cocktail, a fresh beetroot cocktail served in a blood bag. The installation will feature a changing nightly program of live music, DJ sets, screenings and choreographed performances, including the legendary psychedelic electronic group Silver Apples, post-punk rockers Re-TROS, avant- noise improvisation by guitarist Li Jianhong, and local talents such as Atomic Bubbles, Meta Fog, Stoic Strangers and Pando's People.
Apocalypse Postponed is the latest in a series of unique collaborations between Absolut and leading contemporary artists on art bar installations, and follows
critically acclaimed installations by Adrian Wong at last year's Art Basel in Hong Kong, Mickalene Thomas in Switzerland in 2013 and Ry Rocklen in Miami Beach in 2013.
"Apart from being a tongue-and-cheek reference to the film Apocalypse Now, the title Apocalypse Postponed flips the archetypal trope of a dystopian post-apocalyptic setting on its head. How would you react if you discovered that the indefinite deferral of the apocalypse was really the apocalypse that was always and already present?" Says Nadim Abbas.
"We are thrilled to be working with Nadim Abbas. He has an incredibly interesting multidisciplinary practice and we look forward to working with him to bring his artistic vision to life." Says Ulrika Lövdahl, Global Art Manager, Absolut.
"The Absolut art bar has become an important addition to the Art Basel shows, and nowhere more so than in Hong Kong. Nadim Abbas is one of the most interesting artists practising in the region and we wait with great anticipation to see how he transforms this raw space into his post-apocalyptic vision." Says Magnus Renfrew, Director Asia, Art Basel.
Hong Kong based artist Nadim Abbas (b. 1980) studied sculpture at Chelsea College of Art and Comparative Literature at the University of Hong Kong. Abbas is a part-time lecturer at the Hong Kong Art School and the School of Creative Media at City University of Hong Kong. His work has been exhibited widely in Asia at Tetraphilia, Third Floor Hermés (2013); Satellite of ⁂, CL3 Architects (2013); Marine Lover, ARTHK11 Special Projects (2011) and Cataract, EXPERIMENTA & Gallery EXIT (2010). Abbas is represented by Gallery EXIT in Hong Kong.
Absolut is an Associate Partner of Art Basel and supports Art Basel's Conversation series. Conversations is Art Basel's dynamic talks program that brings together leading experts from across the visual arts, including artists, museum directors, curators, collectors, gallery directors and critics, to discuss some of today's most important issues in the global art market and the wider art community.
One of the guiding aspirations of Absolut is to nurture artistic discourse and provide a forum for ideas that are relevant to the art world and to society at large.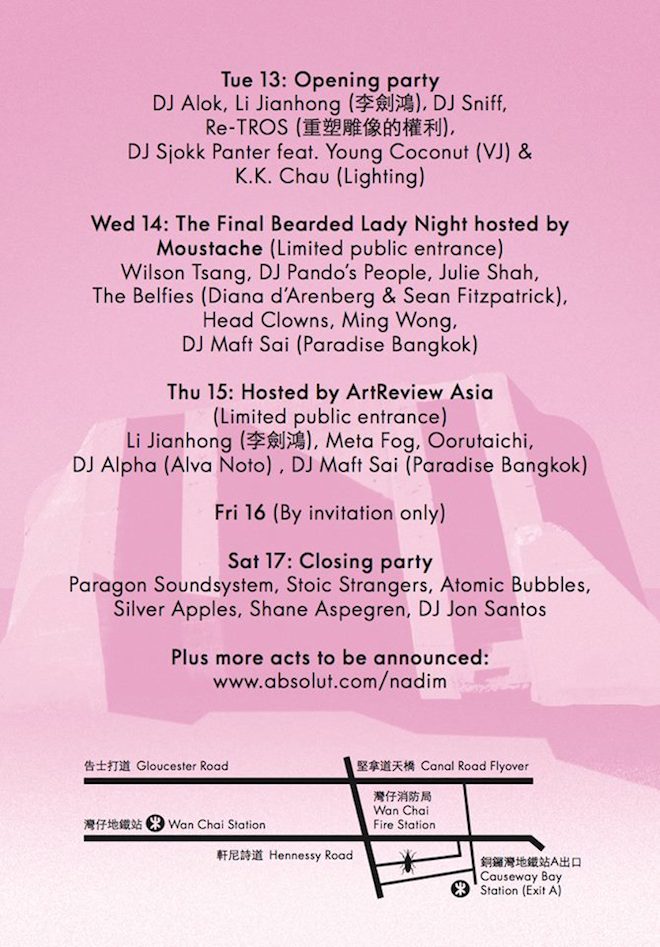 Spatial concept: Nadim Abbas & Sebastien Saint-Jean Made in: LAAB
Animation: Wong Ping
Soundscape: Steve Hui
Co-curators for performance program: Xue Tan & Shane Aspegren Costumes: Moustache
Graphic design: Jake Noakes
Cocktail design: Andres Basile
Apocalypse Postponed
Apocalypse Postponed will be open nightly from 13 – 17 May 2014, serving bespoke Absolut cocktails throughout Art Basel in Hong Kong. The art bar installation will be located in Soundwill Plaza II – Midtown, Midtown POP, 17/F, 1 & 29 Tang Lung Street, Causeway Bay, Hong Kong. Entry is free however, occasionally restrictions on access will apply during VIP events. Guests aged 18 years and older are welcome.
Absolut and Art
The first spirit brand to forge genuinely close ties with art and artists, Absolut has been active in the art world since 1985, when it invited Andy Warhol to create the first in a series of iconic advertisements inspired by the Absolut bottle. Since then, Absolut has collaborated with more than 550 artists on over 850 commissioned projects. Today, Absolut supports acclaimed artists, art writers and institutions in their efforts to present new works, stimulate ideas, bring people together and broaden access to creativity.
Absolut is an Associate Partner of Art Basel and supports Art Basel's Conversation series. This multi-year partnership was launched at Art Basel in Switzerland in 2012: when Absolut collaborated with Jeremy Shaw on Kirlian in June; Los Carpinteros on Güiro in Miami Beach in December 2012; Adrian Wong on Wun Dun at the inaugural edition of Art Basel in Hong Kong;
Mickalene Thomas on Better Days in Basel in June 2013 and Ry Rocklen on Night Court at the Miami Beach show last year.
Art Basel
Art Basel stages the world's premier art shows for Modern and contemporary works, sited in Basel, Miami Beach and Hong Kong. Defined by its host city and region, each show is unique, which is reflected in its participating galleries, artworks presented and the content of parallel programing produced in collaboration with local institutions for each edition.
In addition to ambitious stands featuring leading galleries from around the globe, each show's singular exhibition sectors spotlight the latest developments in the visual arts, offering visitors new ideas, new inspiration, and new contacts in the art world. Please visit www.artbasel.com for additional information.
Soundwill Group
Soundwill Group continues to be committed in its contribution to art activities and exhibitions. With the aim to provide local and international artists with opportunities to showcase their talents to the public through art exhibitions and public art installations at Soundwill Plaza II – Midtown. To increase awareness and present world-class art events in Hong Kong, Midtown POP, a multi-purpose venue located on the 17th floor will launch this May to provide a pop up creative space.
Soundwill Group expect Midtown POP to become a platform for local arts and cultural development, and to be a pioneer in bringing world-class visual arts, performing arts and culture through various types of activities for art appreciation and enjoyment in the city.
Located in the centre of visitor flow and consuming power within Causeway Bay's golden triangle, the 31-storey Soundwill Plaza II – Midtown will be the new home to renowned international brands, and will offer an unprecedented shopping experience thanks to its unique design, retail concept, superb location, impressive views over Victoria Harbour and the city skyline.