New Exhibitions Unveiled at National Gallery Singapore, celebrating ground-breaking Southeast Asian Artworks
[Press Release]
27 January 2016 – National Gallery Singapore has launched two exhibitions to inaugurate its Concourse Galleries. About 90,000 visitors are expected to view the exhibitions which include ground-breaking artworks, some of which have not been seen by the public for more than 30 years.
A Fact Has No Appearance: Art Beyond the Object brings together works by three key artists: Tan Teng-Kee (Singapore/Malaysia), Redza Piyadasa (Malaysia), and Johnny Manahan (Philippines) for the first time, while Earth Work 1979 recreates the original exhibition by artist Tang Da Wu (Singapore) at the National Museum Art Gallery in 1980.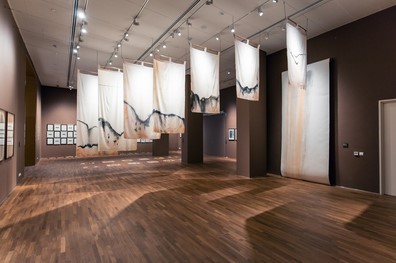 "We aim not only to explore the history of modern art in the region but also to revive important artworks that no longer exist physically. The curation connects closely to the Gallery's long-term exhibitions by examining a period in the 1970s when new approaches towards art-making had a strong impact in this region. This means that visitors can enjoy a seamless and expansive art journey as they move into the different exhibitions within the Gallery," said Low Sze Wee, Director of Curatorial and Collections, National Gallery Singapore.
A Fact Has No Appearance: Art Beyond the Object
The exhibition title is taken from Piyadasa's 1977 artwork A Fact Has No Appearance, which was destroyed and later reconstructed in 2001. The title makes explicit the role of ideas in art while providing a poetic and philosophical dimension to the exhibition. Curators Russell Storer, Clarissa Chikiamco and Adele Tan have selected artworks by the three artists that reflect a period when established art mediums such as painting, sculpture and photography were being challenged and new approaches to art were being explored.
Each of the three artists broke new ground during the 1970s: Tan's 1979 outdoor exhibition, known as 'The Picnic' featured a dramatic fire sculpture, described as the first 'happening' to have taken place in Singapore; Piyadasa co-organised Malaysia's first ephemeral art exhibition Towards a Mystical Reality in 1974; and Manahan was the first artist in the Philippines to work with video art, in 1972.
Earth Work 1979
Curated by Charmaine Toh, this exhibition is a recreation of Tang's original showcase in 1980 and examines a key moment of Singapore's exhibition history. This marks the first time the public can view artworks such as Gully Curtains since it was first presented, as well as The Product of the Sun and Me and The Product of the Rain and Me which were destroyed after the 1980 exhibition.
Tang has exhibited widely at international events including Venice Biennale (2007), Gwangju Biennale (2000) and Fukuoka Asian Art Triennial (1999). The accomplished artist's experimental methods encouraged public discourse examining the nature of art and the role of the artist back in the 1980s.
Earth Work 1979 will run from 22 January until 29 May at Concourse Gallery 2 while A Fact Has No Appearance will run from 22 January until 19 June at Concourse Gallery 1, located at Basement 1 of National Gallery Singapore. Admission to the Concourse Galleries is free. Both exhibitions will open from Monday to Thursday, Sunday and on public holidays from 10am to 7pm, and on Friday to Saturday and the eve of public holidays from 10am to 10pm.