Nirvana: Tropical Rebirth
Tang Contemporary Art Bangkok
[Press Release]
Tang Contemporary Art Bangkok is proud to announce the opening of "Nirvana: Tropical Rebirth," a three-person show for artists Heri Dono (Indonesia), Rodel Tapaya (Philippines), and Pannaphan Yodmanee (Thailand) on March 7, 2018.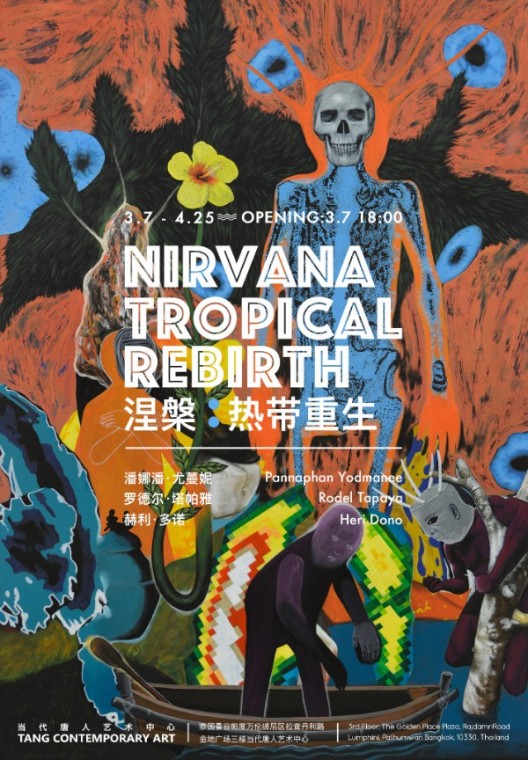 Heri Dono (b. 1960) is a leading figure in the Indonesian contemporary art world. He blends traditional shadow puppet plays (wayang kulit) into his work; he combines unreal figures and the consideration and criticism of reality into works of powerful imagination. In this process, he deconstructs and transcends tradition and fuses local culture and contemporary art to give life to a new visual effect.
Rodel Tapaya (b. 1980) has become one of the most-watched artists from the Philippines in recent years. He appropriates archetypes from Filipino folk legends and oral histories, expanding and molding them into a visual language that is all his own. Tapaya's stories are full of magical visions; he re-examines every myth, reflecting on a sense of cultural belonging. By interpreting them through a new artistic lens, he creates an interaction between popular culture and ancient myth.
Pannaphan Yodmanee (b. 1988) is part of the new generation of Thai artists. She focuses on the relationship between Buddhist doctrine and human nature. Through her work, she explores Buddhist philosophy and cosmology, including the universal themes of time, destruction, and death. She paints traditional Thai paintings on rocks, minerals, and other natural materials, adding Buddhist architectural elements to construct an artistic space that transcends the religious spirit.
Southeast Asia is home to a rich diversity of local cultures, and in a world threatened by monotony and homogeneity, this cultural diversity is particularly valuable. Tropical spices, ancient Borobudur, and the primitive freshness of Eastern myth are waiting to be awakened. These three outstanding artists work in contemporary art, giving the nirvana of tradition a new life in a modern cultural environment.