STEPHANIE JANE BURT
"O Dear What Can The Matter Be"
Yeo Workshop
Singapore
[Press Release]
Yeo Workshop is delighted to present 'O Dear What Can the Matter Be', the first solo exhibition of Singaporean artist Stephanie Jane Burt. For this exhibition, Burt will transform the gallery into an interior environment where intimacies, vulnerabilities and instabilities are left to unfold through a material language of the domestic, the decorative, and the everyday.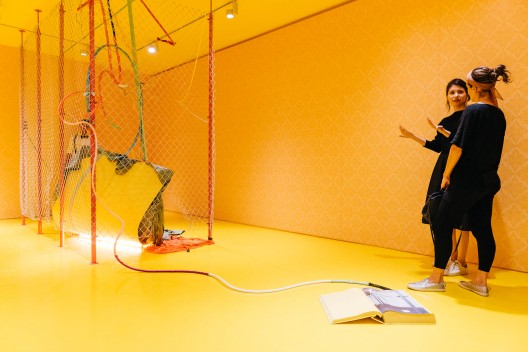 Saturday 24 September 2016, 2pm–3pm: Tour of the show with Stephanie Burt and Anca Rujoiu

Saturday 1 October 2016, 2pm–4pm: A conversation between Stephanie Burt and Anca Rujoiu around obsessions, desires and vulnerabilities through a juxtaposition of different materials (text, films and visuals) that informed the making of this project.
A graduate of Glasgow School of Art's MFA programme, Burt's practice is rooted in a material approach to language and fiction. Engaging with storytelling, her narratives unfold spatially, taking form through a variety of materials. Building materials that are often found and recycled merge with unconventional materials in Burt's meticulously constructed environments.
Metal, iron, wood and wire meet ribbon, wool, thread and lace. In this unexpected encounter, between the harshness and softness of materials, a play of attraction and rejection, stability and vulnerability emerges. Metal or wood structures are often fixed with ribbons or thin threads, at a closer look, what appears to be solid is in fact on the verge of collapse. Frictions and tensions in Burt's works derive not only from the juxtaposition of different, contrasting materials, but also from the choreography of gestures to which they are subjected. Gestures of pulling, stretching, and pressure exerted on the materials test not only their physical properties, but also their psychological state. An external pressure is internalised, slowly leading the works to a state of destruction. How much pressure can one endure? When enough is enough?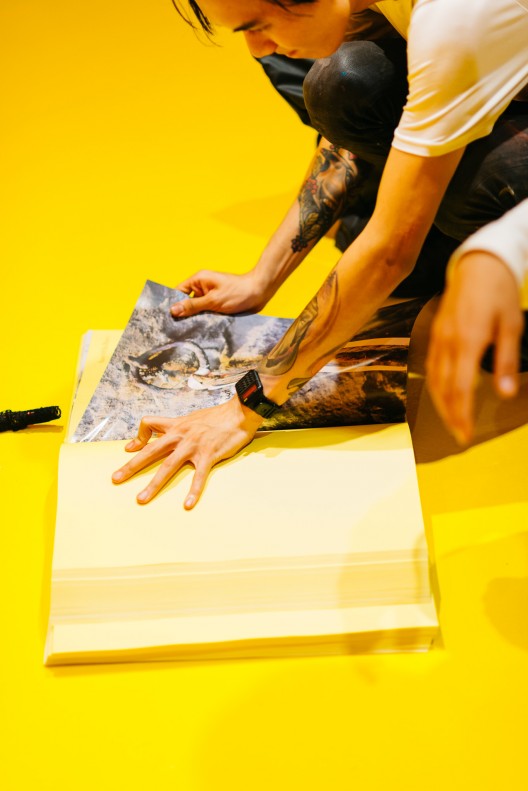 The apparent sense of balance and stability in Burt's installations, and the visual narratives of fairytales and magical spaces are undermined by the emotional state of these constructions caught in a moment of vulnerability and restlessness. The contrast between the joyful aesthetic of the materials painted in vivid, bright colours and the fragility of the construction, broadens the gap between what is perceived from outside and what is experienced from within.
About the Artist
Stephanie Jane Burt (b.1988) is an artist whose practice spans from sculptural installations to fictional prose. She completed her studies at Glasgow School of Art where she received her Bachelor of Arts (Hons) Painting in 2012 and her Master of Fine Arts in 2014. She moved back to Singapore in 2015, where she currently works and resides. Her work invites the viewer to explore dialogues between her installations and their settings through a fictional narrative at times referencing film and literature. She is currently invested in feminist readings of mother-daughter relations, dynamics of female friendships and the analysis and representation of Girl culture. Recent exhibitions include: The Republic of Dreams, Mizuma Gallery, Gillman Barracks, Singapore 2016; A Frangipani for Her Grave Thoughts, Ikkan Art International Gallery, Singapore 2016; State of Motion, Asian Film Archive Singapore, Singapore 2016; A Public Living Room, People's Park Complex Singapore 2016; Multiples, The Art Space at Suntec City, Singapore
2015; Wolf, Sister, Hidden Treasure, Mason Gross School of Arts, New Jersey, USA 2015; Potong Ice-Cream $2, Latent Spaces at Art Stage Singapore 2015; Janus, 87 Saltmarket, Glasgow 2015.
About the Curator
Anca Rujoiu is a Romanian curator currently based in Singapore. She is Manager of Publications at NTU Centre for Contemporary Art Singapore. Previous curator for exhibitions at NTU CCA Singapore, Anca Rujoiu has contributed to the early stages of the centre's development. She is also co- director of FormContent, a nomadic curatorial organisation adopting a self-reflexive and subjective attitude towards cultural production. In her curatorial practice, Anca has explored different curatorial formats beyond exhibition- making, including programming and publications.As a researcher and writer,she worked for several film and television productions, and artists'publications.