OCAT Shenzhen:
"Summer Triangle"
[Press Release]
OCAT Shenzhen is proud to present "Summer Triangle", a seasonal exhibition comprised of artworks by artists Jon Rafman, Adrian Wong, and Lantian Xie. Showing artworks referencing Hong Kong's cityscape, this exhibition attempts to examine how popular media construct the image of a city.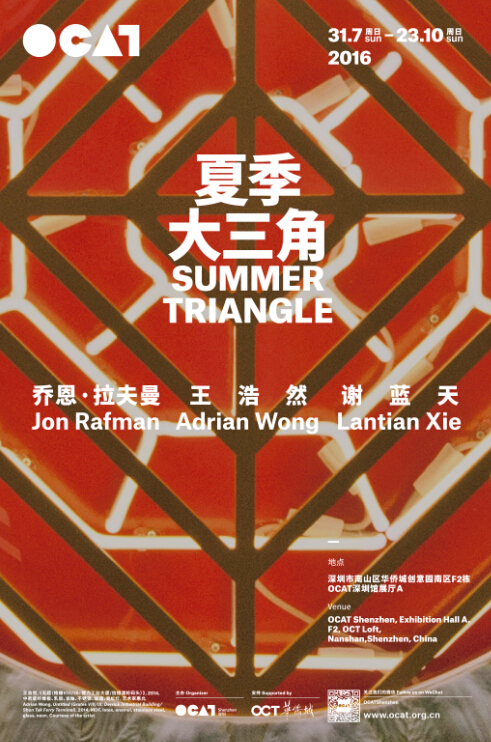 An astronomical asterism—a grouping of stars, typically smaller than a constellation—with its defining vertices at Altair, Deneb, and Vega, the Summer Triangle is an essential navigation coordinate in the northern hemisphere's preGPS summers. "Constellations are a way in which we make sense of the sky."(1) They trace the reverie of humans' sensory perceptions and imagination projected on the firmament. The shapes of asterisms and the boundaries of celestial spheres evolved fluidly according to changes in cosmological views, constantly modified like a palimpsest. The constellations generally recognised in modern times were born in 1930, when the International Astronomical Union divided celestial territories, assigning names and boundaries to 88 constellations, while expelling other ancient ones at the same time. Meanwhile, humans continue to freely link their fate and images together with celestial movements. The propensity to do so famously prompted German sociologist Theodor Adorno's analysis of horoscopes published in the Los Angeles Times from 1952 to 1953, resulting in a polemic against the ignorant masses' willing submission of their subjectivities to imaginary fatalism. Demarcated by humans' optical parallax and self-awareness, constellations form dialectical relationships in non-linear space and time, composing what Walter Benjamin termed the "dialectical image." Like star patterns, the image and identity of a city are at once the intermixture of history, politics, language, and the crystallised essence of a mass culture that takes the form of film, literature, pop music, and computer games, in which the lived and imagined spaces of a city form a symbiotic heterogeneity.
The name of Jon Rafman's ongoing photo project Nine Eyes alludes to the mechanical compound eyes of Google Street View camera cars: the sights captured by their mechanical gaze make up a city's official identity, transforming our physical experience in urban space into one of déjà vu. By trolling Google Maps to capture unexpected moments, the artist discovers dissonance in everydayness. Rafman further extends his dual role as flaneur and scavenger onto the open virtual platform Second Life. In Kool-aid Man in Second Life (2008-2011), the classic mascot of the flavoured drink mix brand travels to various scenic spots in the 3D online world, including a virtual Kowloon Walled City. Its iconic on-screen appearance, which involved knocking its own head through walls and hilarious costumes, carves out a territory in the weightless virtual realm for our imagination to roam free. Neon Parallel 1996 (2015) features Hong Kong's night scene—a standard of dystopias in sci-fi films—to deploy an archeology of the future. Here, grainy images of Hong Kong's night view (captured from the computer game Sleeping Dogs), the sound of someone typing on a mechanical keyboard, 90s muzak, outmoded fonts, and poetic dialogues all blend together to form Rafman's vapourware epic.
French philosopher Jacques Derrida believed eating was a process of assimilation. Perhaps not between human and food but also between the chef and the gourmand can "incorporate abstractly." (2) The North American-produced Chinese cooking show Yan Can Cook sees host Martin Yan perform soapy catchphrases and acrobatic cooking tricks; this "Jackie Chanstyle" entertainment is widely broadcast in 75 countries. Lantian Xie's eponymous work employs a carousel slide projector to accentuate the movements and sounds of the TV celebrity's cooking, creating links between food and the human body through sensory experiences other Organizer than the taste. Speeding through side streets, food deliverers occupy the transitional stage between a food producer and a consumer and convert the inside-outside dialectics between food and the body into a spatial tension in the urban fabric of the city. Home-delivery Bike Parked Outside (2014) shows electric bikes for delivery purposes detained in the exhibition hall, revealing a tension between inside and out related to the act of ingestion as well as the (physical and epistemological) walls of the museum. A delicacy can take us home or to strange places on the tip of the tongue. Members of immigrant communities often meet in restaurants that serve home-style cuisine, while some also drop in other restaurants in hopes of a taste of the exotic; here the restaurant functions as both the town hall and the embassy. (3) Hong Kong Restaurant (2013-) is an installation project that features the menu of a restaurant named after the city Hong Kong. Mass media and tourism have turned "Hong Kong" into the equivalent of "food heaven", a sign effective even beyond the confines of the city. "Improved" Hong Kong cuisine symbolises a "non-place" where globalism attempts to satisfy everyone's tastebuds. In 600569000 (2014), a work that takes its name from a UAEbased fast-food hotline, Xie loops a scene from Hong Kong film Days of Being Wild (1990) and replaces Xavier Cugat's Maria Elena, the scene's original soundtrack to Leslie Cheung's mambo, with the fast food hotline's ringtone. Anita Mui (2013) marks another appropriation of Hong Kong pop culture. For her 1986 self-titled album, Anita Mui graced the cover in a Middle Eastern look. As Xie removes the text from the cover, what is left is a lonesome "ever-changing diva" gazing aimlessly into a bewildering sky, another metaphor for a cultural non-place for imagination and misinterpretation.
Bejewelling the city like an array of glittering stars, architectural elements are crucial constituents of a holistic urban image. With a background in developmental psychology, Adrian Wong projects ideological structures into urban space. Hypnagogia IX (2016) comprises traditional barbershop poles, evoking the sense of this iconic urban site while simultaneously paying homage to Brion Grysin's Dreamachine. In Hong Kong, people are often blind to door grills, a ubiquitous object in the city, but their role as a divider of space, and the negative freedom they imply, cannot be denied. These grills consequently become the research subject and artistic form of Wong's works Untitled (Grates VI/VII: Shun Tak Ferry Terminal/Derrick Industrial Building) (2014) and Untitled (Grates VIII/IX: Derrick Industrial Building/Shun Tak Ferry Terminal) (2014). In Untitled (Floor I) (2012) and Untitled (Floor II) (2012), Wong employs carpet to formally attract attention to the ground on which we walk, as well as the everyday traces of walking. Dream Cosmography (2015) shows an imagined dialogue with an animal, setting up a linguistic structure where both interlocutors act as an "Other" to invite thought about the boundary of language in the realm of psychology.
Constellations thrive and evanesce in the dark sky; even once assigned with names and widely acknowledged, they cannot escape being replaced by the transmutation of humans' knowledge systems. So too is the urban image constantly updated and written over by the skewed views of mass media. This exhibition does not aim to define the lines between the "constructed" and "authentic" aspects of a city, but presents and appreciates how a multitude of perspectives on a given urban space reflects and modifies itself just as a gem's brightness is defined by its faceted surface.
The exhibition has been made possible with the support of Shenzhen Customs and Gleetour Seaview Hotel, Shenzhen.
(1). Raqs Media Collective, The Museum of Lost Constellations, 2013 (2). "Jacque Derrida, Daniel Birnbaum, Anders Olsson, "An Interview with Jacques Derrida on the Limits of Digestion", E-flux Journal, January 2009, http://www.e-flux.com/journal/aninterview-with-jacques-derrida-on-the-limits-ofdigestion/ (3). Conversation between the artist and the curator.