Xu Hongxiang
One Night While Hunting for Faeries
Loft 8 Galerie, Vienna
[Press Release]
One night while hunting for faeries
And witches and wizards to kill
I came across a hole in a tree in the forest
I climbed inside the tree hole with small fear and loaded my gun
I should have heeded that small fear
I walked towards the wizard's cave shooting to
Shoot out his wizard brains
With a wave of his hand he created a force field
My bullets, all ricocheting, bouncing around his old cave
One of them shot through my temple and severed my eyes
Blinded by my own gun, I got up and turned around to run
Stumbling and tripping, I fell, blooded on the ground
The wizard and faeries and witches all came with their medicines to my side
They sprinkled some frog dust on my face, on my face, on my
I saw death's face but somehow his bad grip let me go
I awoke in a strange room with new eyes and that's when I saw her
—The Flaming Lips, from Oczy Mlody, Songwriter Wayne Coyne, Steven Drozd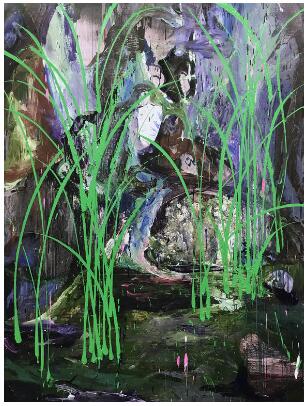 How did Xu Hongxiang become so good in so short time? Up until now, there was not much to see from the 1984-born painter, except for a few exhibitions in and out of Beijing, an interesting group show at Guangdong Art Museum in 2017 and some international presences. Coming into his studio for the first time immediately brings up the question of why not having known this great artist yet.
After an artist statement at Parallel Vienna 2018, Loft 8 Gallery is dedicating Xu Hongxiang his first solo exhibition in Europe. The nine paintings in this booklet which build the body of works for his exhibition in Vienna are representing the main focus of his creation: parts of landscapes and figures without much information about their origin and personality.
Why does the work of Xu Hongxiang show such strong characteristics? Considering the image formation of his paintings, a very particular view is being presented through the artist. However, it is not a technical aspect, which is why it attracts the viewer's attention – the specific characteristics of his works come from another angle. The visible results in an exhibition, are the single paintings by themselves. But for Xu Hongxiang, these paintings are somewhat actively related to their process of formation and the physical place of their origin. In the case of Xu Hongxiang, the working process clearly exceeds the studio walls, which does also remain comprehensive in the works.
"One night while hunting for faeries" forms a group of recent paintings from 2018 and 2019. To cope with them, and to do them justice through an explanation, three aspects in Xu Hongxiang's work should be analysed: first, the development of the perspective that Xu Hongxiang takes; second, the plasticity that the artist is searching for in his images and third, the special light that he applies, mainly in his recent works of the past two years, which permits associations with imagined situations and which lead to the title of this exhibition.
A specific perspective
Since 2012, the subject of landscapes has regularly been reappearing in Xu Hongxiang's paintings. There are often scenes with branches of trees, light-flooded forest glades or waterfalls, which have been transferred in a special atmosphere. However, there is never a whole landscape visible in one painting: each time, Xu selects particular moments, similar to a view that has been limited through a small window. Although it is only possible to see a limited part of a landscape, the painter masterfully succeeds in conveying a certain feeling with it, combined with his distinctive handwriting, which makes his paintings recognisable at first sight. Did a whole image exist before, from which the artist cut out his favourite part? Or is the image nothing more than just this specific view? When asking the question of where Xu Hongxiang's landscape parts originate, the second question arises.
Plasticity
The plasticity most likely results from the strong contrasts that Xu creates and accelerates in his paintings. When it comes to the origin of his images, the artist negates that it is a matter of real, existing landscapes. The sceneries themselves do not primarily interest him. What does interest him are the formal aspects that can be found in certain branches of trees, or the blades of grass and how their shapes and physiognomies accumulate in the background.
Furthermore, it is precisely by isolating such moments, which Xu Hongxiang found in nature or in photographs, that he achieves this high level of plasticity. He has a talent for choosing exactly the right detail and transferring it onto his image by cutting it out from the total image. Xu usually does not provide any information about the place or his relation to the context of the image. "The Green Grass", "One Part" or "The Birds" simply show the painter's approach to his definition of an interesting landscape.
The use of light
What is probably most remarkable about Xu Hongxiang's paintings is the specific atmosphere he sets as a companion to every image. Similar to a camera obscura, the painter casts light only from one direction onto a few parts of the image, leaving the rest in shadow. What western people would clearly interpret as a melancholic keynote in his paintings might be defined as an ambiguous significance in the Chinese tradition. The feeling that Xu Hongxiang conveys can be interpreted from different perspectives. The painter succeeds in transferring a special ambiance around his forrest sceneries and his very particular protagonists that immediately succeed of putting the viewer under their spell. Xu Hongxiang manages to create a feeling of enigmatic mystery. There is usually no direct light in Xu' scenarios which increases their tension with a mixture of dramatic moments and beauty.