Ota Fine Arts presents "Tsuyoshi Hisakado: Quantize" -Singapore
[Press Release]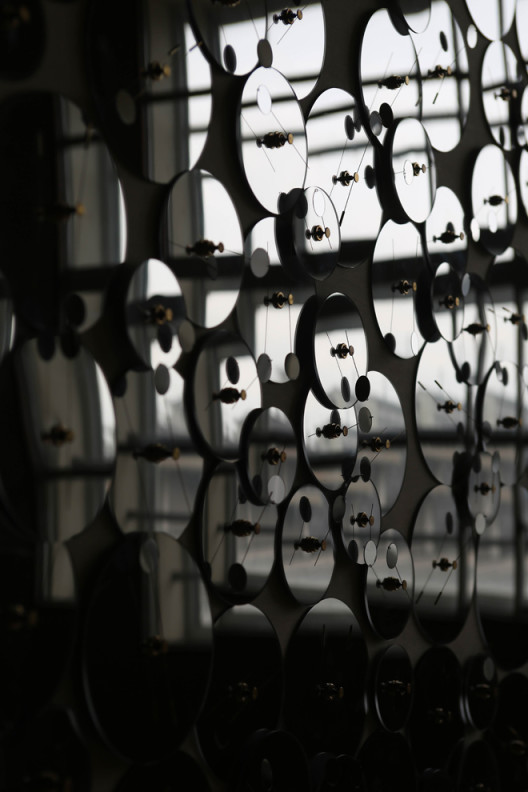 Ota Fine Arts Singapore is delighted to present "Quantize", a solo exhibition by Tsuyoshi Hisakado. This would mark the Kyoto-based artist's debut in Singapore, and is also an opportunity to showcase new works that he has worked on since his last show at the gallery's space in Tokyo. With an interest to pursue ambiguous memories using the form of sound and sculpture, Hisakado will turn the gallery space into a multi-dimensional one full of sensitivity.
The exhibition title "Quantize" is a term for electronic music — an automatic adjustment of randomly input music data to a form of grids. It specifically symbolizes the artist's style of giving certain rhythms to unlimited expansion of time and memory.
This exhibition is an installation in itself, with a mixture of surrounding sounds and flickering lights. Once viewers step into the exhibition space, vague shapes of Hisakado's works appear in the blinking lights and also with a roaring background sound, creating the feeling of being surrounded by a mythical time of eternity and instant moments. A light in the installation work hung from ceiling blinks constantly according to the sound of writing on paper, while loud roaring noise from speakers drown out the pencil's running sounds – the noise a mixture of rain and wind.
"Crossfades", one of the works featured in this show, has significant meaning when speaking about Hisakado's art. On a white paper, you will see a moving second hand, on top of which there is a tiny loupe. When you get closer to the art work and look into the loupe, you will find extremely small numbers, each sized 0.4mm in height and 0.25mm in width, on the paper. As the loupe moves, you cannot stay looking at one number for more than a second. The numbers seem to be put in a circle but they actually form a spiral shape, showing the value of π (circle ratio). Being in a time which seems to last forever and with the uncertainty of the circle ratio's continuity, one starts to feel each second as a valuable moment and by looking through the loupe each second can be felt as a space as well.
Hisakado's work always approaches the different sensitivities that human beings have. In this process, random noises and flashing lights would trigger some memories in a person's mind, which are not necessarily related to the environment he/she is currently in. Living in an age with excessive information available, sometimes one is not able to tell to whom those randomly recalled memories belong. On the contrary, Hisakado's art works also becomes a devise to make you recognize your existence – you are surely standing there, watching and listening. This exhibition creates a new page to contemporary art as an interactive installation which talks to the viewers' subconscious minds.
About the Artist
Born in Kyoto in 1981, Tsuyoshi Hisakado completed an M.F.A. at the department of Sculpture of Kyoto University of Arts in 2007. He formed an artist group SHINCHIKA in 2002 while he was in university, and he took charge of sound and installation. From this background, the two elements, 'sound' and 'sculpture' are the main features in Hisakado's art creation. Since 2012, Hisakado restarted his solo artistic activity. His solo shows include Shiseido art egg Tsuyoshi Hisakado at Shiseido Gallery, Tokyo, in 2013. He also participated in numerous group shows such as still moving, Suujin Elementary School, Kyoto, Japan in 2015, Exchange -Planting the seed at Aomori Contemporary Art Centre, Aomori, Japan in 2014, and what(n)ever, coop-KITAKAGAYA, Osaka, Japan in 2013.