PAT STEIR
'Kairos'
Lévy Gorvy New York
[Press Release]
New York, NY, July 24, 2017 — Lévy Gorvy's first New York exhibition with American artist Pat Steir will fill the public floors of the gallery's landmark building at 909 Madison Avenue with a suite of five eleven-foot tall oil on canvas paintings and eight smaller-scale works. This is the first New York exhibition of Steir since she joined the gallery in early 2016. Opening September 7th and running through October 21st, Pat Steir: Kairos will showcase paintings that manifest a methodological and philosophical continuity with—and slight formal departure from—her celebrated Waterfall series. Comprising Steir's first exhibition of new work in over three years, the paintings in Kairos are lush and sweeping in scale, with such titles as Implicit System, Heart, Aporia, Melancholy, Poros, and Trance, capturing the states they evoke. The featured works revisit the dialogue between intuition and accident that has defined Steir's work since the 1970s, renewing these themes for the present day. An opening reception will be held for the artist on Thursday, September 7th from 6 – 8 p.m.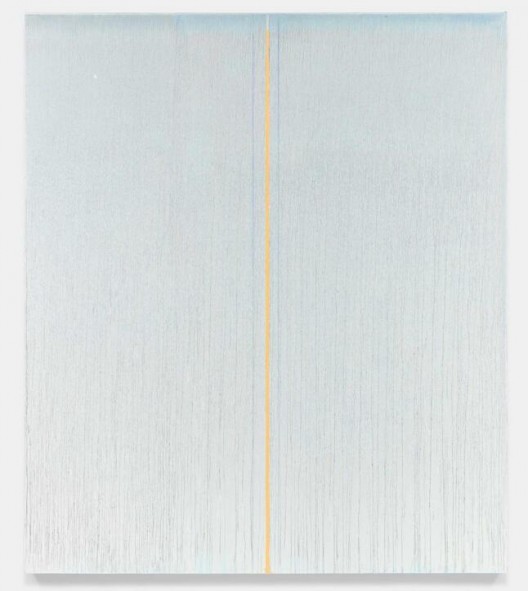 The dialectics of intention and chance define Steir's five-decade long practice; in the Kairos paintings, Steir furthers her investigation of non-objective painting with planes of complex color and texture situated on and between a central fissure. The exhibition title, Kairos—meaning a propitious moment for decision or action—originates from Trance Abyss, a poem by Anne Waldman written specifically with this body of work in mind and published in the exhibition catalogue. Observing their temporal dynamics, Waldman remarks, "There is a rupture in the fabric of Pat Steir's current paintings. The explosive Waterfalls offered a full-on stereophonic experience of entering spaces of celestial climatic 'pours' and one feels the visceral impact of her entities in space. But here we peer into the heavenly abyss, the beauteous, unsettling rift which is a contentious point of origin between two sides or bodies of similar yet severed wholes."
Although the results of Steir's work might signal a relentless pursuit of beauty and love of nature, her approach is inherently political. For the artist, politics and power are inexorably linked, and the source of all power relations is the individual ego. The foundation of Steir's practice remains deeply rooted in methodologies advanced by pioneering composer and her close friend John Cage (1912 – 1992). Furthering his conceptual openness to and use of chance, Steir applies Cage's theories to her process—from her preparatory mixing of the paint to its physical application. Steir's Zen-Buddhism similarly facilitates a move away from the ego and toward a practice that attempts to relinquish control. To an extent, Steir allows the paintings to form themselves, opening them to the influence of ambient material and natural forces. Climbing high up on ladders and lifts, Steir pours the paint down from the upper register of an upright canvas, surrendering her gestures to chance, allowing gravity and the viscosity of the paint—as well as the physical mechanics—to determine the direction and ultimately the final form of the work.
Steir recalls that her misunderstanding of the way traditional Chinese ink paintings were made led to her first Waterfall paintings. Initially, she thought the ink was splashed. Through subsequent research she learned that what appeared to be a splash was in fact meticulously drawn by the academically trained artist. "Sometimes the best ideas come from misunderstandings," Steir reflects, referencing her mode of working as "collaboration with gravity and flow."