Paulina Olowska
Destroyed Woman
Simon LeeGallery, London
[Press Release]
Paulina Olowska's exhibition at Simon Lee Gallery, London, constitutes the latest chapter in the artist's continuous and fertile research into image-making, exploring the ways in which she interprets painting as a vehicle for her idiosyncratic visions and as a facilitator for the exchange of feelings and sensations with the viewer. Spanning the gallery's three floors, Destroyed Woman puts forward a visual and emotional landscape through which to contemplate the self and the other, provoking our consideration of themes such as womanhood, ageing, the power of tradition and the spectator's gaze. With this exhibition Olowska invites us to thoroughly re-contemplate representations of women, particularly within an art historical context, and to redefine the purpose of their portraiture; how, she asks, can we reformulate tradition to encompass what has been destroyed and what must be recovered?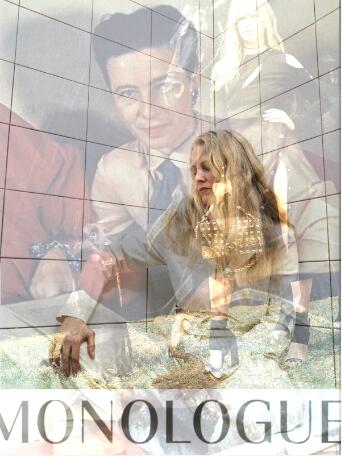 In Olowska's latest series of paintings female figures are captured posing, working or acting in diverse backgrounds. For the most part they are represented alone, engrossed in their own thoughts or activities. They watch us, watching them,all of us absorbed in both past and future.
Olowska's women are born from the pages of magazines and popular legend – they are the sum of varying references and iconographies: their choice of clothing, attitudes and locations come from fashion editorials and popular images, while their power as women is inherited from mythology and the tradition of classical painting. These 'destroyed women'constitute a tribe of modern-day deities, forming a collective of contemporary muses: engaged, empowered, iconic, each conveying a deeply personal sense of self-possession.
Though painting takes centre stage, the manifold mediums in which Olowska chooses to express herself are simultaneously gathered in this extensive exhibition: ceramics, textile works, sound,object-making, creative writing, and collaborative processes, in this case with artist Bonnie Camplin, art critic and curator Clément Dirié and fashion designer Michal Wisniewski. In partnership with Wisniewski, Olowska has created a new series of sculptures based around the designer's dresses, which have been first buried in the ground, then excavated, their petrified forms encased by a metal frame and crowned by a ceramic house, which takes the place of a mannequin's head.With Camplin, Olowska has conceived a sound environment in the basement of the gallery: a monologue on the subject of growing older accompanied by a monumental hand mirror, forcing the viewer to meditate upon their own psyche.
Olowska's sources, inspirations and personal ideologies are as varied and compelling as her unique manner of blending together her intuitive understanding of the emotional complexities of our reality. Chief amongst them are her considerations of the implications of life in a rural and remote environment—for years she has been living and working in Rabka, Eastern Poland—in a world centred around the accelerated existence of the megalopolis. Of pivotal importance to the conception of the exhibition is a collection of three poignant short stories published by Simone de Beauvoir in 1967 and entitled The Woman Destroyed. Out of these tales of women succumbing to the inevitable consequences of time, Olowska developed her central thesis: 'Once you have grown into womanhood, how do you defend or preserve your freedom to be the woman you want to be?' In asking this essential question, Olowska delivers a contemporised interpretation of de Beauvoir's characters, offering new perspectives on female representation,whether fact or fantasy.
By way of warning, de Beauvoir prefaces the second story in her collection with a sharp epigraph by Gustave Flaubert: 'the monologue is her form of revenge'. For Olowska, painting acts – if not as revenge – then as a means to give voice and form to her characters, in all their flawed beauty, in their totality as fallible, human women.
— Clément Dirié