DAVID LaCHAPELLE
"SCAPEs"
Pearl Lam Galleries
Shanghai—Pearl Lam Galleries is pleased to present SCAPEs, the first solo exhibition by acclaimed American photographer David LaChapelle in Shanghai, China, on show from 9 September to 31 October, 2017.
This exclusive exhibition presents the Asian premiere of selected works from New World, David LaChapelle's newest photographic series. A survey highlighting themes throughout the artist's thirty- year career, SCAPEs includes selections representing LaChapelle's early editorial projects and his progressive return to fine art.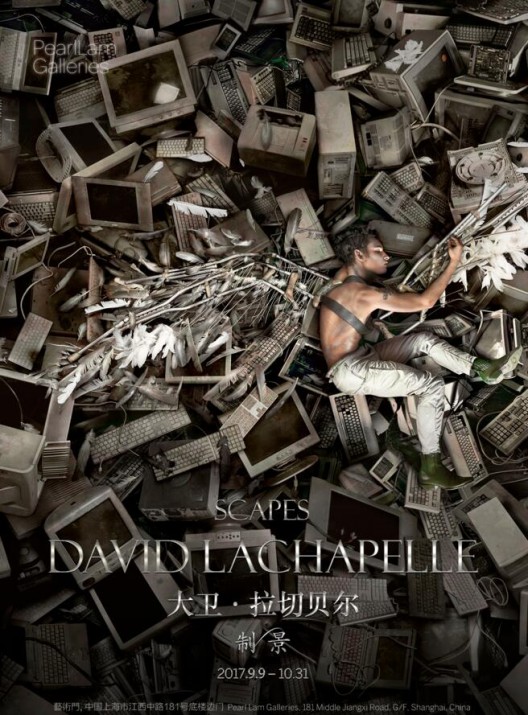 SCAPEs is arranged around a thematic embodiment of LaChapelle's varying oeuvres—from portraitures to landscapes and hyper-realistic to surrealistic settings, with satirical and ingenious narratives—to convey the artist's critical observations of our society and his ultimate pursuit of the eternal.
While pursuing a career in photography in the late 1980s, the 17-year-old LaChapelle was offered his first job by Andy Warhol to shoot for Interview Magazine, which exposed him to international publications and personalities. As one of a few who are able to balance editorial and fine art photography as a language of self-expression, LaChapelle revolutionizes the art form by attempting a holistic rendering of personage, religion, and social-environmentalism through bold, vibrant, and of- the-moment stylistic palettes and inventiveness.
Largely inspired by art histories and pop culture, parts of LaChapelle 's work evoke classical motifs and contemporary art to provide alternative readings of iconic images. His After the Deluge (2007) series, inspired by Michelangelo's Genesis-based fresco, depicts priceless masterpieces in water- flooded galleries. A similar clash between catastrophe and civilization reoccurs in Seismic Shift (2012), where a collection of the most sought-after contemporary artworks is depicted in the aftermath of an earthquake. The absence of humans, or rather humanity, in these works reflects the transience of fame and ownership, and further questions the meanings behind these art pieces when mankind is no longer in the picture. Also paying tribute to popular culture, LaChapelle portrays his muse Amanda Lepore, the transgender icon, as Hollywood icons Marilyn Monroe and Elizabeth Taylor, as presented in Andy Warhol's prints from the 1960s, underpinning his interest in unorthodox beauty and femininity.
In LaChapelle's Gas (2012) and Land SCAPE (2013) series, the battle between nature and civilization continues in meticulously chosen settings with crafted sets. Here, gas stations and factories are immersed in an ethereal neon-glow, making them look more appealing than they do in reality. They are scaled models made with everyday objects such as straws, cans, and other industrial products. The irony continues as these models are placed and shot in natural landscapes. The absence of characters and narrative further emphasizes the artist's focus on social-environmental issues.
The artist's awe of the sublime and his quest for spirituality are ubiquitous in his latest series, New World (2017). The call of the wild, with representational imagery, is depicted in this series as a reactionary tendency against the metropolis or cosmopolitanism, exemplified by the appeal of wildlife and the regain of consciousness and empathy for the inherent nature of mankind. This commingling of religious and natural imagery evokes a notion of faith centred on not merely how religion defines individual identity, but on how spirituality creates community and belonging.
The exhibition will present highlights of LaChapelle's works from the 1990s and 2000s, which revolve around fashion and show-business and aim to elicit emotional responses. These works include celebrity portraits of Lady Gaga, Bruce Lee, and Uma Thurman, as well as perfectly staged scenes for magazine spreads that often draw on social and pop cultural references. The extravagance and exaggeration mirror our consumer society and the cult of the star system. Nevertheless, the camera not only captures the unique nuances of these already-familiar icons, but also encapsulates the relationship between the face before and the man behind it.
LaChapelle's work will continue to reflect the interests and ambitions of his generation. In a sense, all forms of cultural marginalia—beliefs, spectacles and speculations from society's fringes, along with excessiveness that has held a strong grip on the imagination, expressions of desires and pleasures unknown—is for him to reach out to and express. We sense the time it took to create the photographs even as we understand them to be timeless.