"Play & Loop" — a 7-week screening programme
"Happily Ever After II"
Blindspot Galley, Hong Kong
[Press Release]
"Play & Loop" — a 7-week screening programme
10.7 – 25.8.2018
Cheng Ran|Hao Jingban|Jiang Zhi|Li Ming|Lin Ke|Shen Xin|Tao Hui|Wang Tuo
Special Opening Screening: Jiang Zhi, Forefinger (1999)
7.7.2018, Saturday, 5.30-6.30pm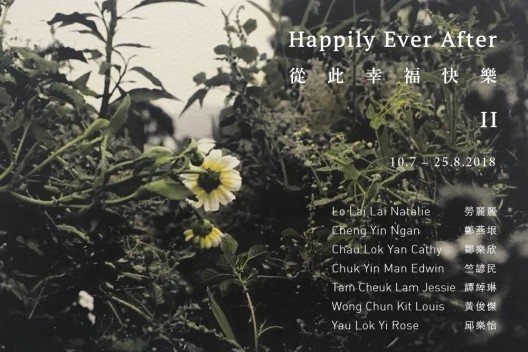 "Happily Ever After II"
10.7 – 25.8.2018
Lo Lai Lai Natalie|Cheng Yin Ngan|Chau Lok Yan Cathy|Chuk Yin Man Edwin|Tam Cheuk Lam Jessie|Wong Chun Kit Louis|Yau Lok Yi Rose
Opening Reception
7.7.2018, Saturday, 4-6.30pm
The artists will be present.
This summer, Blindspot Galley is delighted to simultaneously present two programmes: "Play & Loop" a 7-week screening programme, and "Happily Ever After II" featuring the works of this year's and last year's art graduates.
"Play and Loop" features iconic and recent video works by 8 artists from China mostly born between 1980s to 1990s who have been active in the art scene nationally and internationally. Participating artists include: Cheng Ran, Hao Jingban, Jiang Zhi, Li Ming, Lin Ke, Shen Xin, Tao Hui, and Wang Tuo. Each week, video works by one to two artists will be screened continuously on loop during the opening hours of the gallery.
The opening screening will feature Forefinger (1999), an early iconic work by Jiang Zhi. Forefinger (1999) is a documentary interviewing the eponymous Forefinger, a well-known poet who underwent the violence of the Cultural Revolution and torment of mental illness. Rarely screened in recent years, Blindspot Gallery is pleased to present Forefinger (1999) to mark the beginning of our screening programme.
"Play & Loop" Screening Schedule (click here)
Concurrent to the screening programme, we are hosting "Happily Ever After II", the second iteration of our summer group exhibition featuring works by Lo Lai Lai Natalie and Cheng Yin Ngan, two practising artists from last year's exhibition "Happily Ever After", as well as five fresh graduates of BA programme, Chau Lok Yan Cathy, Chuk Yin Man Edwin, Tam Cheuk Lam Jessie, Wong Chun Kit Louis, and Yau Lok Yi Rose, from Academy of Visual Arts at Hong Kong Baptist University and The Chinese University of Hong Kong. The ensemble ranges in materials and approaches, including painting, mixed media, installation, video and photography. By showing fresh graduates alongside practising artists who completed their academic training a year ago, the exhibition articulates a balance between perseverance and growth, continuity and change.