Pollen
Zhou Fan
ART LABOR
[Press Release]
Minuscule grains of pollen suspended in the air shudder with the sound, like living organisms. Each tiny ripple of sound passing through the air brings more of them to sudden life. The pale darkness opens itself to the pollen, and the pollen, taken in, increases the density of the darkness.
- Haruki Murakami "The Wind-Up Bird Chronicle" (Book Three: "The Birdwatcher")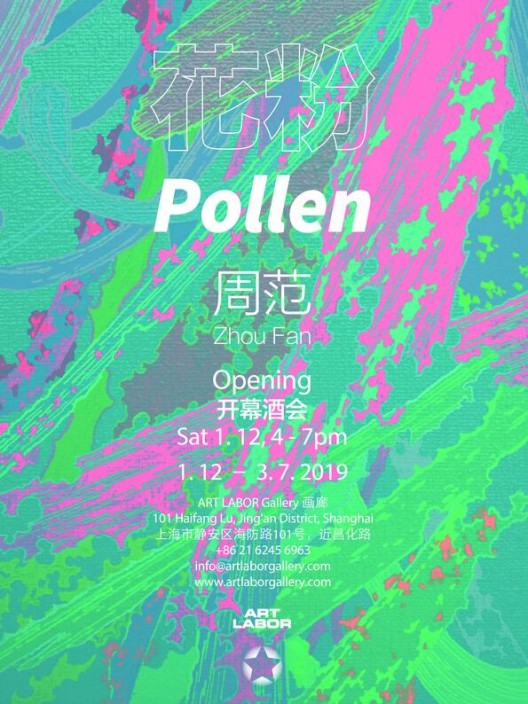 ART LABOR Gallery is pleased to announce the solo exhibition of talented Chinese artist Zhou Fan. The exhibition is to be held from January 12th to March 3rd, 2019. The Opening reception is on Saturday, January 12th from 4-7pm.
Titled "Pollen", the upcoming exhibition is the artist's third solo exhibition at ART LABOR. Building onto the previous two exhibitions – "Mute" (2015) and "Melt" (2017), "Pollen" is a multi-media presentation of video, light boxes, works on paper, and acrylic on canvas works.
From the creation of manmade and nature landscapes wavering between reality and fantasy (Mute, 2015), to the portrayal of internal physical and psychological geography (Melt, 2017). "Pollen" captures the atmosphere of a certain "interior". The word "interior" not necessarily indicates the space, but rather the sense of light, warmth and the air mixing together, creating a particular sensual atmosphere. Largely inspired by the famed Japanese author Haruki Murakami's award-winning novel "The Wind-Up Bird Chronicle", Zhou Fan read the book in his early 20′s and certain scenes in this novel left a strong and long-lasting impression, particularly the description of Room 208, which in the book serves as a place existing in the deep consciousness, as a parallel to reality.
Alongside the more conventional media of acrylic on canvas and works on paper, Zhou Fan has been collaborating with visual studio PUZAOSI and musician JINNNNNNN, creating the stunning new media work "Tomorrow", which can also be interactive with additional equipment. It is the first artwork of their independent collaborative art project "Loopwave".
Zhou Fan's recent solo exhibitions include an important museum solo show: Zhou Fan: Phobia, OCAT, Xi'an (2018); Loopwave-Empty, LITTLES, Chengdu (2018); Zhou Fan: Melt, ART LABOR Gallery, Shanghai (2017); Zhou Fan: Mute, ART LABOR Gallery, Shanghai (2015); Zhou Fan Solo Exhibition, Nuoart, Beijing (2013 and 2012). Recent group exhibitions include Pera Museum, Istanbul, Turkey (2019 forthcoming); Paint the Web Pink, ART LABOR Gallery, Shanghai (2018); Soft Opening Exhibition, ART LABOR Gallery, Shanghai (2017); 10 Years of Love, ART LABOR Gallery, Shanghai (2017); Fire Flowers, ART LABOR, Shanghai (2016); Bites Back, ART LABOR (2015); Dreaming in Color, ART LABOR (2014).