Preview: The Grand Voyage, at ShanghART Main Space
[Press Release]
ShanghART Gallery is pleased to present Preview: The Grand Voyage at main Space from 25th Aug. to 29th Aug. 2015. In the preview, the artists will show texts, image installation, objects and video to illustrate how their project started, weaved and will unfold in the near future. ShanghART Gallery's new space at the West Bund will present solo exhibition The Grand Voyage later on.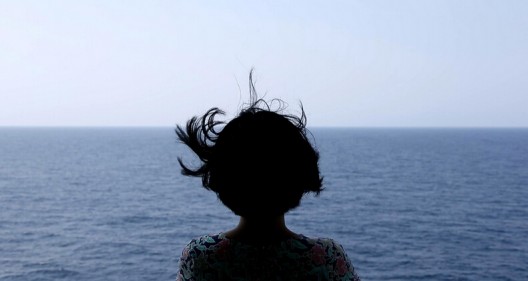 In the summer of 2014, GUO Xi and ZHANG Jianling began a long-term collaboration The Blue Trilogy in which "color of the era" is the core theme. As the first chapter, the keynote of The Grand Voyage is romantic spirit among which multiple images are intertwined: the infinity of light blue, silhouette of the gazer, poet vanished in the ocean etc. Before departure, the artists wrote and released twelve prophecies that will happen during a world cruise, the stories not only reflect potential routes to the theme but also serve as an index leading to infinite texts and endless interpretations. From March to May 2015, tracing the sensory experience and mysterious disappearance of Bas Jan Ader and Arthur Cravan, their journey searched for vanished gazes and solitary figures that once reached out to tangible infinity then disappeared in the ocean. As witnesses, the artists brought back to the continent visual testimonies that they collected along the way. In a series of future exhibitions, GUO Xi and ZHANG Jianling will gradually break open the labyrinth of narration by unpacking one thousand parcels and corresponding characters dwelling within, in the constellation of image-evidence-text, their memories will be brought to light.
Guo Xi was born in Yan Cheng, Jiangsu Province in 1988. After graduation from Department of New Media Art, China Academy of Art in 2010, he joined a two-year program at the Rijksakademie in Netherlands as artist-in-residence. In 2015, he graduated from New York University with MA degree in Studio Art. Zhang Jianling was born in 1986, she graduated from Wuhan University in 2008 and then studied in institute of Contemporary Art and Social Thoughts of School of Inter-media Art, China Academy of Art. After graduation with MA degree in 2013, she now lives in Shanghai.
The Grand Voyage is supported by Imagokinetics, an institution aims to detect and support innovative artistic form. In 2008, Imagokinetics was established as response to JNBY's pursuit to launch a non-profit institution, in a short time, a number of cutting-edge artistic websites, projects and individual practices are sponsored. After two years of exploration, Imagokinetics is determined to focus efforts on promoting innovative practices.
Special thanks also go to Costa Atlantica and DJI technology.