"PST/CST"
BANK
[Press Release]
Los Angeles, a Spanish name that translates as "the angels," is the largest city in the Pacific Standard Time (PST) zone. It is sixteen hours behind China Standard Time (CST) in the winter and fifteen hours in the summer. Originally part of Mexico until 1850, the city today is home to a population of ten million. Nearly 40% were born outside the U.S., with the majority coming from Mexico, El Salvador, and China. After Donald Trump took the office last year, immigration was given an unprecedented spotlight with the tradition of multiculturalism in LA suddenly threatened. Against this backdrop, the Getty Foundation initiated Pacific Standard Time: LA/LA (PST: LA/LA), an exhibition program exploring the rich past and the vital present of Latin American and Latino art, covering 70 institutions throughout Southern California.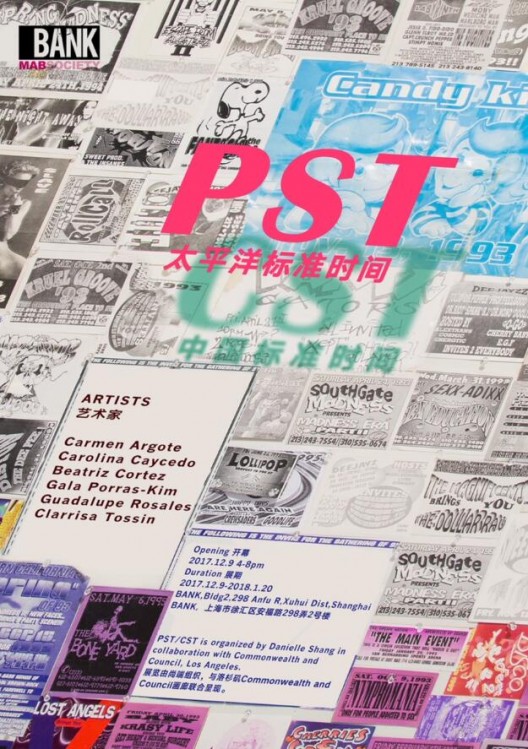 In celebration of this epic initiative, we invite six Los Angeles-based artists, participating in PST: LA/LA, whose families originate from Mexico, Central America, and South America to exhibit in Shanghai for the first time. Their practices unfold in the context of conflictual encounters with the Occidental academy, metropolitan culture, geographic displacement, and the often fallacious construct of Latin American or Latino identity found in their adopted home of LA. Anchored in their personal experiences as immigrants, and the collective psyche of diaspora, the artists work across a wide range of media and strategies to subvert institutional discourses, challenge consumer-capitalist logic, reframe marginalized narratives, and empower themselves through self-representation.
The multi-faceted works included in the exhibition present alternative realities integral to the landscape of Los Angeles's contemporary art scene. While the artists remain in strong solidarity with their own communities, whether Chicanx neighborhoods in East Los Angeles or towns along Sogamoso River in Colombia, their works invite an open engagement with the audiences in China to call for what Okwui Enwezor and Olu Oguibe suggest "a critical re-evaluation of the ideas on which our mutually entangled future rests in the surging course of globalization, destabilization, and transition."
Carmen Argote (b. 1981, Mexico) explores architecture, intimate spaces, and the resulting impact upon corporeality in relation to the notion of home.
Carolina Caycedo (b. 1978, United Kingdom) transcends institutional spaces to engage with local environmental activism in an effort to resist privatization of water resources and highlight human rights crises.
Beatriz Cortez (b. 1970, El Salvador) investigates how memory, the experience of immigration, and imaginaries of the future cognitively shape one's spatiality and temporality.
Gala Porras-Kim (b. 1984, Colombia) interrogates linguistic and visual representations of ancient Mesoamerican cultures within the institutional context of the neocolonial era, in particular, the Proctor Stafford collection at LACMA.
Nodding to the 1990's Los Angeles Latinx party crew scene and Chicanx youth culture, Guadalupe Rosales (b. 1980, United States)'s large format wallpaper and videos form a communal archive of ephemera that promotes marginalized histories and invites a critical dialogue on issues of collective self-representation.
The video Maya Blue by Clarissa Tossin (b. 1973, Brazil) highlights the thwarted legacy of ancient Mayan culture through a dancing protagonist who moves through Frank Lloyd Wright's classic Hollyhock House.
PST/CST is organized by Danielle Shang in collaboration with Commonwealth and Council, Los Angeles.