Raimund Girke, The Silent Balance
Axel Vervoordt Gallery
[Press Release]
Axel Vervoordt Gallery is pleased to present the exhibition, Raimund Girke. The Silent Balance. Following In Between White, in 2015 (Hong Kong), and Dominanz des Lichts in 2018 (Wijnegem, Belgium), this will be the gallery's third solo presentation of the late artist's work.
The Silent Balance builds on the gallery's exploration of Girke's monochrome paintings and work from the last two decades to highlight various aspects of Girke's complete oeuvre. The line is a constant in the selection of the artworks—as a motif that recurs both in his early large-format work and in his later, darker and more intimate paintings.
"Countless words count less than the silent balance between yin and yang", is a well-known quote from the sixteenth-century BC Chinese philosopher Laozi (or Lao Tzu), from which this exhibition takes its name. Girke was, in many ways, very inspired by Laozi's wisdom, particularly in which the contradictions in things and the search for balance are central. A key tenet of this knowledge if a belief that things don't change in a progressive way—they do in a constant cycle. A well-known dynamic process from Taoism are yin and yang: the two opposites that are in the unknown universe, the Tao. However, the concepts cannot occur separately: darkness only distinguishes itself in brightness.
" Black and grey complement white in opposition to it and thus intensify its radiance." "
Raimund Girke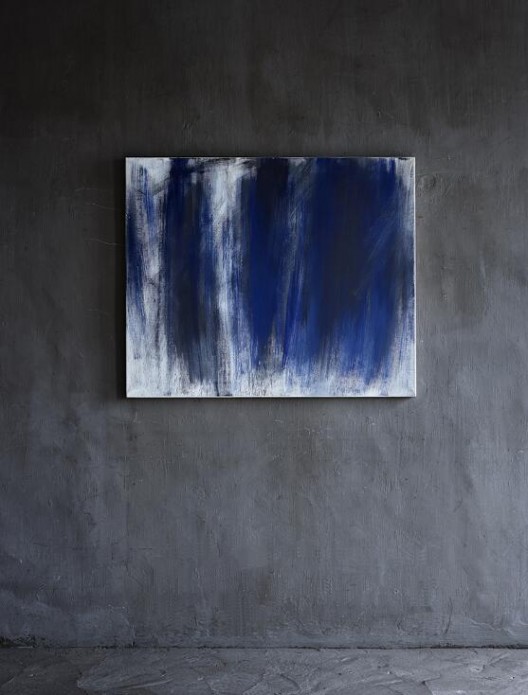 Indeed, white was the central colour of Girke's practice. More than a colour, white became his motif, his guideline, his fore- and back-ground, without becoming a concept. The use of white achieved a meditative character, as he wrote in 1965. Its use evolved and was in constant motion, with blue, brown and black brushstrokes having to manifest themselves against a white surface. The dark lines sometimes group together analytically-geometrically, then completely abstractly, or in such a way that they seem to fill almost the entire canvas. But, as Laozi wrote: "True fullness seems empty, yet it is fully present."
The same apparent contradiction can be found in the titles of the Girke's works. Nocturnal Brightness (Nächtliche Helligkeit) or Small suite: ascending plummeting (Kleine Suite: aufsteigend stürzend) refer to the white highlights that can only make themselves known through their opposites. Or vice versa? Through the use of oil paint and the brush, Girke combines Western European Tafelmalerei with the Eastern tradition of Taoism, while he even manages to reconcile these antipodes. Without a direct language of form, but with a purified palette and sometimes only with a few applied brushstrokes, the artist attempts to take the viewer to a new level of concentration, to an inner agreement, to a silent balance.
" We're honoured to present this exhibition in Hong Kong, as an exploration of Girke's devotion to his craft and glorification of his method. Girke's use of the colour white—a colour used predominately to depict an absence—and how he utilised its emptiness, non-material, quietness, stillness, as central to the subject and spirit of his paintings. Rather than being restricted by his monochromatic palette, he demonstrates it as an entire world in itself, which can be explored and expanded, and in this infinite universe of complexity and subtlety, how he searches for classical order. "