Rauschenberg in China – UCCA
[Press Release]
The Ullens Center for Contemporary Art (UCCA) is proud to present "Rauschenberg in China". On view in UCCA's Great Hall from 12 June to 21 August 2016, the exhibition centers on Robert Rauschenberg's (1925-2008) magnum opus The 1/4 Mile or 2 Furlong Piece (1981–98), its 190 parts stretching approximately 305 meters and exhibited for the first time since 2000. Also included in the exhibition is a selection of Rauschenberg's color photographs titled Studies for Chinese Summerhall (1983), taken during the artist's travels in China in 1982. Accompanying these works is a collection of documentation and ephemera related to Rauschenberg's transformational 1985 exhibition "ROCI CHINA" at the institution now known as the National Art Museum of China. These archival materials offer a rare glimpse into the historical moment when the artist's global quest for inspiration and cultural exchange through art put him in front of an emerging generation of Chinese artists, during a period that would later come to be known as the "'85 New Wave." Organized in collaboration with the Robert Rauschenberg Foundation and curated by Susan Davidson and David White, "Rauschenberg in China" is the first major exhibition in over three decades to showcase the artist's work to Chinese audiences.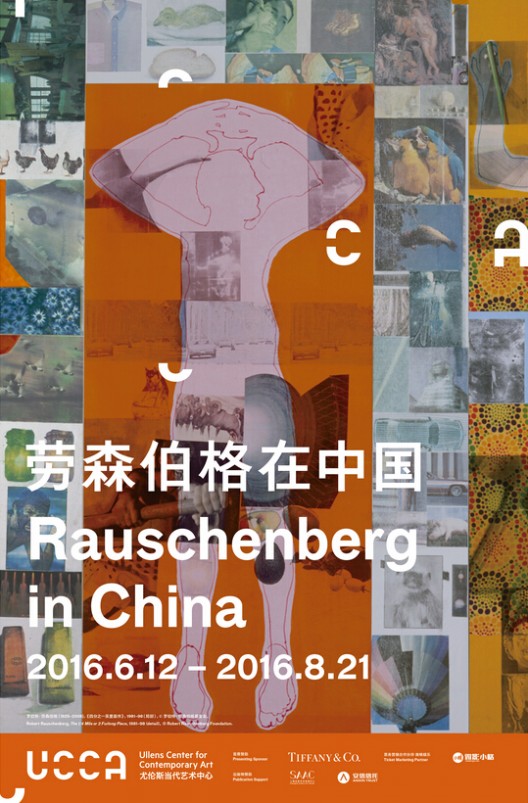 A masterwork often read as a self-contained retrospective, The 1/4 Mile was completed over a seventeen year period from 1981 to 1998 and reflects major themes from throughout Rauschenberg's oeuvre, ranging from his White Paintings, Combines, Cardboards, and Gluts to collages composed with either found images or the artist's own photographs. The earliest inspiration for the piece may have come from collectors Robert and Jane Meyerhoff, whose colt, which they had named Rauschenberg, won the Maryland Day purse in 1981. The furlong is a unit of measurement used in horse racing, and two furlongs the distance between Rauschenberg's home and studio on Captiva Island, Florida, reiterating the artist's constant theme of the connection between art and life. In quintessentially Rauschenbergian fashion, the components that make up The 1/4 Mile disregard traditional limitations of painting and sculpture. Patterned shirts, constructions made from found objects salvaged from junkyards, and silkscreened images on Lexan panels move across walls and into the exhibition space as a single work. This expansive artwork also incorporates an audio component comprising a cacophony of street sounds collected from the artist's travels. The first half of The 1/4 Mile inaugurated the Lila Acheson Wallace Wing of New York's Metropolitan Museum of Art in 1987, remaining on view for eleven months. The piece was later shown in its near-entirety as part of the artist's 1997 retrospective at the Solomon R. Guggenheim Museum, New York, subsequently traveling to the Museum of Fine Arts Houston and Guggenheim Bilbao in 1998. Its most recent public showing prior to this exhibition inaugurated Mass MoCA, North Adams, Massachusetts, in 1999. Rauschenberg continuously added and revised The 1/4 Mile during its extended period of creation, and each presentation has responded to the architectural configurations of its venue.
Alongside The 1/4 Mile, "Rauschenberg in China" also features Studies for Chinese Summerhall, two portfolios of images taken during Rauschenberg's first trip to China in the early summer of 1982, the only body of color photography the artist designated as art. Outfitted with a Hasselblad camera, Rauschenberg recorded scenes of daily life in early Reform-era China, captured through his sharp eye for composition and unique sensitivity toward beauty in the mundane, and relating to elements of urban environments and landscapes that had frequently appeared in photographs made throughout his career. These rarely seen images were made as studies for the monumental thirty-meter scroll-like photograph, Chinese Summerhall (1982), one of the centerpieces of his 1985 "ROCI CHINA" exhibition in Beijing.
About the Exhibition
The UCCA exhibition is accompanied by a slate of public programs including interviews with Chinese artists and thinkers about the artist's impact on the Chinese art scene of the 1980s. The bilingual catalogue Rauschenberg in China, includes a foreword by UCCA Director Philip Tinari, an introduction by exhibition curators Susan Davidson and David White in addition to focused essays by art historian Hiroko Ikegami, UCCA assistant curator Felicia Chen, Robert Rauschenberg Foundation curators Julia Blaut and Helen Hsu and research assistant Jennifer Sarathy. It marks the first time that The 1/4 Mile or 2 Furlong Piece has been reproduced in full. "Rauschenberg in China" has been made possible with the generous support of Tiffany & Co. The bilingual catalogue Rauschenberg in China is designed by Hubert & Fischer and is generously supported by Shanghai Artemis Art Center, founded by Anxin Trust. XiaoGe Entertainment and Gewara is the ticket marketing partner.
About the Artist
Robert Rauschenberg (1925–2008) was born in Port Arthur, Texas. As a veteran of the U.S. Navy, he used the G.I. Bill to pursue an art education, enrolling at the Kansas City Art Institute, Missouri in 1947, and later at Black Mountain College in North Carolina, where he collaborated with artists including John Cage, Merce Cunningham, Cy Twombly, and Susan Weil. He moved to New York in 1949 and mounted his first solo exhibition at Betty Parsons Gallery in 1951. Immersion in the avant-garde experimentation of Black Mountain and the crucible of late Abstract Expressionist New York enabled Rauschenberg to develop a wildly inventive artistic practice. With his catholic interpretation, he created visual harmonies and cacophonies using found materials and objects, including disused household items, commercial products, construction refuse, and printed matter. In 1954, Rauschenberg began work on a series he called Combines (1954–64)—radically hybridized forms that pilfered from the vocabularies of both painting and sculpture while refusing to fit neatly into either category. The Jewish Museum in New York hosted his first retrospective in 1963. Combines exhibited with silkscreened paintings (1962–64) in the American presentation at the 1964 Venice Biennale earned Rauschenberg the International Grand Prize in Painting. As would be the case time and again with this controversial artist, his achievement generated as much acclaim as it did notoriety.
Throughout his career, Rauschenberg engaged variously with performance, photography, conceptual art, and technology, employing such diverse mediums as Plexiglas, cardboard, textiles, hand-made paper, and salvaged materials both organic and synthetic. In 1966 he cofounded Experiments in Art and Technology (E.A.T.) to encourage creative dialogue between artists and engineers. By this time, Rauschenberg had also become an accomplished printmaker, bringing his iconoclastic, limit-pushingfervor to the cooperative atmosphere of the print studio. After moving from New York to Captiva Island off the Gulf coast of Florida, he established Untitled Press in spring 1971, which enabled him to invite his artist friends to make prints in Captiva. In 1976, the National Collection of Fine Arts, Washington, D.C. (now the Smithsonian American Art Museum) celebrated Rauschenberg as the country's bicentennial artist, with a retrospective exhibition that traveled to several museums throughout the U.S.A. A trip to China in the summer of 1982 galvanized plans for the Rauschenberg Overseas Culture Interchange (ROCI, 1985–91), a roving art making and exhibition enterprise that took him to ten countries outside the U.S. where he collected materials, took photographs, engaged with local artists and artisans, and presented his work. ROCI, an expression of the artist's belief in the power of artistic exchange to foster cross-cultural understanding, culminated in a summary exhibition at the National Gallery of Art, Washington, D.C. in 1991. In 1993, Rauschenberg received the National Medal of Arts from President Bill Clinton. The Solomon R. Guggenheim Museum, New York launched a major career retrospective in 1997, which traveled internationally through 1999. Rauschenberg's first posthumous retrospective will open at Tate Modern, London in November 2016 before traveling to the Museum of Modern Art, New York and the San Francisco Museum of Modern Art. Throughout his life Rauschenberg approached his art with a spirit of invention and a curiosity for new materials, technologies, and ideas.