[RKFA] Haffendi Anuar, Elephant Utopia at Futures Art Taipei 2015, Taiwan
Richard Koh Fine Art (RKFA) is pleased to present Elephant Utopia, a solo presentation by Haffendi Anuar at Art Taipei 2015, Future Section (Booth Y01) from 30 October to 2 November 2015. Art Taipei, the longest-standing art fair in Asia, will this year be staged at the Taipei World Trade Centre, Taipei, Taiwan. This is the artist's first solo art fair presentation in Taiwan.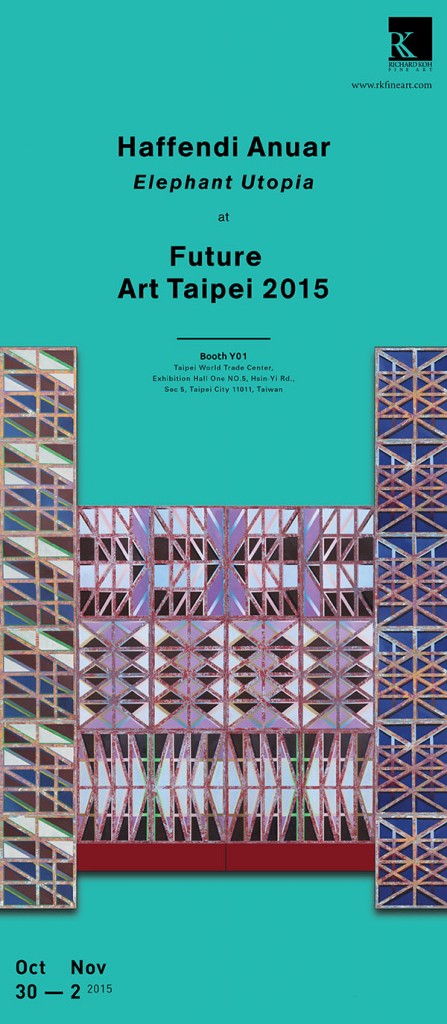 Haffendi will be presenting an installation extending from his recent solo exhibition in April 2015 at Richard Koh Fine Art titled M13, further exploring his continued interest in portraying the façades of Kuala Lumpur's built environment and the mass-construction of low-cost housing through geometric abstraction, making commentary on architectural constructions and its relationship to societal perceptions of progress and development in Malaysia. Mining the language of Western geometric abstraction as well as Islamic art while making references to everyday reality, the piece, which is composed of smaller 'replicated' 'components' of painted shapes, applying the approach to art making influenced by the division of labor and mechanical reproduction. Elephant Utopia, simultaneously a painting and a sculpture, calls to mind the city skyline and characterizes present-day structures as the 'white elephants' of modernity; visually appealing yet devoid of any real cultural nor progressive significance.
Haffendi Anuar (b. 1985, Malaysia) is an artist based in Kuala Lumpur. He produces sculptures, paintings and drawings. He did his International Baccalaureate certificate in art at the International School of Kuala Lumpur, his foundation at the Rhode Island School of Design in Providence and his BA Honors at Central Saint Martins College of Art and Design in London. In between his studies, he worked as a model maker at T.R. Hamzah and Yeang in KL, studied Mandarin in China and assisted artists in studios in London.
Haffendi's practice is multi-dimensional. Mining history of art, digital technology, nature and local contexts, he creates object-based works that recycle found images, objects and artistic styles from digital and local sources.