Rockbund Art Museum presents first museum solo exhibition in Mainland China for Singaporean artist Heman Chong
[Press Release]
19 October 2015 – Rockbund Art Museum (RAM) is proud to present "Ifs, Ands, or Buts" by acclaimed artist Heman Chong from 23 January to 3 May 2016. Curated by Li Qi, Senior Curator at RAM, "Ifs, Ands, or Buts" is the first museum solo exhibition in Mainland China for Singaporean artist Heman Chong.

"Ifs, Ands, or Buts" is imagined as chapters of a novel; one that will possibly never be written. The elements in the exhibition explore attempts at writing and failure to put things down in words. In Chong's world, things often start off as one thing and ending up as something completely different. The exhibition is a continuation of his conceptually-charged investigations into how individuals and communities imagine the future. This generates a multiplicity of objects, images, installations, situations and texts as the work.
The site specific installation entitled Legal Bookshop (Shanghai) involves the displacement of the gift shop with a bookshop that will carry only books that allows an individual to navigate the legal system in China. For this piece of work, Chong has hired Ken Liu, lawyer and award-winning author and translator of speculative fiction, who has researched and compiled the list of legal books that will be available for sale in this temporary bookshop.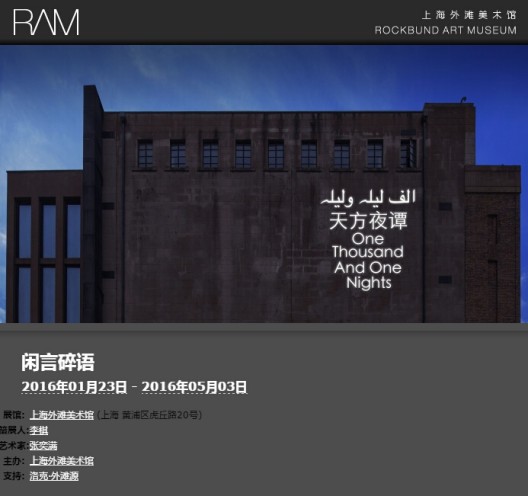 The duo channel video installation Re-Re-Re-Run will be installed on the second floor of the museum. The work will feature every single episode from Rowan Atkinson's 'Mr. Bean' and 'The Road Runner' animations, which will be looped for the entire duration of the exhibition on a large outdoor LED screen. Site specific installation The Mysterious Island will recreate the elusive and uptopian Peach Blossom Island, an important motif in East-Asian mythology and pop culture, using plastic flowers ordered online, and set against a background of walls painted blue, a blue often used in film production as blue screens.
Other pieces that will be shown in the exhibition includes large-scale light box installation entitled One Thousand And One Nights will be installed on the exterior wall of the museum; and a work that functions as both short story and installation, entitled Papaya Daily, which is an anthology of gossip collected by the artist, that he has heard or read about since 2003.
The works in the exhibition draw inspiration from a multitude of sources including a reading of a Chinese translation of the play Waiting for Godot by Samuel Beckett, the classic wu xia novel The Heaven Sword and Dragon Saber by Jin Yong, a well-known book of folk stories from the Middle East entitled One Thousand And One Nights as well as the endless episodes of Rowan Atkinson's Mr. Bean and The Road Runner animations by Chuck Jones. These references all point towards cyclical situations, possibly with infinite repetition.
Heman Chong is a major international contemporary artist in the way he combines, invents, revisits the codes of language with texts and images, using installation, painting, video, performance or writing that over-cross emotional, conceptual, visual and critical experiences. The Rockbund Art Museum is very proud to support and to show his artwork in China since his art creation brings new perspectives for the contemporary arts, going beyond the categories of disciplines, movements and practices.
About RAM
For 5 years RAM has been at the fore-front of the growing contemporary art scene in China, presenting world-class programmes in a unique museum setting. A boutique Museum of the upmost quality, RAM holds a unique position within Shanghai's continually expanding cultural scene. The Museum is located within the Bund district and housed in an exquisite heritage Art Deco building which was renovated by architect David Chipperfield before opening in 2010.
The museum's exemplary curatorial, education and research programmes showcase acclaimed and emerging Chinese and international artists, responding to and reflecting on present and urgent challenges of society locally and internationally. RAM presents a bold and pioneering programme of 3 exhibitions per year; exploring and realising artists' most ambitious projects and working with them to tailor exhibitions to the Museum and to the Shanghai context, often with a large proportion of works being new commissions. RAM devises, produces and curates its programme in-house, in conjunction with carefully selected international collaborations of the highest quality.