Saiful Razman at Bazaar Art Jakarta 2015, 27 – 30 August2015
[Press Release]
Booth C2
Bazaar Art Jakarta 2015
The Ritz-Carlton Jakarta Pacific Place, Grand Ballroom,Sudirman Central Business District (SCBD), Jakarta Selatan, DKI Jakarta 12190, Indonesia.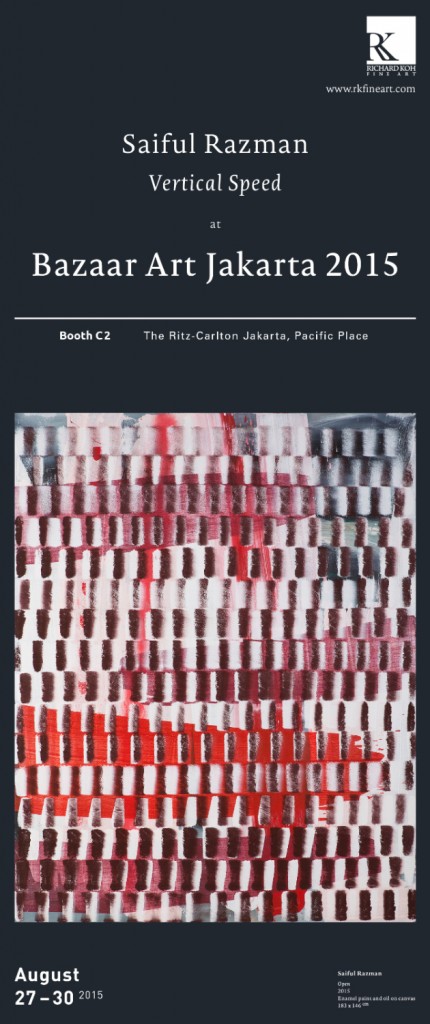 Richard Koh Fine Art (RKFA) is pleased to present Vertical Speed, a solo presentation of recent paintings by Saiful Razman at Bazaar Art Jakarta 2015 (booth C2) from 27 – 30 August 2015. The fair, located in the heart of the largest city in Indonesia, is staged at the Ritz-Carlton's Grand Ballroom, Jakarta Pacific Place, Sudirman Central Business District (SCBD), Jakarta, Indonesia. This is the artist's first solo art fair presentation in Indonesia.
Saiful will be presenting new body of large abstract paintings comprising of enamel paint on canvas titled Vertical Speed, which started early this year. Work in this series explores the mechanical process of painting; govern by repetition, chance and control and uses industrial materials such as roller brushes and household gloss paint instead of traditional art media. The artist has stated that the repetitive gestures and the use of non-art materials provide an opportunity to explore the element of spontaneity and the slippages from controlled painterly actions while framing painting as a procedural and ritualistic process.
Saiful Razman (b.1980, Malaysia) graduated from UiTM, Malaysia with a bachelor degree in Fine Art in 2003. He has exhibited widely in Malaysia, Lebanon, Australia and Singapore. In 2003, he was awarded both the Honourable Mention at the Philip Morris Malaysia-Asean Arts Awards and the Incentive Award at the Open Show, Galeri Shah Alam. He lives and works in Kuala Lumpur, Malaysia.