ShanghART Gallery (SH) Press Release – "20″ ShanghART Group Exhibition opens at Fosun Foundation
[Press Release]
ShanghART is thrilled to present "20", a special exhibition including 20 art works by 20 artists at Fosun Foundation opening on 20 December. The exhibition continues to 20 February 2017.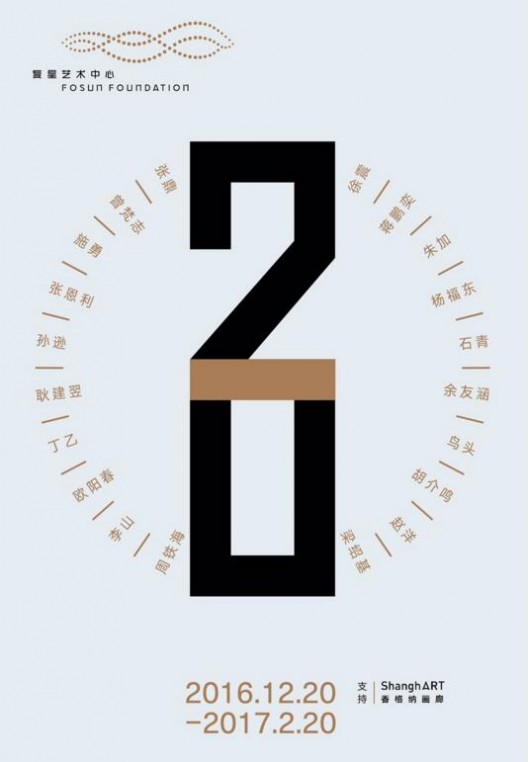 This exhibition showcases the works from the various periods throughout 20 years development of contemporary art in Shanghai. Every individual work as the pivotal representative that articulates correspondent artist's characteristic concept, integrates with the brand new multi-functional space, which fulfills the mutual association and connection between works and the three-storey architecture. Specifically, an interactive atmosphere is sufficiently formed with Zhang Ding's large-scale stainless steel cube and man-made crystal installation in the entrance hall. Nearly 600 square meters of the second floor presents the major works, including early classic works from Zeng Fanzhi, Ding Yi, Yu Youhan, Zhou Tiehai and Zhang Enli etc., and works in multi-media from Xu Zhen, Zhu Jia and Hu Jieming etc. In the top floor, viewers immerse themselves in appreciating Yang Fudong's eight-channel video installation.
"20" sees the path of ShanghART as the platform to reflect the dynamic evolving process of contemporary art in China, also resonates to the vision of Fosun Foundation that establishes a diversified international culture center combining the tradition and modernism. ShanghART and Fosun as the important participants and supporters both rooted in Shanghai which have been thriving throughout the history for more than two decades aim at disseminating art into a wider range of public life and concrete the foundation of the contemporary art on the promising new stage.
Exhibiting Artists:
Ding Yi, Geng Jianyi, Hu Jieming, Jiang Pengyi, Li Shan, Liang Shaoji, Birdhead, Ouyang Chun, Shi Qing, Shi Yong, Sun Xun, Xu Zhen, Yang Fudong, Yu Youhan, Zeng Fanzhi, Zhang Enli, Zhao Yang, Zhang Ding, Zhou Tiehai, Zhu Jia