LV SHANCHUAN "Spectacle"
Contemporary by Angela Li
Hong Kong
[Press Release]
Opening Reception | 開幕酒會
Thursday 星期四 | 26.05.2016 | 6-8pm
Artist will be in attendance 藝術家將出席
Contemporary by Angela Li is proud to present "Spectacle", Chinese artist Lv Shanchuan's first solo exhibition in Hong Kong. The exhibition showcases seven new oil paintings from his latest Agora series. Lv graduated from the department of Oil Painting at Central Academy of Fine Art in 1997, and currently lives and works in Beijing. Since returning from advanced studies in Germany in 2005, he has taken to basing his works on newspaper clippings of major domestic and international events, which he appropriates for re-creation. Layer by layer, the artist reinterprets news of the past and present with thick paint on the canvases. When viewed up close, the paintings give a sense of chaos. Yet when the viewer steps back and looks at them from afar, there is remarkable reasoning and order behind all this apparent disorder, and this reasoning and order are the core drivers of the paintings.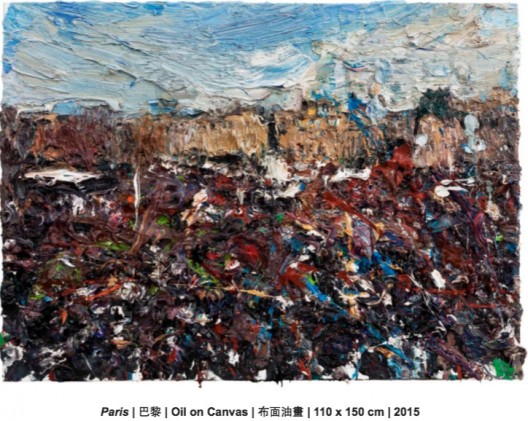 In modern language, the term "spectacle" emerges in a wide range of fields, from architecture to philosophy, aesthetics, history and ecology, but Lv Shanchuan's works are most closely connected to its use by 20th century French thinker Guy Debord. In his critical social treatise Society of the Spectacle, he posits that society has transitioned from a material society to a great mass of spectacles, where illusions have replaced true interactions between people, and all things that were once directly experienced have become illusory appearances. At this moment, the "spectacle" is the reality.
Renowned Chinese art critic He Guiyan remarked, "In the specific act of creation, Lv Shanchuan does not directly set out to reproduce these news images, or even engage in the simple 'representation' of them. To the contrary, he bestows them with new 'encoding'. This process of 'encoding' is manifest not only in the subjective formal language of expression, but more importantly in how the defamiliarizing rendering turns the original scene into a new social spectacle." According to He Guiyan, Lv Shanchuan has transformed news images into a form of "spectacle", an alternative landscape of more sociological significance.
"Agora" (the Greek word for "Square"), an important theme in this exhibition, doubles as the title of Lv's most distinctive works of "spectacle". There is an undertone of grief in this series, a continuation in the artist's previous explorations in the relationships within public spaces and social incidents. The thick paint solidifying on the canvases, with each work weighing up to a hundred pounds, unfold dramatically his interpretations of the spectacular views of societies right in front of our eyes.
About the Artist
Lv Shanchuan (b.1969, Fujian, China) graduated from the department of Fine Art at the Fujian Normal University in 1992 and completed his postgraduate studies at the Central Academy of Fine Art in 1997. He taught at the Fujian Normal University from 1992 to 2009, and went to Germany on the Sino-German Cultural Exchange Scholarship for further studies in 2005. He currently lives and works in Beijing.
Lv has held solo exhibitions and participated in group shows throughout China, Asia, Europe and the USA. Previous important exhibitions include: "China 8 – Chinese Contemporary Art Exhibition" (Germany, 2015), "Epoch Writing: Chinese Contemporary Art Invitation Exhibition / The First Round" (Epoch Art Museum, Wenzhou, 2015), "The Unknown State" (Beijing, 2015), "Events 2008 ― with China" (Today Art Museum, Beijing, 2014), "The 9th Florence Biannual Exhibition ― Ethics as the DNA of Art" (Italy, 2013), "In Contemporary ― China Fine Arts Biannual Exhibition" (Beijing, 2012), "The 8th Shanghai Biannual Exhibition" (Shanghai, 2010). His works have been collected by National Art Museum of China, Shanghai Museum of Art, Chengdu Museum of Contemporary Art, King Kuei Art Foundation and other international public institutions.