Studio
[Press Release]
Participating artists: Ding Yi, Jia Aili, Liu Jianhua, Liu Wei, Liu Xiaodong, Mao Yan, Xu Zhen, Yang Fudong, Yan Pei-Ming, Zeng Fanzhi, Zhang Enli, Zhang Xiaogang
"Studio" brings together twelve of China's most prominent contemporary artists: Ding Yi, Jia Aili, Liu Jianhua, Liu Wei, Liu Xiaodong, Mao Yan, Xu Zhen, Yang Fudong, Yan Pei-Ming, Zeng Fanzhi, Zhang Enli, & Zhang Xiaogang. By exploring their studios and working conditions through each artist's own lens, the source of their creative output is put on display, and the unique personalities of these artists and their artworks become tangible.
"Every year, I spend a lot of time visiting artists' studios. Studios are wonderful places to visit – you get an insight into the way an artist works, the conditions they work in, and you can see their newest pieces. It's somewhere you can really get a comprehensive understanding of an artist. Artists are a perceptive, eclectic group, and through their studios you get to see the various characteristics of different artists: some appear cluttered and homely, others clean and sterile; some have books strewn about, others bottles; in some, the sound of music drifts through the air… Art should be about more than just aesthetic images or objects. From their studio, we get a glimpse into an artist's pursuits and creativity; we can awaken our awareness and understanding of their world. We believe that this is an extraordinary and unusual exhibition, one that will be written into art history. " - Qiao Zhibing (Collector, Exhibition Organizer)
This exhibition is supported by UBS AG, Phillips and West Bund Group.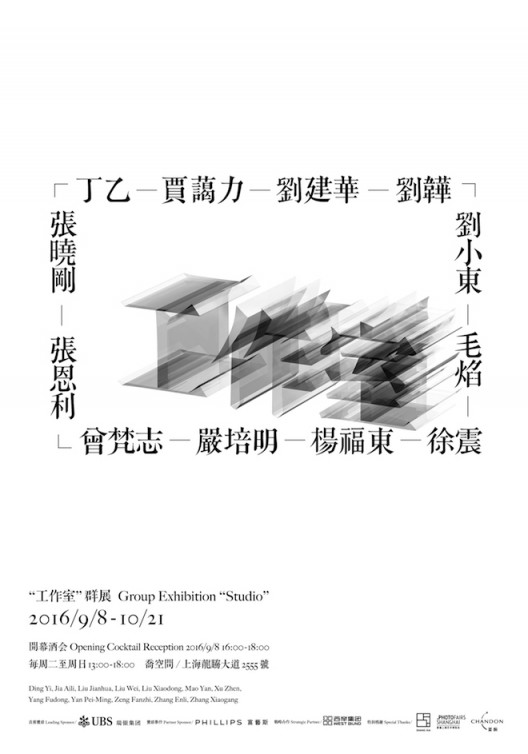 About Qiao Space
Founded by collector Qiao Zhibing, Qiao Space serves as his private space. Its project-based shows are either of established international artists or of active Chinese artists, with additional collection works on view, aiming to unveil the excitement of contemporary art world nowadays and to share with art lovers and greater audience.
About UBS:
UBS provides financial advice and solutions to wealthy, institutional and corporate clients worldwide, as well as private clients in Switzerland. The operational structure of the Group is comprised of our Corporate Center and five business divisions: Wealth Management, Wealth Management Americas, Personal & Corporate Banking, Asset Management and the Investment Bank. UBS's strategy builds on the strengths of all of its businesses and focuses its efforts on areas in which it excels, while seeking to capitalize on the compelling growth prospects in the businesses and regions in which it operates, in order to generate attractive and sustainable returns for its shareholders. All of its businesses are capital-efficient and benefit from a strong competitive position in their targeted markets.
UBS is present in all major financial centers worldwide. It has offices in 54 countries, with about 34% of its employees working in the Americas, 35% in Switzerland, 18% in the rest of Europe, the Middle East and Africa and 13% in Asia Pacific. UBS Group AG employs approximately 60,000 people around the world. Its shares are listed on the SIX Swiss Exchange and the New York Stock Exchange (NYSE).
In China, UBS has a multi-entity domestic platform which allows it to develop its core businesses – wealth management, asset management and investment bank. The establishment of UBS Securities represents the first time that a foreign-entity has been allowed to invest directly into a fully-licensed securities firm. UBS Securities holds 100% stake in UBS Futures Co. Limited. UBS (China) Limited is the wholly foreign owned bank focusing on wealth management business. UBS SDIC Fund Management Co. Ltd is a joint venture with the State Development Investment Corporation in which, for the first time, a foreign partner holds the maximum 49% equity stake. UBS Global Asset Management (China) Limited in Beijing is engaged in domestic non-securities equity investment management and advisory services. UBS Asset Management (Shanghai) Ltd in the Shanghai Free Trade Zone offers private funds for investing in overseas markets under the Qualified Domestic Limited Partner (QDLP) scheme.
About Phillips:
Phillips is a leading global platform for buying and selling 20th and 21st Century art and design. With dedicated expertise in the areas of Art, Design, Photographs, Editions, Watches, and Jewelry, Phillips offers professional services and advice on all aspects of collecting. Auctions and exhibitions are held at salerooms in London, New York, Geneva, and Hong Kong, while clients are further served through representative offices based throughout Europe, the United States and Asia. Phillips also offers an online auction platform accessible anywhere in the world, and is committed to supporting contemporary arts and culture through a worldwide programme of Arts Partnerships.
Visit www.phillips.com for further information.
About West Bund Group:
Located on the waterfront of Xuhui District, stretching 11.4 km down the western coastline of the Huangpu River and covering 9.4 square kilometers, the West Bund has become an especially vital new attraction in downtown Shanghai. Taking the West Bund Cultural Corridor and West Bund Media Harbor as the core projects, the area is aiming to create a distinguished and exciting waterfront urban district by bringing together leaders in culture, art, media, fashion design and innovative financial services from across the globe.
The West Bund has already attracted the Long Museum (West Bund), Yuz Museum, Shanghai Center of Photography, ShanghART Gallery, and other technical and financial projects, such as the Shanghai Dreamworks Center, Tencent, Xiang Mango, Shenyin Wanguo Securities and China Fortune Securities. It has also launched a series of successful culture events, including the Shanghai West Bund Music Festival, West Bund Architecture and Contemporary Art Biennial, and West Bund Art & Design. In the future, West Bund will acquire more cultural carriers, including West Bund Media Harbor, Star Art Museum, Oil Tank Art Center, West Bund Artistic Center and Waterfront Theater, expanding the territory of Art Museum Boulevard and aiming to become an internationally famous urban waterfront with its own identity and vitality, but comparable to the Paris Left Bank and London's South Bank.