SUN XUN's first solo exhibition in Korea Tears of Chiwen
ARARIO GALLERY SEOUL
[Press Release]
Arario Gallery Seoul is proud to present SUN Xun's solo exhibition Tears of Chiwen from September 6th, 2017 to November 5th, 2017. The artist recently concluded his Time Square Arts project that projected his 3-D animation work Time Spy on the billboards of Time Square every night for 3 minutes until midnight. SUN was also invited to show at the Guggenheim Museum in New York for their exhibition Tales of Our Time adding another exhibition at a major art institute in New York since his Metropolitan Museum exhibition Ink Art: Past as Present in Contemporary China in 2014. SUN also opened his solo exhibition, Prediction Laboratory, at YUZ Museum in Shanghai that included 12 animation works on top of other multitudes of works. The artist participates regularly in various international film festivals such as Oberhausen Film Festival and Venice International Film Festival.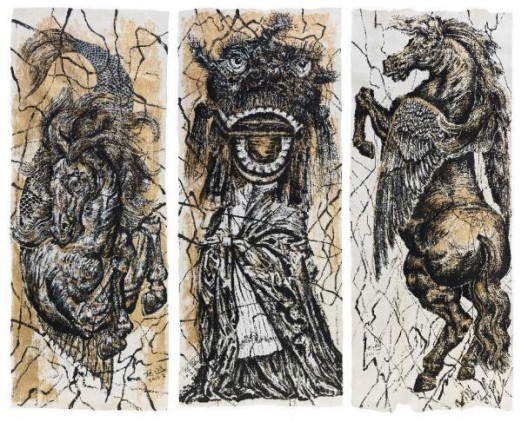 Sun Xun's first solo exhibition in Korea, Tears of Chiwen, will show around 20 works including asite-specific scroll painting as well as other paintings, installation, and video works. The artist focused on two key words, 'tradition' and 'mythic', for the works shown in this exhibition. Chiwen(鸱吻) is a traditional ornamental motif used on the edge of a roof in the form of a young dragon.
It has a protective function that symbolizes an ability to control rain and protect against fire. A similar ornament can be found both in Korea (called Mangse) and Japan (called Shachihoko). The 'tears' of the chiwen imply the sadness of Asian tradition losing its dominant position in Asian countries against westernization but sublimating the despair into happiness and anticipation for a better future.
Sun Xun was born in a mining town in Liaoning (辽宁省) that boarders between Mongolia and North Korea. His family has had a history of his grandfather being a member of Guomindang (国民党) which has afflicted the entire family during the Cultural Revolution (文化大改革)(1966-1976).
He has often heard about the stories from his grandmother as well as his father about their experiences during the period which differed from the history lessons that he was receiving from school. His father, a factory worker, deterred Sun to be close to the politics and encouraged his artistic talent. He supported Sun's art education which led him to study at Hangzhou Art High School (杭州艺术学校) and China Academy of Art (中国美术学院).
Growing up during Deng Xiaoping's Chinese economic reform era (改革开放), Sun was educated about the superiority of Communism in school while surrounded by market economy in reality. He found this irony similar to the disparities between the history he learned from school and what was shared by his family. His curiosity to explore the voids has been the continuous inspiration for his works, which as widen through his extensive travel to various countries.