Takashi Murakami In Wonderland
Perrotin Shanghai
[Press Release]
Perrotin Shanghai is pleased to present an exhibition by Japanese artist Takashi Murakami. The show will be the artist's rst solo show in mainland China and will feature several new works created for the exhibition that encompass many of the themes and characters that have come to dene his career. This presentation of work also marks the artist's largest gallery show to date in Asia.
Murakami's exhibition, which is the culmination of a collaboration spanning a quarter of a century between the artist and Emmanuel Perrotin, will bring to Shanghai new and recent creations that are of a wide range of dimensions, from single-panel canvases to a monumental, ambitious, 15-meter-long acrylic painting mounted on an aluminum frame, as well as sculpture, which includes the towering, 200 cm Invoking the Vitality of a Universe Beyond Imagination (2014) that was created using platinum leaf (a material found in several works in the exhibition).
Even before competing his initial artistic training in ink painting, Murakami made it his purpose to unsettle the status quo in Japan's art world, primarily by referencing contemporary Japanese conditions and sensibilities. As the artist once said, "On one side, I am trying to show my compatriots what 'art' means on a global scale. And on the other, to the foreigners, I am trying to show the essence of our current culture." 1 During a brief stint in New York in the 1990s, Murakami grappled with his place—and the position of Japanese or East Asian artists—among the contemporary art system, particularly New York's art world. This led to a creative decision to blur the line between ne art and subculture, and to mold a new identity as a Japanese artist.
This ideal and Murakami's spirit of artistic rebellion are best embodied by Mr. DOB, a whimsical character that has been appearing in the artist's work for over two decades and one that plays a signicant role throughout the exhibition. Through several different manifestations of Mr. DOB, the exhibition is a visual journey through the evolution of the character. Mr. DOB's name is lifted from the Japanese slang expression dobojite, which means "why?" The icon's sharp teeth, cartoon eyes, and murine ears are inspired by many sources and together, these features exemplify Murakami's inspiration drawn from youth culture, specically anime and manga. Though Mr. DOB's appearance constantly changes in the artist's many works—at times playful and innocent, at times menacing with fangs bared—he remains instantly recognizable, often with the letters of his name emblazoned across his face and ears. More recently, Murakami has said that Mr. DOB is the artist's self-portrait after 20 years of "working together," 2 with the gure acting as a vessel through which Murakami can channel his artistic struggles.
Other familiar patterns in the artist's oeuvre will be included in the exhibition. Though Murakami has said in the past that he initially "didn't like owers" and that their smell and shape made him "almost physically sick," 3 they eventually became an integral part of his work. He embraced the beaming, overjoyed ora and adopted it as one of his emblems when preparing for entrance exams for the Tokyo National University of Fine Arts and Music 4 and after spending nearly a decade teaching prep-school students how to draw owers. Now, the iconic candy-colored petals surrounding smiling faces are one of his most often employed motifs. This can be seen in several works throughout the exhibition, showcasing the progression of this concept from canvas to 3D sculpture.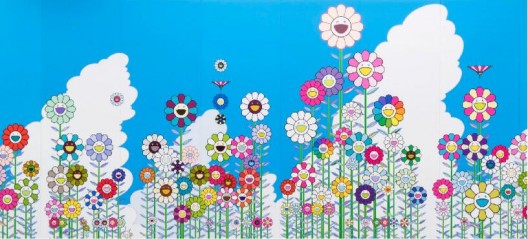 Also included in the extensive showcase of Murakami's work are several museum-quality paintings, including artistically complex and post-apocalyptic themed canvas works which command an audience based on the philosophical subject matter if not due to their scale and microscopic details alone. The gallery will also feature a special Takashi Murakami merchandise room – the rst of its kind in China – full of exclusive goodies, plush owers and other accessories.
Born in 1962 and raised in Tokyo, Takashi Murakami graduated from the Tokyo National University of the Fine Arts and Music in 1993 with a PhD in nihonga (literally, "Japanese painting"), and then proceeded to explore more contemporary visual styles. He coined the term Superflat to describe the postwar aesthetics and culture in his home country, including its impact on consumerism and sexual fetishism—a flattened 20th- and 21st-century Japanese society complementing a visual perspective in traditional Japanese art, melding high and low culture, or even shattering the distinction between the two.
In 2001, Murakami set up the art production company and artist management agency Kaikai Kiki, employing many younger artists to assist him in making his wide-ranging projects come to life. This act transformed his art into merchandise and a brand, in response to his own frustration regarding the lack of an art market in Japan during the early stages of his career. Murakami's direction also allows for incredible detail to be inserted into large-scale works that would otherwise be impossible to create by a single artist, expanding the possibilities of his creative endeavors and output. He also continues to act as a curator and mentor to several Japanese artists, whom he has been known to discover on social media.
Aside from fine arts, Murakami also engages commercial media, such as fashion, animation and movies. He has collaborated with French couture brand Louis Vuitton and Virgil Abloh, as well as musical artists Kanye West, Kid Cudi and Drake, and directed the Japanese fantasy film, Jellyfish Eyes (2013). With a prolific body of work that consists of paintings, sculptures, screen prints, drawings, video, popular merchandise and more, the artist's many contributions to the contemporary art scene have established him as one of the world's most recognizable cultural figures.