The Power Station of Art cordially invites you to Calligraphic Time and Space: Abstract Art in China
[Press Release]
Abstract Art in China,a new exhibition curated by Li Xu from PSA.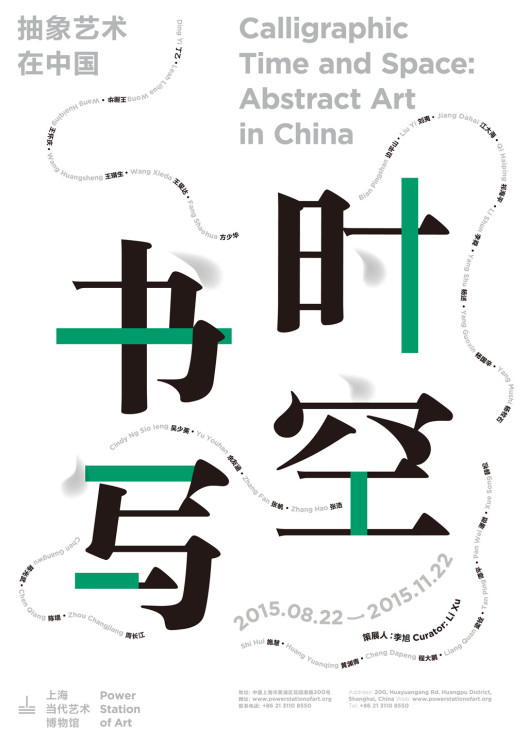 The exhibition brings together 66 projects, a total of 174 works, by 28 mainland Chinese artists from all over the country: Beijing, Shanghai, Hangzhou, Guangzhou, Tianjin, Chongqing, Shenzhen, etc. The works include watercolours, oil paintings, sculptures, installations, photography and videos.
Abstract art has occupied a special place over the three decades or more in which contemporary art has evolved in this country. It stands at a distance from the flashpoints of both ideology and commerce, and its marginal position means that abstraction has always been an individual project. The quality and maturity of the language and conceptions of abstraction are the most direct measure of creativity in art. Abstract art is a return to pure visual expression, and the purest discourse on metaphysical thought.
Contemporary abstract art in China is diverse, encompassing the traditional oil painting and watercolours, but also steady advances in sculpture, installation, photography and video. Visually, Chinese abstract art retains thick bonds with the aesthetics of calligraphy; conceptually it draws on Daoist and Zen Buddhist thought.
The focus of the exhibition is not on the calligraphy itself, but on possibilities for the progress of Chinese abstraction. The exhibition gives us the chance to revisit the relation between abstract art and calligraphy, from a contemporary perspective. It offers engagement, discussion and a basis for the future development of abstraction in our national artistic imagination.