The Variable and The Generating
MadeIn Gallery
[Press Release]
On May 18th MadeIn Gallery will launch "The Variable and the Generating" a group exhibition showcasing the works of seven artists including Chen Wenbo, Ding Li, Gong Jian, Li Hanwei, Liu Wa, Lu Pingyuan and Payne Zhu.
Virtuality as a certain potentiality enables to build a large, complex and intangible world outside of reality. In this respect, "The Variable and the Generating" will present artists' reflexion and expression on this non-physical world. Each of these seven artists developed their perceptions on virtuality based on various perspectives such as aesthetics, stories and games, digging into the virtual space to explore its deep structure, feeding path, and power relations. As the organic matter of the real world is gradually replaced by concepts, intelligence and numbers, the individual becomes both the subject and the port, both the power and the subordinate, the creator and the generator, within almost indissociable paradoxes, forming a heterogeneous isomorphism between utopia and dystopia.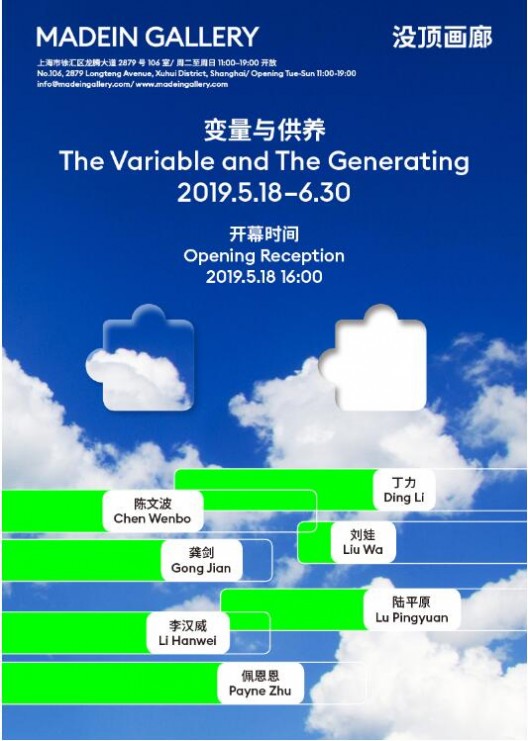 The paintings of Chen Wenbo, who already occupies a place in the Chinese contemporary realist movement, present an artificial light as a mirroring glare, unveiling an indefinite strangeness. Ding Li's practice explores the field of painting and proposes a unique visual language through oil paint compositions and tube-shape elaborated brushstrokes. Gong Jian's works present witty elements within an academically informed perspective with discourses of depth and authenticity, proposing a new angle on history and philosophy. Li Hanwei, founder of the online virtual art space "Slime Engine", excels in borrowing commercial advertisements and film language in the use of metaphors, employing image effects to express his understanding of the present. Liu Wa's work applies brain science and other technologies to construct an immersive interactive field, and establish a dialogue with the viewer's mind. Lu Pingyuan's practice revolves around the writing of stories, using this unique medium in his artistic creation. His enigmatic and fantasy short texts stimulate the public's imagination and expand the state of art in the real world. Payne Zhu reveals power, rules, manipulation, and conflict within the system by creating "game" installation. "The Variable and the Generating"'s participating artists belongs to the generations of the 60s, 70s, 80s and 90s. They started from their respective experiences, and explored as well as carried out various analysis on the "virtual".