Things From the Gallery Warehouse 7 – A – ShanghART Gallery Main Space
[Press Release]
From Dec 24 to the coming year 6 March, Things from the Gallery Warehouse 7 will be launched in ShanghART Gallery, Shanghai. The group exhibition will be successively unveiled as section A and B. SHI Qing's spatial installation work Wuhan Climate will prior to be exposed in section A (Main Space). Works from YANG Zhenzhong, HU Jieming, ZHANG Qing and ZHANG Ding as the New Year 'Must See' will be showcased in section B in coming January (H Space).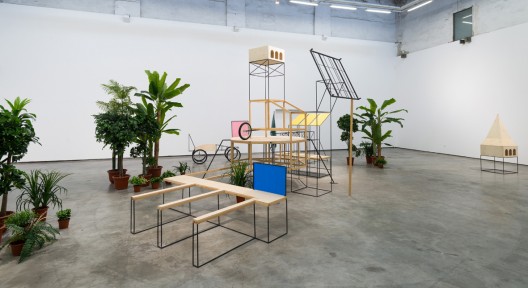 SHI Qing's space installation work Wuhan Climate was first shown in Wuhan Art Museum, it participated the project of Jiang Han Star Project CLIMATE–2014 Young Artists Research Exhibition. The art work consists of wood, plants, wheel, waterproof cloth and etc. installed by the artist.
SHI Qing's work simulate people, objects, organizations, social roles and etc. in a preset geographical space, triggered by experienced physical practice to dissect regional characters, reflected and constituted a systematic model which regards social ideology, productive relations, culture shock and individual intercommunication as the method of artistic practice in a short-lived public territory. Model frequent refers to a hypothetical stimulation of the cognitive system, which originates from the corresponding ongoing social production space artist engendered, thus geographical configuration. Art Work Wuhan Climate proves the perspective of geographical route. The model isn't regarded as a certain enclosed in-depth approach but as an intermediate tool of developing the recognition and practice, furthermore to be dissolved and re-configured during the process.
—
'Things from the Gallery Warehouse' is an ongoing exhibition project initiated by Shanghart in 2009. Every winter, this exhibition series showcases art works which have been shown in past major exhibitions, biennials and museum scenarioed projects and since have been rarely shown in shanghart's 3000 square metres warehouse (ShanghART Taopu Warehouse). Those hidden works produced by artists who germinated in diversified occasions will be re-located under a distinctive context, which are overt to be contemplated.