Tony Albert
'Wonderland'
Sullivan & Strumpf Sydney
[Press Release]
Tony Albert's Wonderland throws into question the historical framework of the global misrepresentation of First Nations peoples. Exposing these inaccurate and harmful representations throughout history, the exhibition includes a new series of paintings formed from regurgitations and amalgamations of found cartoon imagery, as well as found object works including the original outdoor signage for the defunct amusement park, 'Australia's Wonderland'.
Wonderland reveals the inherent stereotyping in depictions of First Nations peoples: exaggerated attire, dress and facial features; savage and uncivilized behaviour; and an overall villainous or subservient characterization, especially when compared to the 'white heroes' within the same narratives. These images have been repeatedly pushed, exploited and trivialized since colonisation, perpetuating negative notions and misconceptions. This reductive representation has obscured the seriousness of issues which continue to plague minority communities and has led to the creation of warped stereotypes which make it easier to ignore ongoing oppression.
Tony Albert's practice interrogates contemporary legacies of colonialism in ways which prompt audiences to contemplate elemental aspects of the human condition. Mining imagery and source material from across the globe, Albert draws on both personal and collective histories to explore the ways in which optimism might be utilised to overcome adversity. His practice is concerned with identity and the ascribing of social labels; unpacking what it means to judge and be judged in the absence of recognition or understanding.
Albert's technique and imagery are distinctly contemporary, displacing traditional Australian Aboriginal aesthetics with a kind of urban conceptuality. Appropriating textual references from sources as diverse as popular music, film, fiction, and art history, Albert plays with the tension arising from the visibility, and in-turn, invisibility of Aboriginal People across the news media, literature, and the visual world. Central to this way of working is Albert's expansive collection of Aboriginalia (a term the artist coined to describe kitschy objects and images that feature naive portrayals of Aboriginality).
In 2019 Albert is included in numerous significant group exhibitions, including the presentation of a monumental installation for Art Basel Hong Kong Encounters; the unveiling of a large-scale sculpture commissioned by Carriageworks for The National 2019: New Australian Art; his invitation by The City of Milan-PAC to exhibit in Australia: A Journey Down Under; and Enlighten Festival, Canberra, which will include I am Visible, an illuminated artwork commissioned by The National Gallery of Australia.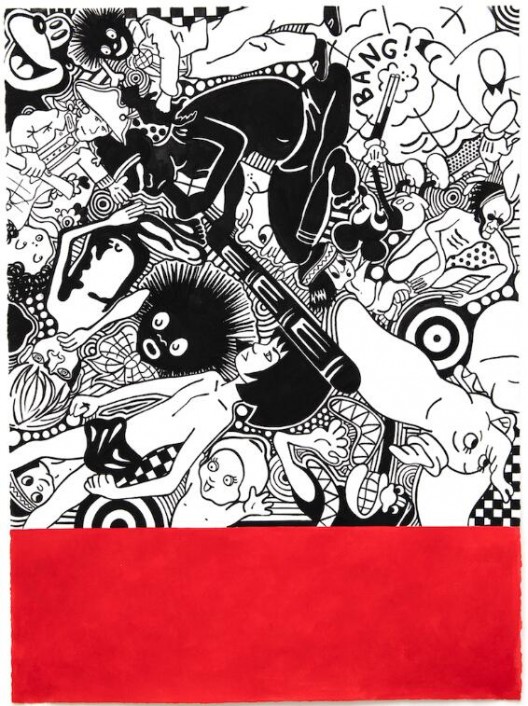 In 2018, Queensland Art Gallery | Gallery of Modern Art, Brisbane presented, Visible, Albert's first major institutional solo exhibition. Visible surveyed Albert's entire career including all aspects of his practice — from object-based assemblages, to painting, photography, video and installation — providing a powerful response to the misrepresentation of Australia's First Peoples in popular and collectible imagery.
Albert has exhibited his work at numerous museums and institutions including the Musée d'Aquitaine, Bordeaux, France; the Singapore Art Museum; the National Museum of China, Beijing; and the Tel Aviv Museum of Art, Israel. He was also included in the 10th Biennial of Havana, Cuba, and the 2014 Adelaide Biennial of Australian Art, Dark Heart.
He is well represented in major collections including the National Gallery of Australia; the Australian War Memorial, Canberra; the Art Gallery of New South Wales; the Art Gallery of Western Australia and Brisbane's Gallery of Modern Art—Queensland Art Gallery
Albert was the recipient of the 2016 Fleurieu Art Prize and in 2014 was awarded both the prestigious $100,000 Basil Sellers Art Prize and the $50,000 Telstra National Aboriginal & Torres Strait Islander Award. In 2013 Albert was commissioned to create an artwork for the Sydney Hyde Park War Memorial, installed in Hyde Park South on Anzac Day 2015 to commemorate indigenous soldiers.