SHEN LIANG ‧ ZHANG ZHENYU
'Trace'
Tang Contemporary Art Hong Kong
[Press Release]
Tang Contemporary Art Hong Kong is proud to announce the opening of "Trace," a joint exhibition for Shen Liang and Zhang Zhenyu, on November 2, 2017. The exhibition presents Shen Liang's latest Shell Paper series and Zhang Zhenyu's Dust series. These two artists engage with the issues of time and spirit in artistic creation through complex, time-consuming manual processes while exploring the aesthetic forms of minimalist abstraction.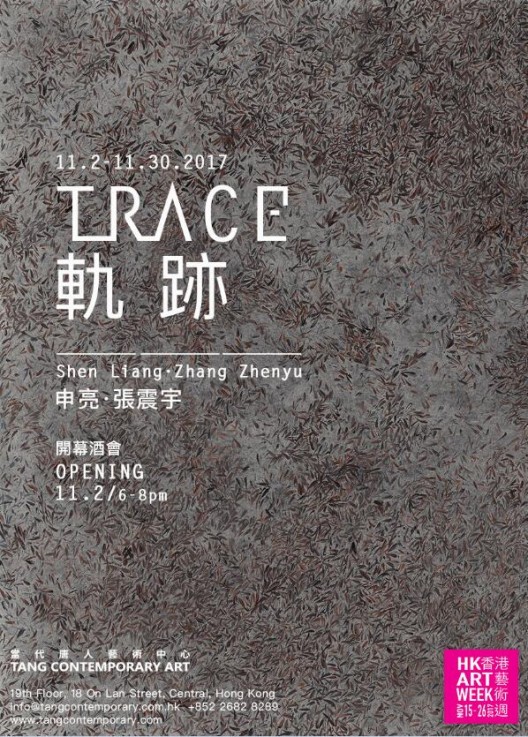 Shen Liang's Shell Paper takes sunflower seed shells as its subject. He captures the similarities between the forms of the seed shells and the calligraphic structures of dots, vertical lines, horizontal lines, downward strokes, and upward strokes, using calligraphic strokes to present his forms. Every shell is depicted using the techniques of traditional ink painting. The use of line is succinct and compact, and the moisture of the brush and the voids are similar to the painting techniques used for bamboo leaves. In particular, these images were completed in acrylic and toner on paper, combining Western materials and Eastern techniques and concepts. In Shell Paper series, these ordinary seed shells are depicted realistically, then dense groups of many shells are brought together in abstract images painted with appropriate shading and brush moisture. The work's meaning is not isolated to the level of visible form. These numerous shells were not made all at once; Shen Liang used the style of an "exercise" to gradually enrich the painting. In a blend of temperament and brushwork in the creative process, taste and spirit are liberated from materials and techniques.
Zhang Zhenyu began making Dust in 2011, using dust as a primary medium. He repeatedly polished the dust he collected to produce graduated mirror-like surfaces. Dust is a ubiquitous, natural material; it is present in our living spaces at all times, but as such, it is easily overlooked. In the complex collection and production process, Zhang Zhenyu changed the properties of these specks; he believes that dust reflects everything objective. Through this polishing process, Dust is given purity, injected with the artist's understanding of life and reality. By bringing the viewer into a tranquil space and time, nature is transformed into an object of beauty. Through his meditative creative process, his work comes to embody the abstract concepts of time and Zen. In this exhibition, Zhang's video work Horizon Line is exhibited with hanging works from the Dust series.
The work of Shen Liang and Zhang Zhenyu emphasizes the physical nature of painting, and the shells and dust are the traces of their labours. Mood, realization, and thought are concealed within minimalist forms, pointing to a spirit of spontaneity.