Transaction of Hollows Performance by Melati Suryodarmo
ShanghART Singapore
[Press Release]
Singapore, January 2018 – ShanghART Singapore is pleased to present "Transaction of Hollows", a durational performance by Melati Suryodarmo on 25th and 26th January 2018, 5pm- 9pm on both days.The aftermath of the performance will serve as an exhibition and will be on view until 25 February 2018.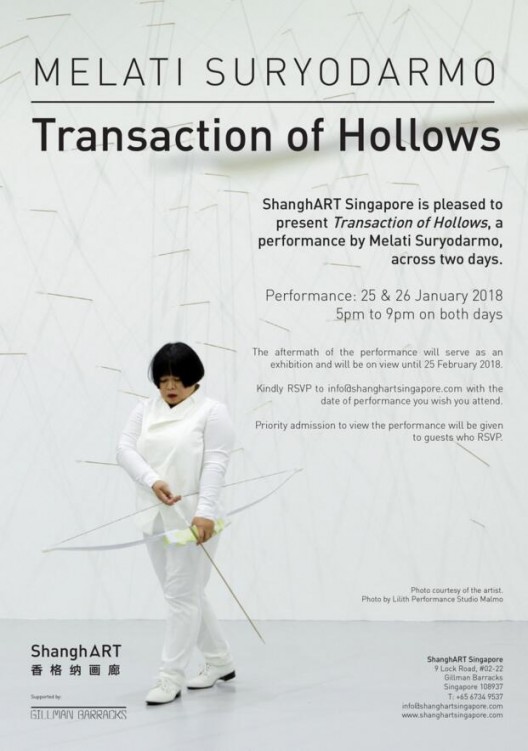 Melati's performances always feature a combination of the elements of physical presence and visual art to talk about themes of identity, energy, politics, and relationships between the body and its environment. As she said, "the world that inspires me to move my thoughts is the world inside me. The body becomes like a home which functions as container of memories, living organism. The system inside the psychological body that changes all the time has enriched my idea to develop new structures of attitude and thoughts."
The live performance, titled "Transaction of Hollows", is a long durational performance piece that investigates mankind's desire on love and war. Melati evokes her desolation at the state of politics and society as she negotiates the nuances of such emotions through these circumstances by repetitively shooting hundreds of arrows without a specific target. The audience is invited to be present in the same space while she shoots arrows across the room, allowing them to be immersed and drawn in, connecting with the artist and the atmosphere in their own unique way. At the end of the performance, the venue, left untouched, will form an exhibition on its own. This provides viewers an experience in a different circumstance from the live performance, much akin to witnessing of the aftermath of a war after its conclusion.