Wang Haiyang
Capsule Shanghai
[Press Release]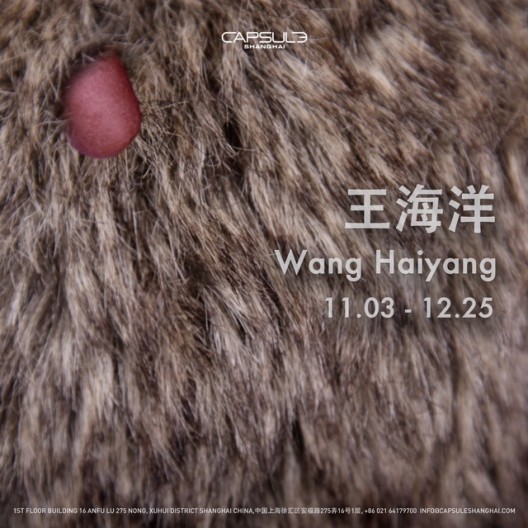 Capsule Shanghai is pleased to announce "Wang Haiyang", a solo exhibition by the artist showcasing his latest experimental works. The exhibition runs from November 3rd through December 25th and is comprised of three parts: The City of Dionysus (2018), a new video work narrating a death encounter that ends with charged images of sexual abandon, along with preparatory drawings exhibited with this work; a farcically funny gender-fluid costumed wo/man party-dancing in the looped video Party in the Anus (2018); and the animation Skins (2018), featuring an unidentifiable tube-shaped object floating above an agitated pile of hairs, complemented by paintings of hair-covered men and women. In all three, Wang also heavily uses real-life video footage, some scripted and some culled from natural circumstances, in combination with internet-sourced pictures or hand-drawn elements. These sources, despite their eclecticism, are often rooted in our real world and consequently produce something of a Barthian "reality effect." While apparently loosely connected, the works on show explore that glimmer of absurdity and the extremes that are inherent to human existence, even provoking those familiar with the artist's risqué style.
Since the beginning of his career, Wang has stunned audiences with his videos of imaginative metamorphosis drawn on sandpaper and then photographed and animated onto his video works. However, this exhibition sees Wang's artistic means greatly expanding and crystallizing. In The City of Dionysus, he introduces verbal narrative, personally recounted in an ominous fashion. The video narrates a story-a true memory of the artist-of an old lady who laid dead in her apartment for a long time, before her decayed, worm-filled body was discovered. In many ways, this tale is the key or precursor to this body of works, which tackles the existential query of the human condition through sexual or atavistic engagements. Different to the self-contained worlds depicted in Wang's earlier works, such as Double Fikret (2012) or Wall Dust (2016), the images herein-colors splashing, dripping, and forming a pool from which human or animal forms emerge-seem to insinuate viewer participation in the subliminal acts just as the old lady story presupposes a participating listener.
In all of Wang's video works, new and ever more imaginative creatures are invented to explore the liminal state of humanity. Besides the prehistoric-seeming biomorphic forms in The City of Dionysus, humans atavistically metamorphose into primates in the new series of pastel works Skins, while still engaging in quintessentially human acts, such as ascertaining oneself in the mirror or striking a pose of courtly portraiture. On another valence, a streak of nonsense runs through the video Skins -an unidentifiable object cruises above a landscape of hairs with a regularity that seems pointless. The hedonism of the wig-donning wo/man in a cartoonish brown costume also takes on a maximalist note in Party in the Anus. It indulges in a kind of absurd cheer that one might find difficult to participate in or understand.
These new themes all exert their forces on an experiential level, and indeed this time Wang might solicit a more intense experience from the viewer than ever before. Suffice it to say, the artist seems to have discovered yet another new frontier for himself.
Graduated from the printmaking department of the Central Academy of Fine Arts, Wang Haiyang (b. 1984 in Shandong, China, currently lives and works in Beijing) employs a multimedia approach to expand the rhetorical scope of art. His work reflects on contemporary existential topics while investigating, through the medium of the body, themes such as identity, language and lust. Wang's works have been selected and received critical acclaim by more than 50 International festivals. In 2010, Wang Haiyang's first animation movie Freud, Fish and Butterfly won a Grand Prize at the Holland Animation Film Fest (HAFF). In 2012 Wang's film Double Fikret won the Silver Dove at the 55th DOK Leipzig Film Festival (Leipzig, Germany). In 2014, Wang won the Jury Nomination Award at the 3rd Huayu Youth Award in Sanya, China. His recent solo shows include Wang Haiyang at Capsule Shanghai (Shanghai, China) and Wang Haiyang at White Space Beijing (Beijing, China), both in 2018; By Himself at OCAT in Xi'an, China (2017); New Directions: Wang Haiyang at Ullens Center for Contemporary Art (UCCA) in Beijing, China (2016); Dynamic Field: Wang Haiyang at Minsheng Art Museum in Shanghai, China (2016).