WANG YI
"Yi Ri Guang"
Aike-Dellarco
Shanghai
AIKE DELLARCO is thrilled to announce the opening of Wang Yi's first solo exhibition in the gallery "Yi Ri Guang" on November 9, 2016, at 3pm. The title comes from Han Yu's verse "Gong Fen Yi Ri Guang". It could be either referred to the change of time during one day, or interpreted as the eternal cycles of time.
The exhibition includes works produced in the last three years. The artist applies hundred of layers of a translucent tempera, a handmade pigment that he creates in his own studio, over the surface of the canvas and achieves a density and depth that suggests the rituality of the time-consuming process through which he creates his works.
Reinterpreting the use of classical glazing technique, Wang Yi attempts to escape the notion off manuality within the practice of painting. In the "Hud" series, the complementary contrasting colors interfere with each other, forming a dynamic textures that evokes the timeline frames in a movie clip. "Frontier" and "Overlapping" series make more use of the mutual intertwining of adjacent colors. The "Overlapping" series attempt to reveal the subtle changes of the natural elements, showing a hazy texture that recalls a watery surface.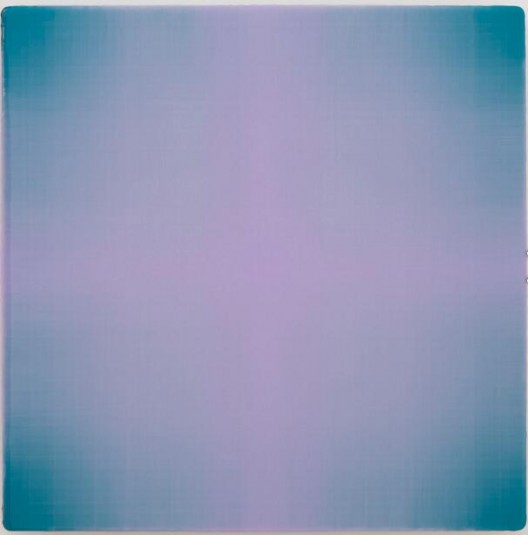 Wang Yi (1991) was born in Shanghai. He has graduated with a master's degree at the Oil Painting Department of China Academy of Art. Currently he lives and works in Shanghai. His recent solo exhibitions include "Mirror: Wang Yi Solo Project", Art Taipei, AIKEDELLARCO, Taipei, 2015; "Wang Yi", Hadrien de Montferrand Gallery, Hangzhou, 2014;
"Nothing", J:Gallery, Shanghai, 2012. His recent group exhibitions include "Luo Zhongli Scholarship" Exhibition, Art Museum of Sichuan Fine Arts Institute, Chongqing, 2016; "John Moores Painting Prize (China)', Minsheng Art Museum, Shanghai, 2016; "Painting as Strait
Gate: Post-80s Artists Invitation Exhibition", Hive Center for Contemporary Art, Beijing, 2016; "Pursuing Excellence: Artists from Institutes", China Art Museum, Beijing, 2015; "My House Is Your House", SPSI Art Museum, Shanghai, 2015; "To Be Confirmed", Jewelvary, Shanghai, 2015; "The Boundaries of Order", Hive Center for Contemporary Art, Beijing, 2015; "New Generation of Abstract Art", Si Shang Art Museum, Beijing, 2014; "Study", Jewelvary, Shanghai, 2014; "Winter Group Show", AIKE-DELLARCO, Shanghai, 2014.