XU ZHEN – CAREFUL, DON'T GET DIRTY
[Press Release]
ABOUT
.
It doesn't come as a surprise that Xu Zhen is regularly referred to as a trickster, an art chameleon and as a prankster. Although he is still quite young of age (born 1977), he already has an impressive artistic past and is regarded as highly influential for the younger art generation in China. Starting very early in the Chinese art scene of the mid-late nineties, he went through different periods and followed diverse interests in artistic creation, spanning tendencies from body art and performance to complex art installations, media art and collective art practices, just to name a few. Xu Zhen exhibited 2000 in the legendary Fuck Off-exhibition in Shanghai (curated by Feng Boyi and Ai Weiwei) and has so far been the youngest artist from China to participate at the Venice Biennial (2001 and 2005). In 2009, Xu Zhen ceased to work as an individual artist and created MadeIn Company, with which he follows a collective approach towards artistic production.
Xu Zhen's interests are diverse, and his reflective examination of his environment results in multi layered works. However, Xu Zhen likes to challenge the spectator and often evokes seemingly simple associations, whereas the subtle multi layered character of his works mostly needs further time and refinement to be discovered. It is as if he were playing with two levels in his works: A first and simple level, giving space for misunderstandings and wrong assumptions and a second level of closely knit associations and multi layered meanings which only reveal themselves after deeper understanding and scrutiny of his works. These two different levels, the seemingly simple one and the complex one, create an interdependent tension, unsettling the spectator and making him feel insecure in his judgement. It is this insecurity which finally forces the spectator to abandon uncritical judgements and to develop independent and reflective perspectives. Xu Zhen illustrates the subtleness of Chinese art and Chinese society and motivates us to dig further even if classical stereotypes present seemingly easy explanations.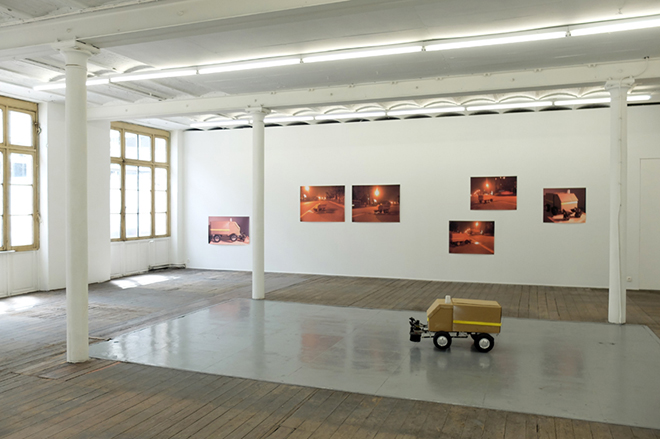 ,
In 'Careful, don't get dirty', Galerie Waldburger shows an inverted cleaning machine: In 2002, Xu Zhen created a machine which he used to clean the streets of Shanghai. Only, the machine itself was filled with saliva, in effect being a spitting machine, dispersing saliva on the streets of Shanghai. Spitting is an old custom in China, it is widely regarded to be healthy and natural. Mao, as an obviously historical example, is said to have been a strong adherent to this practice. Nevertheless, with the modernisation of Chinese life, spitting was banned and forbidden by law. For 'Careful, don't get dirty', Xu Zhen collected saliva from his friends, filled it into the tank of the cleaning machine and 'cleaned' the streets with this saliva. From the outside, the machine looks like a very poor mock-up of a cleaning machine (cardboard, simple light etc.). However, the inside of the machine is filled with high-tech, namely several microchip boards and a infrared sensor system, enabling the machine to fully function as an autonomous cleaning/spitting-machine.
.
'Careful, don't get dirty' was first time shown in Berlin in an art space in 2002 by Patrick Waldburger, then still being a student. For the opening of the new space of Galerie Waldburger in Brussels, 'Careful, don't get dirty' is shown a second time.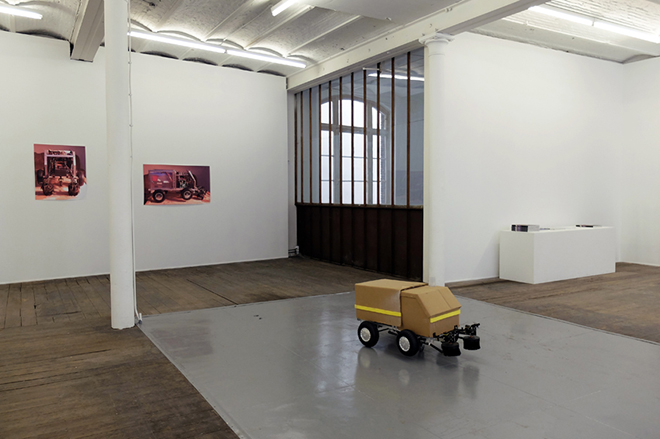 XU ZHEN: BIOGRAPHICAL/EXHIBITIONS
.
Xu Zhen was born 1977 in Shanghai, where he still lives. He has exhibited, either as Xu Zhen or under 'MadeIn Company', internationally at museums and biennales, such as, Venice Biennale (2001, 2005), The Museum of Modern Art (New York, 2004), ICP (2004), Mori Art Museum (2005), PS1 (2006), Tate Liverpool (2007), Ruhrtriennale (2012), Hayward Gallery (2012), Witte de With in Rotterdam (2012), Lyon Biennale (2013), etc. He had solo shows at S.M.A.K. in Ghent (2009) at the IKON Gallery in Birmingham (2009), at the Kunsthalle Bern (2011) and at the Ullens Center of Contemporary Art in Beijing (2014). Xu Zhen was further chosen as the commissioned artist for the Armory Show 2014 in New York. In 2009, Xu Zhen established 'MadeIn Company' a contemporary art creation corporate, focused on the production of creativity, and devoted to the research of contemporary culture's infinite possibilities. In 2013, MadeIn Company launched the brand 'Xu Zhen'.