YIN CHANGZHI
Wedge
Gallery 55, Shanghai
[Press Release]
Gallery 55 is please to announce that Yin Changzhi's debut solo show "Wedge" will be open on the 30th of June, 2018. Fifteen of acrylic / mixed media works on canvas of various sizes created between 2015 and 2018 will be on display till the 29th of July.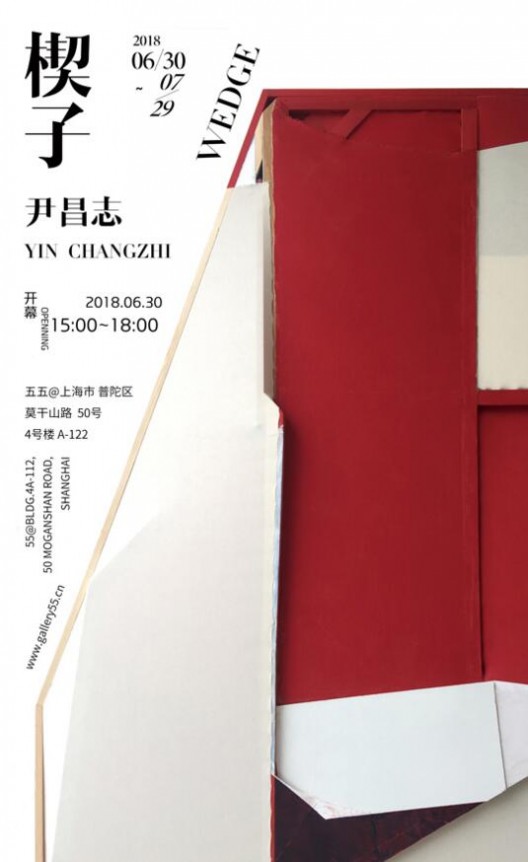 Yin Changzhi tries to make up the new form and functional complement of the original painting plane system by using cloth and free combination of frame to manufacture and decompose into several bevels. The boarder of a painting is pulled in different warp / weft relations, widen or folded, producing more joints, tendons and skin. The process of building is a customization of the action as well as viewing. In this sense, the artist attempts to loosen the rigid relationship between the art work and the audience with a temporary action by reediting the conventional properties of painting. Eventually, the translucent color layer and frame attaching to the canvas become the inside and the reflection. They are continually corrected in the process of reviewing. The border is open again. Its material components construct a new base and structure after reassembling. The flexible plug-ins finally render the unfamiliar spatial hierarchy of painting and texture perception.
Yin Changzhi creates around the painting frame, plane and space structure, breaking through the history of painting practice, such as: from the plane to the solid; from the solid outspreading to the real space; from the rectangular frame to the irregular framework; from the center to the edge; from the front to the side; etc. Yin Changzhi unifies these factors together either by interspersing each other or through the structure of the knot. On the processing of color, Yin Changzhi abandons the original academic gray, beginning to use pure color and the color of the simple harmonic, sometimes in order to unify, sometimes to separate, seeking the unexpected without losing the balance, keeping color relations the audience is close and attracted to. Yin Changzhi's creation is anti-narrative, which is both anti-narration in the picture, and in the process of painting behavior and concept. His creation is an "implementation" of a material form, not a "reproduction" or "representation".
Yin Changzhi was born in China in 1984. Currently, he lives and works in Wuhu, China.