Ying Yefu NEW SOLO SHOW!ART LABOR Gallery
[Press Release]
ART LABOR Gallery is pleased to once again launch the latest ink paintings by the very talented artist Ying Yefu (aka Shen Zhe Ming Yi) with an opening party Saturday May 14th, from 6-9pm. The artist will be in attendance.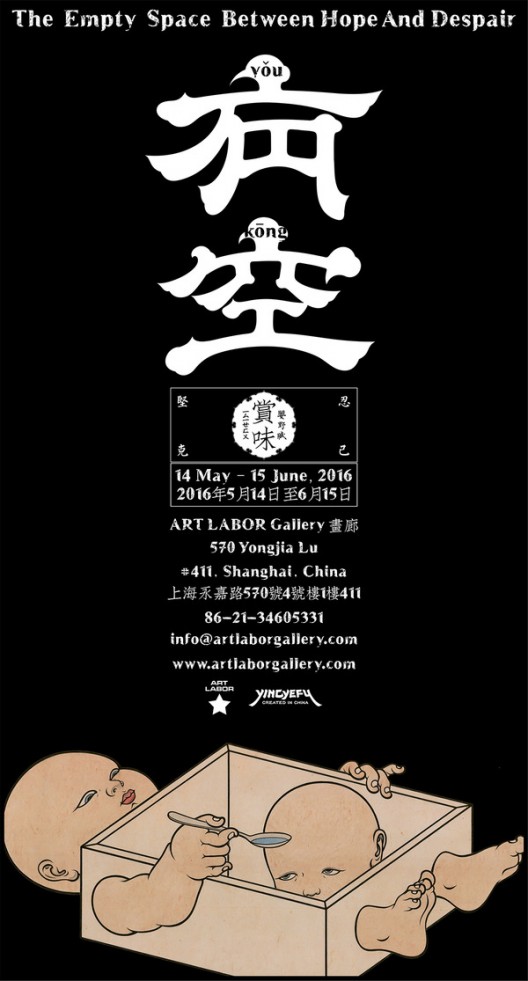 With this latest series of ink paintings, Ying Yefu has reinvented the simpler style of his earlier years, to express, within a limited range of color and strongly applied bold lines of hand drawn ink, the basic issues we face daily – the monotony of excess, the double edged sword of knowing too much – which keeps one in the empty space between hope and despair. This departure from his recent paintings known for their incredible detail and dexterity is a bold move as he prepares for his first solo museum show in early Fall 2016 at OCAT in Xi'an, currently directed by noted critic and curator Karen Smith.
With these new paintings, referencing pop art and old Chinese advertisements, he very directly conveys the results of the conditions we are now facing. We live in a time where we have never had so much to process, so much to enjoy, and so much to make us utterly morose. We are in the crux of a shift into a new evolutionary phase, we have an uncontested awareness of the challenges, and the future is uncertain. In this land between hope and despair there exists a space to inhabit, and Ying Yefu, with his unparalleled ability to paint in the challenging gongbi technique, he has created this series of seemingly simplistic works, that explore the facades we create to maintain the appearance of wishful thinking that all will work out for the best.
Amongst the many images symbolic of this quest, he places puzzles, a rubik's cube, inside of the subject as a manner of stating the obvious: that the solution to this great question of direction lies within one's self. It is the universality of this point, and the universal appeal of his work, which has provoked such a reaction from the collectors across China and the globe, most of whom have been immediately affected when viewing his work for the first time.
Ying Yefu was born in Wuxi, Jiangsu Province in 1985. Also known as "Shen Zhe Ming Yi", he began his passion for the creative arts in his early childhood. He has studied graphic design, which helps to explain his paintings' excellent compositional arrangement. His gongbi painting techniques were largely acquired through self-practice and private tutorial with masters in Xi'an, Shanxi. He persists in this passion using aspects of memories, creating deeply thoughtful and highly original ink paintings, silkscreen prints and design based art works, from a very personal and unique angle, which at the same time finds a connection with the viewer's own personal experience, shared in the universality of emotional response.
ART LABOR Gallery is a contemporary gallery based in Shanghai. Winner of Time Out magazine's people choice award for best gallery in Shanghai in 2014, the gallery has always strove to find unique artists, both emerging and established, from both China and around the globe.